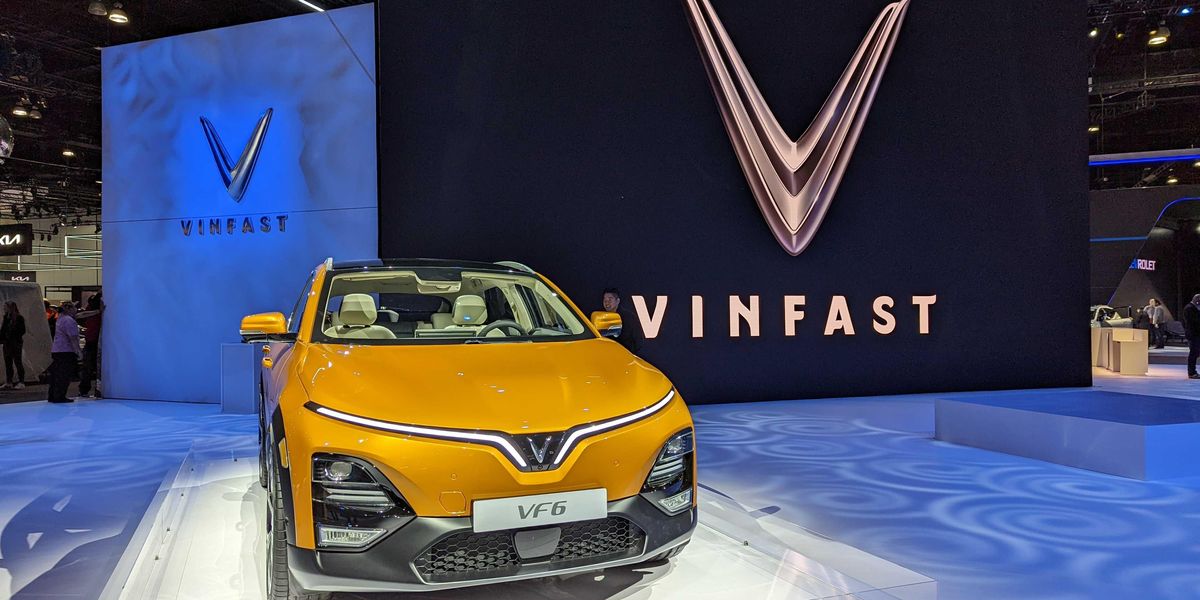 Vinfast
This is the web version of dot.LA's daily newsletter. Sign up to get the latest news on Southern California's tech, startup and venture capital scene.
Vietnamese automaker Vinfast announced to much fanfare this week that it will ship its first batch of electric vehicles to the United States, marking its first step towards intercontinental sales.
During an intensely patriotic ceremony attended by Vietnamese Prime Minister Phạm Minh Chính last week, Vinfast rolled out several of its VinFast VF8 cars and announced it would send 999 of them to America.
---
The cars are expected to arrive in the U.S. soon — VinFast promised customers will be behind the wheel by the end of December — making the automaker the first Vietnamese electric car company to hit the global market. Vietnamese auto enthusiasts and international drivers in Canada and Europe should get their pre-ordered VinFast cars by 2023.
Vinfast is also far ahead of its U.S.-based competitors, delivering more cars so far than Mullen and Faraday Future, which have yet to ship any. Besides Rivian, which has delivered 6,584 electric cars this third quarter, VinFast's other LA-based competition is Fisker (which is set to start shipping its Fisker Ocean electric SUVs by next February).
VinFast is also competing with large-scale domestic automakers like Ford (which this year debuted two EVs, the Mustang Mach-E SUV and the F-150 Lightning truck, starting at around $52,000) and G.M., which announced last year its ambitious goal to sell only EVs by 2035. Tesla, on the other hand, has been delivering EVs at commercial scale since 2009, and sent 343,830 cars to consumers during the third quarter of this year.
But VinFast could lure in a lot of buyers if it can get its SUVs to market safely and cheaply, undercutting its local competitors by tens of thousands of dollars. The VF8's modest pricing – around $40,000, far less than the latest Tesla Model X SUV, which will run you up to $131,000 at least – could be a key factor in getting more drivers on board. The VF9 will cost up to $61,000, a trade-off for a longer range and slightly more space.
Santa Monica-based electric vehicle subscription service Autonomy will receive some of the VinFast cars. Last week Autonomy announced it ordered an additional 2,500 VinFast VF8 and VF9 vehicles with the goal of leasing them out to the local market. All of which is part of Autonomy CEO Scott Painter's overall plan to lower the barrier to EV adoption by offering a cheaper alternative to outright ownership. And Vinfast's accelerating delivery timeline is great for Painter, since his firm needs cars badly.
VinFast is also targeting its own dealerships to sell cars; it opened six stores across California in July, including several in Santa Monica, La Jolla and Los Angeles.
One thing to keep an eye on as VinFast pushes towards dominating North American roads, however, is if consumers will be hesitant to get behind the wheel of a foreign-made EV. While VinGroup (the tech conglomerate that owns VinFast) is already known and trusted throughout Asian markets, it doesn't carry the same brand recognition overseas.
There's already ample safety concerns cropping up around Teslas, which are produced domestically – and it could be difficult to convince American buyers in particular that this car made abroad will perform safely.
But it seems that so far, people are warming up to the idea of a more affordable electric SUV.
VinFast said its already received 65,000 global orders for its VF8 and VF9 electric SUVs. That's about on par with Fisker, which is tracking around 62,000 reservations. But VinFast is betting that people who are eager to adopt EVs but can't spare over a hundred grand could be enticed by their cheaper price point. Though it will have to convince drivers that its battery leasing model is worth paying up to $44 a month.
For the record, Fisker is targeting a similar fee for its upcoming Fisker Ocean, which right now is advertised starting at $39,000.
As these VinFast cars start finally rolling out to customers across North America in the next year, keep a close eye on how people respond to the vehicles when they can finally drive them. VinFast could be sitting on a gold mine here if it manages to court enough drivers that want EVs but can't get them from affordable domestic sources. -Samson Amore
On this episode of Behind Her Empire, Lisa Odenweller opens up about launching her superfood nutrition company, Kroma Wellness.