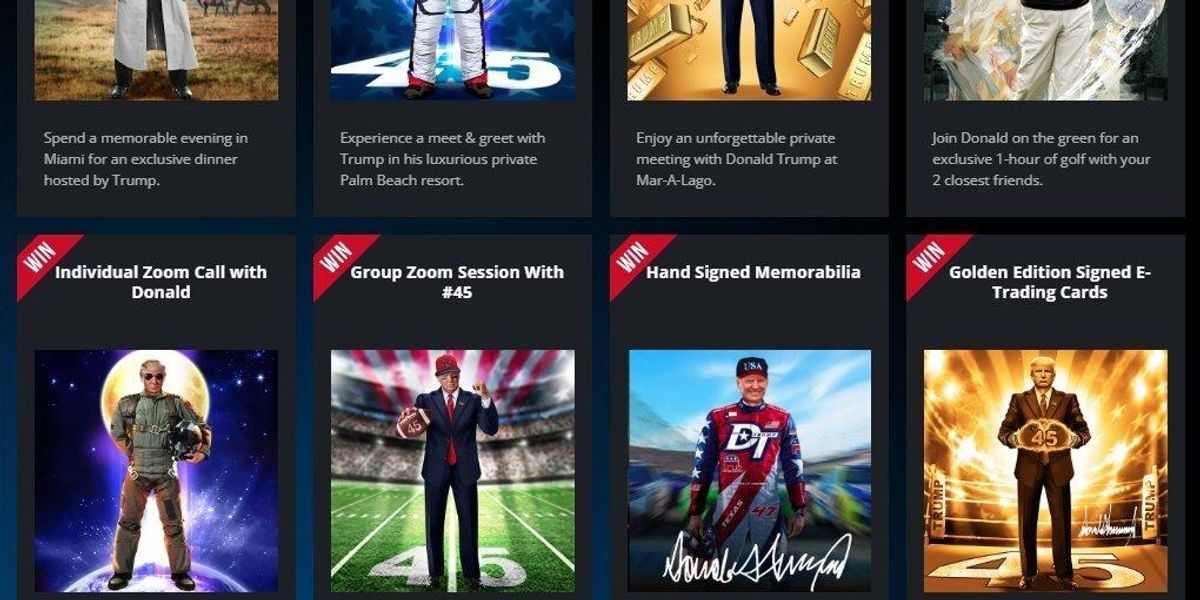 This is the web version of dot.LA's daily newsletter. Sign up to get the latest news on Southern California's tech, startup and venture capital scene.
Days after teasing a "major announcement" on his social network Truth Social and stating "America needs a superhero," former President Donald Trump introduced a new line of digital trading cards. The images – available for $99 each – feature Trump in various costumes and uniforms, including a superhero, a Wild West marshal, and an astronaut. The sales are apparently not linked to Trump's 2024 presidential campaign.
---
As with other NFT and virtual good sales, there are some added inducements to boost purchases along with the images themselves. Anyone who buys a Trump trading card will also be entered into a sweepstakes, with a shot at winning a golf outing with the former President, a dinner at the Mar-a-Lago club with him, a more casual one-on-one meeting, or memorabilia signed by the man himself. As well, any super-fan purchasing 45 cards or more in a single transaction will automatically receive a ticket to a gala dinner attended by Trump, valued at $4,455. As part of his marketing push on Truth Social, Trump commented that he felt the cards "would make a great Christmas gift."
Trump has clearly had a change of heart on the crypto and web3 space in the past few years. In 2019, he tweeted that he was "not a fan" of cryptocurrencies, maintaining that they were "not money" and suggesting that they should be subject to the same regulations as other currencies and financial products. In an interview that same year with Fox Business, Trump referred to Bitcoin as a "scam" that's "competing against the dollar."
New perspective on alternate currencies and financial products aside, Trump has chosen an unexpected moment to enter the NFT space. Recent setbacks to the entire cryptocurrency market, particularly the collapse of FTX amid an $8 billion shortfall, have sent the NFT market tumbling over the last few months. (As most collectors purchase NFTs using cryptocurrency, a major drop in value triggers a ripple effect that impacts the NFT market.) In November, CBS News noted that high-profile pieces like Damien Hirst's "The Currency" and Bored Ape Kennel Club NFTs had dropped in value by as much as 8-12%.
The notable drop in value has stolen some of the luster from the NFT market, which reached a peak in visibility and trendiness in 2021. Earlier this month, attorneys in Central California filed a class-action lawsuit on behalf of plaintiffs who purchased NFTs based on celebrity endorsements, naming not only Bored Ape Yacht Club owners Yuga Labs, but also the celebrity endorsers themselves. Justin Bieber, Paris Hilton, Madonna, Jimmy Fallon, Kevin Hart, and others are personally named as defendants.
In 2017, the US Securities and Exchange Commission confirmed that celebrities and social media influencers who use their status "to encourage the public to purchase stocks and other investments" can be held accountable "if they do not disclose the nature, source and amount of any compensation paid… in exchange for the endorsement."
Which brings us to the third-party service MoonPay, advertised as an "NFT exchange" for celebrities and investors. The California lawsuit, however, argues that it's a backdoor allowing NFT makers to essentially pay for celebrity endorsements without disclosing the specific nature of the deal to investors, making it appear that the celebrities are simply getting in on the NFT collection themselves. Guy Oseary, a Hollywood talent agent who represents Madonna, among many others, has been cited as the primary intermediary between Yuga Labs, MoonPay, and celebrity NFT endorsers.
In part due to the strange timing, Trump's announcement was widely mocked on the political left. Even current President Biden got in on the gag, making some "MAJOR ANNOUNCEMENTS" of his own. There had been rampant online speculation that Trump might be making a political announcement, such as declaring a surprise run for Speaker of the House, instead of introducing new merch. In general, since announcing his intention to run for president again back in mid-November, Trump has been largely quiet on the political front. He's yet to hold any major post-announcement campaign events, hasn't visited an early voting states yet, and has yet to flesh out his main campaign staff.–Lon Harris

What We're Reading...
--Ticketmaster will give some Taylor Swift fans another chance to secure tickets to the singer's blockbuster "Eras" tour.
--The New York Times spoke with Lakers owner and president Jeanie Buss about her investment in Women of Wrestling, which recently signed a new syndication deal with Paramount Global.
--According to Deadline, WB Discovery plans to license some shows pulled from HBO Max – including "Raised by Wolves" and "Legendary" – to FAST platforms, and may launch its own by 2023.
--Amazon ordered a series adaptation of the Sony PlayStation "God of War" video game franchise.
--
How Are We Doing? We're working to make the newsletter more informative, with deeper analysis and more news about L.A.'s tech and startup scene. Let us know what you think in our survey, or email us!