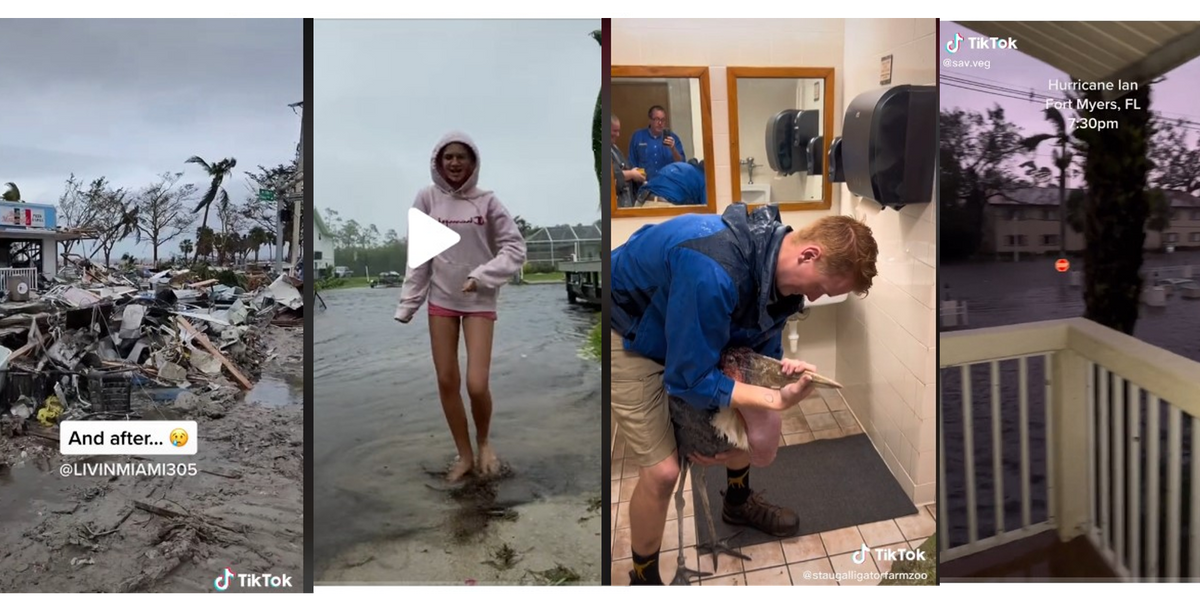 This is the web version of dot.LA's daily newsletter. Sign up to get the latest news on Southern California's tech, startup and venture capital scene.
When I was a teenager, I spent Hurricane Sandy watching popular YouTuber Tyler Oakley live stream the natural disaster from a New York apartment.
Now, people are using TikTok to rubberneck as people stuck in the storm document the ongoing destruction of Hurricane Ian. Users are showing off safe rooms, outdoor destruction, before and after footage and indoor flooding. Zoos are even documenting how they protect animals without the help of cable TV. And, in classic TikTok fashion, people are dancing in the rain.
Some users have even amassed thousands of followers by using TikTok's live streaming feature to show falling trees and heavy winds. Typically, TikTok lives run the gambit from ASMR artists to inappropriate sexual content to people eating worms. Viewers can then pay to send TikTok gifts—animated items like roses that appear on screen—which live streamers can cash out via PayPal. In the case of Hurricane Ian, one user who's been live-streaming throughout the disaster told the New York Times they've made about $30.
TikTok is just the latest platform for people to share their experiences during times of destruction and despair. Vine, TikTok's spiritual predecessor, often featured footage of floods and heavy winds. Stormchasers have amassed large followings on YouTube. During Hurricane Maria Twitter was flooded with images of the destruction in Puerto Rico. Social media has even been helpful in keeping people in contact as phone lines go down.
But TikTok is taking the social media landscape by storm. The video-sharing app was the highest-grossing app in Q3, boasts one billion users and has become a place for people to share real-time news. Even Google, long the search engine of choice, is now changing its algorithm as teens turn to TikTok for information.
Of course, sharing live hurricane updates amid rising power outages and death counts might not be the best decision. But who can blame people stuck weathering the storm for wanting to pass the time by dancing to "Hurricane" by Bridgit Mendler.—Kristin Snyder