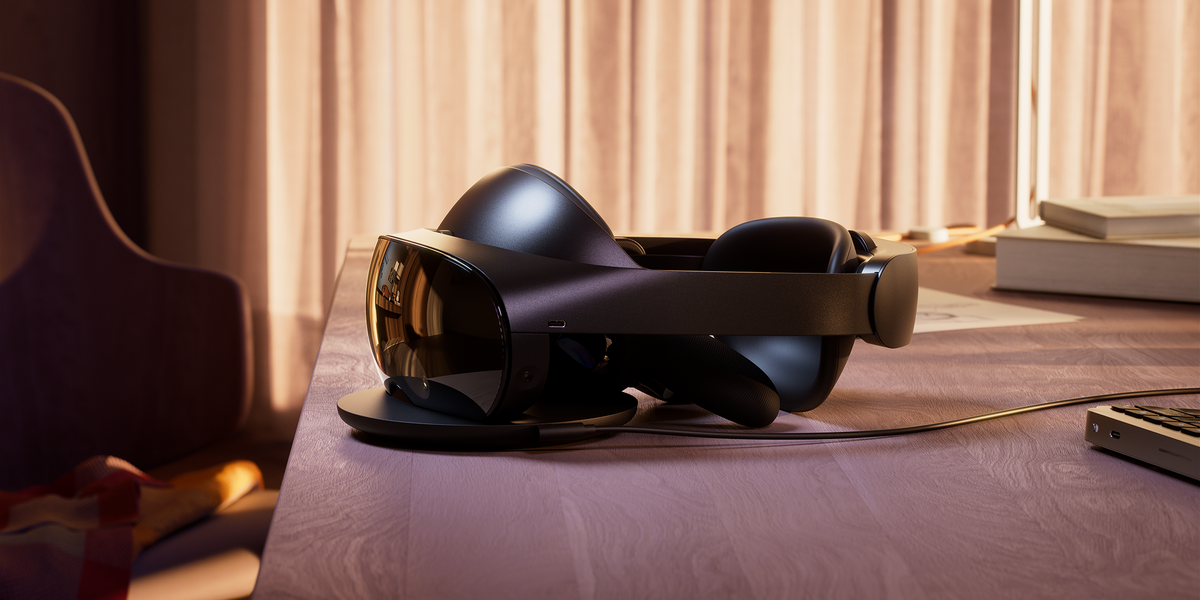 meta quest pro
This is the web version of dot.LA's daily newsletter. Sign up to get the latest news on Southern California's tech, startup and venture capital scene.
On Tuesday, Meta CEO Mark Zuckerberg introduced the world to the company's latest virtual reality headset, the Meta Quest Pro. The device retails at a healthy $1,500 price point and begins shipping on October 25.
Considering the cost, functionality is the name of the game with this new device. While earlier takes on VR headsets have been pitched largely at early adopters, hobbyists and gamers, Meta's aiming the new devices at large oragnizations – like school districts and corporations – hoping to change the way Americans learn and work from home.
---
Still, getting people excited about a new headset that will recreate their cubicles more realistically is, all on its own, a bit of a tough sell. No Meta's doing its part to make the Meta Quest Pro at least a little bit fun as well, the kind of device that consumers might not just need in their home in order to get work done, but enjoy having around as well.
The company announced a new multi-year partnership with NBCUniversal, for example, that will bring the Peacock streaming app – and related experiences – to the headset. That's right, not only will Meta Quest owners be able to watch back episodes of "The Office," Universal's class monster movies, and Blumhouse horror releases in VR settings, they can engage with fellow fans via the social app Horizon Worlds.
And thanks to the device's new mixed-reality features that can blend virtual elements in with the physical world, the companies also teased future Universal theme park activations and installations designed specifically for Meta Quest users. It's not hard to imagine a potential "Hollywood Horror Nights" tie-in, for example, in which guests explore an actual haunted maze while also navigating through virtual challenges or additional side quests.
Still, the Pro comes in around $1,100 more expensive than its predecessor, the Quest 2 headset. Despite the presence of the Snapdragon XR2 Plus VR chip, capable of producing higher-resolution graphics, along with improved controllers with embedded sensors and even full-body avatars, this is a tall order for mainstream consumers who still may not be entirely sold on AR and VR experiences. Meta's stock price has already dropped by nearly 60% over the past year, turning up the pressure on this particular product release.
Films, TV shows, and novels like "Ready Player One,"AMC+'s current animated drama "Pantheon" and Amazon's upcoming "The Peripheral" have sold Americans on seamless "virtual reality" experiences, in which putting on a headset is the equivalent of stepping into a fully-realized and immersive three-dimensional digital world. While real VR technology continues improving all the time, it's still potentially decades away from recreating these science-fiction visions. The biggest setback for Meta, at least so far, appears to be that the "metaverse" product itself – including the much-touted Horizon Worlds app – has proved underwhelming, and even humorously over-simplified – to the mainstream public.
It's also worth considering that, to date, Meta has enjoyed a first-mover advantage in the VR marketplace. Around 90% of the US market for VR devices is currently controlled by the Quest 2, but Meta will soon begin facing additional competition from Apple and TikTok parent company ByteDance, both of which plan to release headsets of their own in North America, potentially as early as next year. Disney, as well, has indicated that it plans to begin leveraging its staggering amount of consumer preference data – gathered across the company's various theme parks, storefronts, and streaming services – into virtual and augmented reality experiences.
As if all of that weren't headache enough, Meta also faces potential issues with regulators as it tries to maintain its prominence in the VR space. In July, for example, the Federal Trade Commission (FTC) sued to prevent the company from acquiring Los Angeles-based startup Within, the makers of a popular VR fitness app. While straight-up acquiring rivals like Instagram and WhatsApp was a viral part of the company's strategy in winning the social media wars, it doesn't appear that they'll be able to simply buy their way into long-term VR supremacy.– Lon Harris