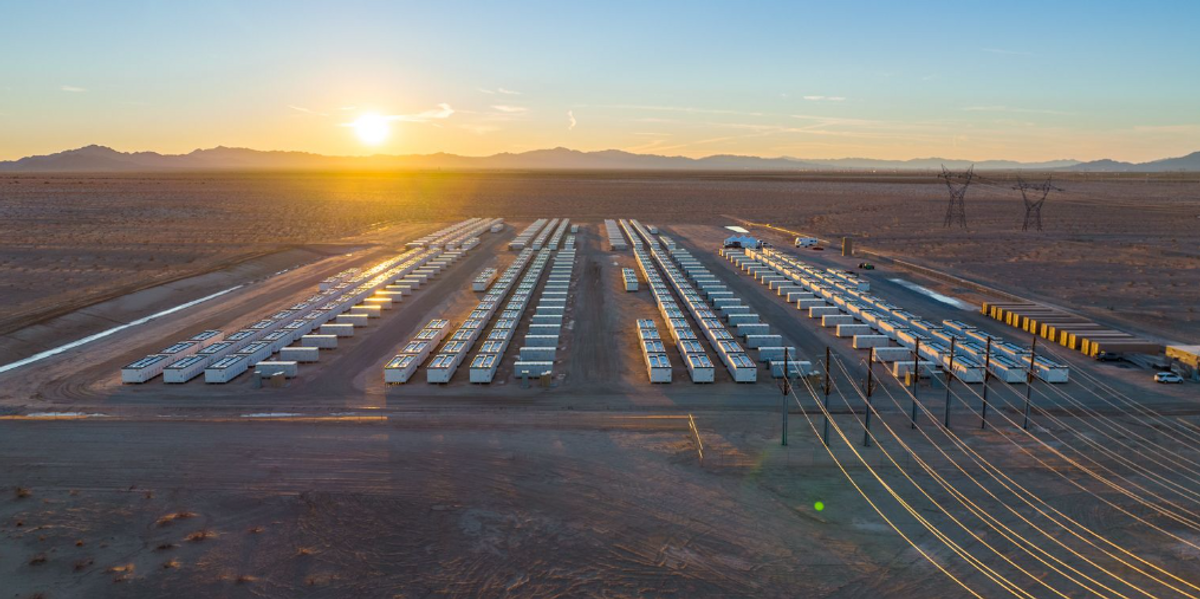 Photo via Recurrent Energy
This is the web version of dot.LA's daily newsletter. Sign up to get the latest news on Southern California's tech, startup and venture capital scene.
Out in the desert in Riverside County, the world's largest single-phase battery is now operational. Named Crimson Storage, the new project comes in at 350 MW/1400MWh in size and will be able to provide power for 47,000 homes each year, and add much-needed flexibility to the state's grid. Canadian Solar (Guelph, Canada) constructed the facility and provided the batteries while Axium Infrastructure (Montreal, Canada) will be responsible for running the system in the long term.
---
The project's completion comes on the heels of last month's energy crisis, in which battery storage was instrumental in helping the state avoid power outages. At the time, California had around 4GWs (4,000MW) of battery storage available, meaning the new addition should add around 9% more. That may not sound like a ton, but as citizens saw back in September, every watt counts: On September 6th, a text message alert from the governor's office urging Californian's to scale back their energy usage led a almost immediate decrease of 2,000 megawatts, and effectively nullified the threat of blackouts. When the grid is at its limit, an extra 350 MW can absolutely make a difference.
Crimson Storage sits on 2,000 acres of Bureau of Land Management land, west of Blythe. Construction began in May of 2021, meaning Canadian Solar was able to bring the project online in just 17 months.
In addition to bolstering the grid in times of high demand, adding more and more battery energy storage will also enable California to accelerate its transition from fossil fuels to renewables, as the batteries are able to supplement energy needs when solar and wind power may be lower than expected. It should also reduce California's reliance on energy imports from other states, which often use a higher fraction of fossil fuels.
California certainly isn't perfect, but you've got to feel a little bit inspired by the progress on the transition to renewables. It's going, like, pretty okay, man. The battery abides. --David Shultz