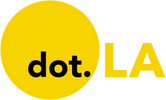 Get in the KNOW
on LA Startups & Tech
X
Tami Abdollah
Tami Abdollah
Tami Abdollah was dot.LA's senior technology reporter. She was previously a national security and cybersecurity reporter for The Associated Press in Washington, D.C. She's been a reporter for the AP in Los Angeles, the Los Angeles Times and for L.A.'s NPR affiliate KPCC. Abdollah spent nearly a year in Iraq as a U.S. government contractor. A native Angeleno, she's traveled the world on $5 a day, taught trad climbing safety classes and is an avid mountaineer. Follow her on Twitter.
NASA/JPL-Caltech
When Perseverance arrives on Mars early next year, it will be the first landfall for a rover carrying 3D-printed metal parts and a small victory for proponents of the technique in the high-cost, high-risk world of the U.S. aerospace program.
NASA's Jet Propulsion Laboratory, nestled in the foothills of La Cañada Flintridge, has seen a slow cultural shift over the last decade toward the adoption of 3D printing techniques, more formally known as "additive manufacturing," in spacecraft design. The technology uses lasers to melt metal powder that is layered to precise computer modeling, until that metal takes the shape of whatever engineers need.
For years, 3D printing has been relegated to the realm of nerdy hobbyists, but its adoption by startups and big business has helped push NASA leaders toward accepting more innovation despite the risks. These days, 3D printing has been used on airplane engines, houses, hearing aids, chocolates, Tesla car components and even a pair of Adidas shoes.
"I have seen a 3D printed burrito, and it didn't look as delicious as Chipotle," said Scott Roberts, a JPL materials technologist, with a laugh.
The evolution has been decades-long, and partly propelled by the private sector push of aerospace companies like SpaceX, Relativity Space, Blue Origin, Maxar Technologies and Lockheed Martin.
While no panacea, some of the benefits of 3D printing come from its ability to save time in the otherwise time-consuming machining process and to engineer bespoke components that cut down on mass and simplify parts. All are crucial, as aerospace missions are often timed to planetary alignment and can cost millions more dollars per kilogram.
The goal is to use additive manufacturing to enhance performance, solve problems and make parts "you just can't make any other way," Roberts said. "If your schedule is slipping and all of a sudden you have to wait two years, the monetary cost is enormous."
JPL technologists are still working on understanding its uses and how to improve it. But there remains a culture and learning gap that's prevented its widespread adoption. The largest barrier, however, is the worry by old timers: Why risk screwing up a historic mission and ruining future opportunities by replacing tried-and-true manufacturing techniques?
NASA's 3D Printing Technique www.youtube.com
The Nuts And Bolts of Printing Rover Parts
Amid planning for the Mars rover mission, Andrew Shapiro, who manages technology formulation at JPL, said he was interested in which parts made sense to manufacture additively and which didn't.
When Shapiro checked out work on MOXIE, which is testing a technology to produce oxygen on the Red Planet carried by the rover, engineers told him they had a problem sealing its crucial heat exchanger, a complex system with lots of very fine channels.
"It was very expensive to machine, they were going to blow their budgets and schedules, and it was going to take months," Shapiro said. "My office has advanced technology experiments, so I said, 'I'll fabricate one using additive for you, see if it works. If you like it, use it.'"
The part was far less expensive to print than it would have been to create through traditional manufacturing methods — and it solved the MOXIE engineers' problems.
The Perseverance rover, which lands on Mars on Feb. 18, 2021, carries 11 metal parts that were 3D printed. Five of those are on its PIXL instrument, which is about the size of a lunchbox and will be used to help the rover search for signs of fossilized microbial life by shooting out X-ray beams.
The instrument was designed with a two-piece titanium shell that has to be extremely thin, which made traditional machining methods very challenging, time consuming and therefore costly. Using metal 3D printing, JPL outsourced the work to Carpenter Additive, in Camarillo, Calif., which created components that were several times lighter than they would have otherwise been able to achieve.
The MOXIE heat exchanger, however, was 3D printed in-house at Caltech, which manages JPL. Rather than welding together two separate parts, JPL's engineers 3D printed it in one single piece.
Andre Pate, the group lead for additive manufacturing at JPL, called the use of 3D metal printing on the rover "a big win for us at JPL."
"We are trying to convince our own people here who are more conservative and less willing to take on risk -- rightfully so," Pate said. "We're trying to prove that, that there isn't as much risk or that there's ways to mitigate that risk."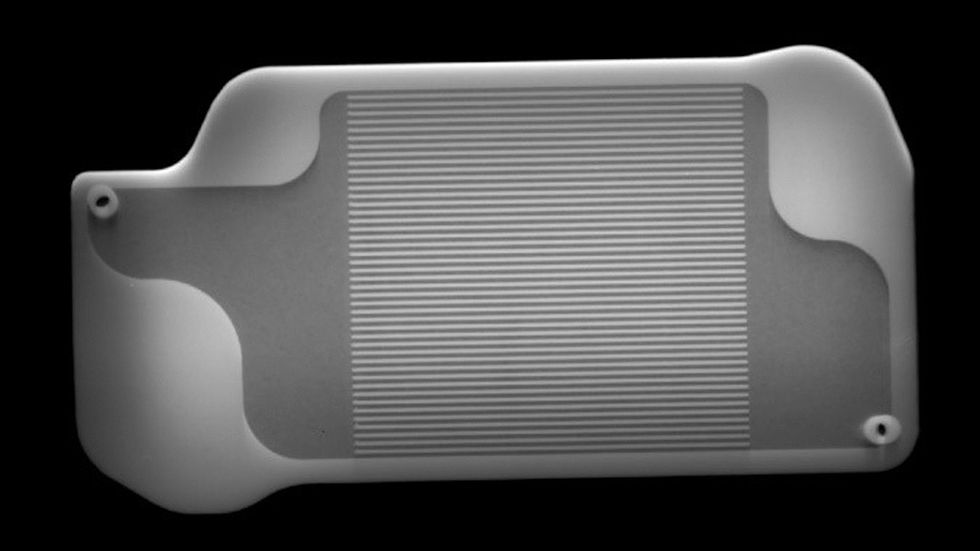 This X-ray image shows the interior of a palm-size 3D-printed heat exchanger inside Perseverance's Mars Oxygen In-situ Resource Utilization Experiment (MOXIE)NASA/JPL-Caltech
The Private Sector Forges Ahead
In the meantime, a broader ecosystem of startups is pushing ahead with incorporating additive techniques.
SpaceX is hiring for multiple roles, including a materials engineer and a manufacturing technician, who can "support 3D printing technology for production of components used on both the Falcon 9 rocket and the Dragon spacecraft." Its rocket resupply, which recently traveled to the International Space Station, had 3D printed parts, Shapiro said.
Canoo, the electric vehicle company, is also hiring an additive manufacturing lead as it prepares for its first vehicle launch. And of course, Relativity Space is 3D printing rockets with the ultimate goal of doing so on Mars.
"JPL is very slow moving in this way," Shapiro said. "Places like SpaceX or Maxar, they 3D print dozens of parts. [These] other companies have been quicker to adopt the technology. Interestingly enough, I think we know more about the technology than they do because SpaceX isn't willing to pay a lot of universities to develop models and that kind of thing."
Plus, Shapiro added, "they all want to keep their stuff secret and don't want to share it with the rest of the world. But the rest of the world passes them by when they do that."
Regardless, as more of its subcontractors and other aerospace companies use 3D manufacturing techniques, JPL has been pushed to gain a better understanding, and it has shared that expertise with the companies even if lab leadership is less willing to incorporate it themselves, Shapiro said.
"JPL will actually adopt things more easily from the outside than the inside," Shapiro said. "So it's easier for me to go buy a part from a subcontractor using additive than it is for me to say 'we should design this using additive'."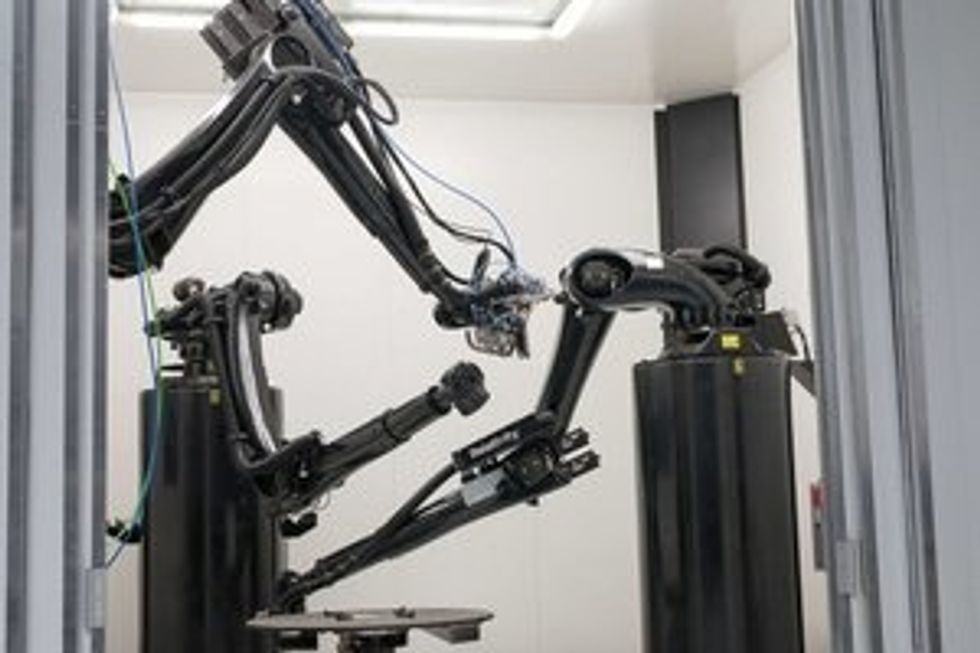 Relativity Space hopes to make Mars-bound rocketships with 3D printing. assets.rebelmouse.io
Part of the reason is that NASA management is still reluctant to adopt new untested technologies for building parts that have otherwise been effectively created using longstanding conventional manufacturing processes.
"So when someone says 'would you...risk a billion dollar mission on it'? You have to argue, it isn't really that risky," Roberts said.
Several years ago, JPL vendor Lockheed Martin built the spacecraft Juno to collect data and take photos of Jupiter. Lockheed slipped in a couple additive parts into that spacecraft, Shapiro said.
"They didn't tell us until after it had launched," Shapiro said, noting that "our vendors are willing to go a little further than we are."
It became the first planetary spacecraft to make use of 3D printed parts, specifically titanium metal brackets.
A Slow Start
The first time Andrew Shapiro — now a JPL thought leader in additive manufacturing — was approached by a colleague about using 3D printing for metal parts was around 11 years ago, when he was the chief technologist of the engineering enterprise division. Shapiro was aware of the tech, but it was not taken seriously for space flight.
"I told him to go away," Shapiro said. "I said, 'Naw, I don't think this will ever work.'"
Shapiro said he gave in to his colleague's persistence and traveled to a spin-off company of nearby Sandia Labs in Albuquerque, New Mexico to take a look. Soon, JPL was studying how to create a gradient of metal from, say, steel on one end of a part to titanium on the other, enabling the steel ends of two separate parts to be bolted together more effectively if need be.
"It turns out this is not easy to do. It took us about 10 years to figure it out," Shapiro said. "That's because that transition between the two metals can create brittle structures that break or fracture."
JPL ended up sponsoring a slew of studies at universities, with Shapiro urging professors to look into how additive manufacturing works. At the time, Shapiro said, JPL realized nobody understood the process. JPL worked with the universities to set standards so that results were comparable and compatible. Today, every major university with an engineering program in the country has a significant program modeling additive processes.
Adopting and proving out the technology also required computer power to improve to study variables like air vortices created by a laser hitting metal powder and massive temperature gradients that go from a couple thousand degrees to room temperature in a tiny area, Shapiro said.
"I don't think the culture is there yet," Shapiro said. "It's being selectively adopted still [but] we haven't turned our whole design force into using additive."
Roberts said that sometimes it's a matter of an engineer saying " 'Oh man, we need this part,' and to make it traditionally is going to take two years" and that's when additive manufacturing, which can instead make the part in six months, gets its chance.
Known Unknowns
Another problem is there aren't great classes out there for teaching 3D printing at JPL's level.
And, the reality is that some people are intuitively very good, while other engineers just don't think that way, Shapiro said. "Designing parts of a spacecraft really shouldn't be just left to intuition," he said.
Shapiro said he believes the future of 3D printing includes integrating functions — much like today's phone is a combination of telephone, calendar, calculator and notepads. One example of this might be printing the antenna on a spacecraft directly as part of its structure. But no one knows how to design for this yet, Shapiro said, there's no guidebook or design rules. That's why he is working with colleagues to put together a course and some guidelines.
A 3D printer head scans over each layer of a part, blowing metal powder that is melted by a laser. - NASA/JPL-Caltech s3.amazonaws.com
"It's quite complex, and it's probably going to take me another 10 years to come up with it," Shapiro said. "We've just scratched the surface in terms of what the capabilities are."
For now, Shapiro believes JPL will continue to put more 3D-printed pieces into spacecraft, but doing larger prints like an entire space craft requires a major shift in culture and engineering understanding.
"It's difficult to answer when will people change their minds," Shapiro said. "JPL management tends to reflect NASA management, and NASA management is extremely risk averse, because they don't want to spend billions of dollars on a spacecraft, have it fail, and have a congressional hearing on why their multi-billion dollar spacecraft failed."
Even though many in JPL management would like things to progress faster, there are concerns that proposals that include 3D printing won't get the necessary buy-in, and could potentially put JPL's competitive edge at risk for NASA projects.
Still, Roberts is optimistic:
"We didn't have the computational power to do it until 10 to 15 years ago," he said. but with that power, "it's going to change the way we design things in the future."
__
Are you using 3D printing in new ways? My DMs are open on Twitter @latams. You can also email at tami[at]dot.la, or ask for my Signal.
Titan School Solutions, an Irvine, Calif.-based company that provides cloud-based software to manage school nutrition at more than 700 districts nationwide, has been acquired by LINQ for $75 million.
TITAN was founded in 2015 to bring efficiency to the school lunch line by IT professional Brad Blankenship. Today it's used by more than 4 million students across the U.S. and the company has grown from about 10 to more than 80 employees over the last three years.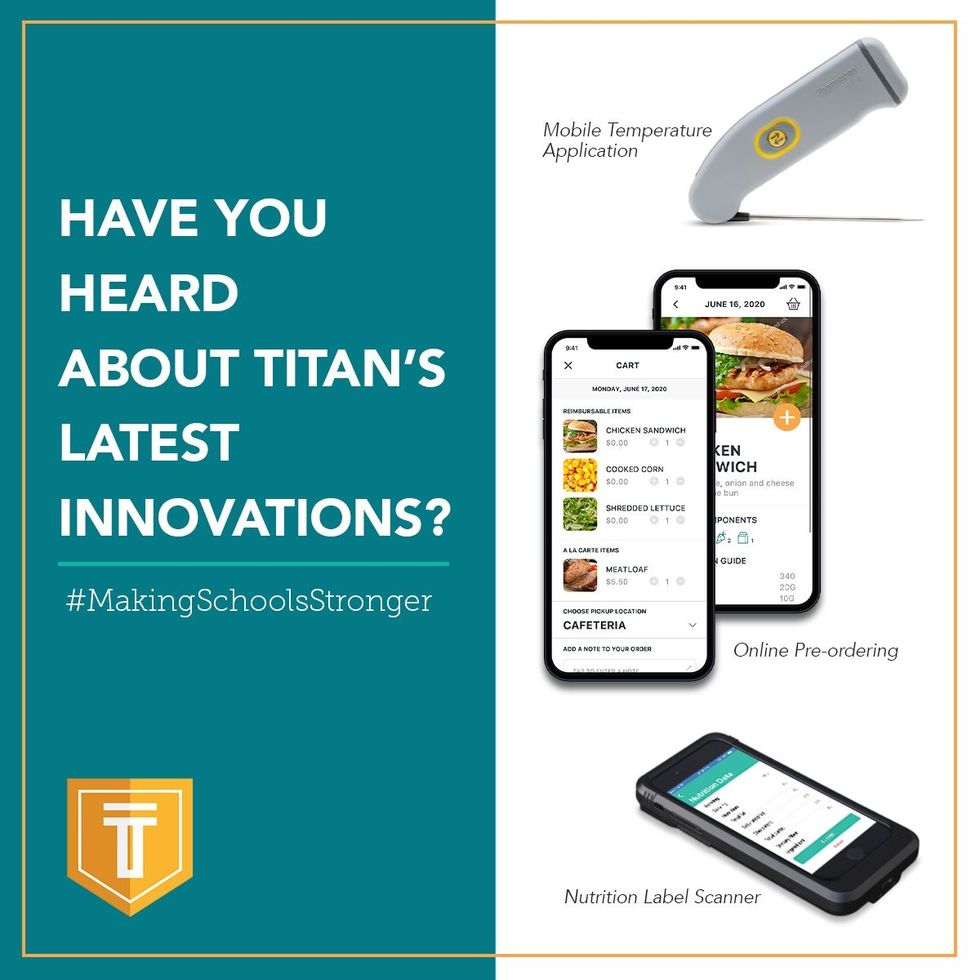 The company provides a web-based platform for school districts to understand student eligibility, food costs and inventory. Parents can see information on school meal planning and control for food allergies.
The deal with LINQ, which develops software to help K-12 school districts in finance, HR and nutrition, student registration and other areas, took months to evolve during the pandemic due to uncertainty in the market, said Cie CEO and co-founder Anderee Berengian.
LINQ CEO Krista Endsley sad in a statement that "acquiring TITAN is an excellent opportunity to deliver K-12 school districts the innovative software solutions they need today and accelerate our growth into the future."
TITAN raised a $5.2 million series A nearly two years ago, in a round led by Santa Monica, Calif. VC firm Wavemaker Partners and Cie, an Irvine-baed venture studio.

Cie announced the exit on Tuesday, touting their ability to help TITAN grow since it joined the studio in 2017.
TITAN will become part of LINQ's school nutrition business and Blankenship will become president of LINQ's school nutrition division, Berengian said.
From Your Site Articles
Related Articles Around the Web
The passage of California's Prop 24 will hit the data-broker industry hard and create a new state regulatory agency.
The new law adds stringent legal requirements to how businesses collect and share consumer data.
The new law is similar to Europe's GDPR law, which could give California businesses a leg up in dealing with European citizen's data.
The implications of California's new consumer data privacy law will ripple through the Golden State and potentially the nation, striking a large blow to the estimated $200-billion data broker industry and heralding a new industry that tracks down shared data and enforces its deletion, experts say.
Proposition 24 was overwhelmingly approved by voters Tuesday, just four months after state businesses were legally required to follow new consumer data privacy standards passed by the Legislature in 2018. The new California law, now the nation's strictest consumer data privacy law, adds even more stringent legal requirements to how businesses collect and share consumer data, ups penalties and potential liability, and sets up a new $10-million-per-year state agency to implement and enforce it.
More Compliance, and a New Industry to Track Down Data
"The companies are fatigued," said Jim Koenig, partner and co-chair for Fenwick & West LLP's privacy and cybersecurity practice. "Now there's another ballot initiative they have to prepare for as well [and] it's costing more money, more time and more staff focus."
Koenig said the new changes, especially in the nation's largest economy, create a "de facto baseline" on privacy for businesses nationwide because they "can't easily segregate out California customers from the rest of the customers in your program."
That means some companies may have to pick and choose what to comply with, depending on how much risk they are willing to take on, Koenig said.
In an interview with dot.LA Wednesday, San Francisco real-estate developer Alastair Mactaggart, who sponsored the new law, said he felt compelled because the Legislature could always be swayed by businesses that had already tried to gut massive portions of the 2018 law.
"Had this not passed, CCPA [the 2018 law] would have been unrecognizable in five years, for the worse," Mactaggart said. "Your and my expectations of what privacy [is] will change, the Legislature is in the right place for that. But there should also be something to counteract the trillions of dollars on the other side."
With that in mind, the new law includes a type of one-way ratchet that lets it be amended by a simple majority of the Legislature like any other law, as long as the amendments don't harm consumer privacy. Mactaggart's approach diverged from that of the sponsors of the newly passed gig worker measure Prop. 22. Part of that law requires a 7/8th majority in order to change its provisions.
"With all due respect, that's sort of saying I'm going to take my toys, go home, and my vision of the world is perfect," Mactaggart said. "We need something that moves with the times, and goes with the times."
Mactaggart said the new privacy agency's annual budget of $10 million should enable it to hire roughly 50 people, which is double the size of the state Attorney General's privacy enforcement staff and 25% more staff than what the Federal Trade Commission has for the entire country. The new law also removes a provision granting exclusive enforcement of the consumer privacy law to the state AG's office, enabling not just the new agency but also all 58 county district attorneys and major city attorneys to prosecute businesses in violation, Mactaggart said.
Because the law now holds companies responsible for ensuring that data it has shared with third parties or vendors is properly deleted upon request, experts say a new industry of companies will likely sprout up to help track down where data has gone. That's especially crucial with an estimated 5,000 data brokers worldwide, which can make tracking data down especially difficult.
These data-brokers are largely unregulated and sell people's personal information for billions of dollars a year. They include large companies like the credit bureaus — Experian, Equifax and TransUnion — and other smaller firms that aggregate personal information from both public and private sources to sell to other companies for advertising, employment, financial and research purposes.
"A dedicated privacy authority is a game changer," said Gabriela Zanfir-Fortuna, senior counsel for global privacy at The Future of Privacy Forum, a Washington, D.C.-based think tank. "This is something that exists in most of all of the other countries that have comprehensive privacy laws and this is something that currently doesn't exist in the U.S. [There's] the FTC but the FTC has a very broad mandate, in antitrust, consumer protection and then it's also privacy focused."
A Leg Up for California Businesses on International Data?
Experts say the new law is very, very close to the European privacy standard known as GDPR, or the General Data Protection Regulation touted by privacy experts as a gold standard. And that matters because it gives California a potential leg up in being deemed as adequate under EU law to deal with European citizen data flows.
"California businesses are going to enjoy a tremendous advantage over businesses in other states, because the European regulators are going to be more permissive to businesses in a state with a rights-based framework and an agency to enforce it," said Chris Hoofnagle, faculty director of the Berkeley Center for Law & Technology.
Mactaggart believes that this advantage will lead businesses to want to locate servers in California and, ultimately, spur other U.S. states to move toward their own privacy law adoptions. He said he's had initial conversations with European experts who told him California's new law should pass muster in allowing state companies to deal with European data.
Of course, the U.S. and European Union would first need to work out concerns over the U.S. national security apparatus that came to light after the Edward Snowden revelations. In July, the European Court of Justice invalidated a U.S.-EU agreement on trans-Altantic data flows over concerns about how the U.S national security apparatus deals with European citizen data, and what independent oversight and recourse citizens have. That has left U.S. and E.U. businesses in a sort of legal limbo.
ACLU Opposition And American Appetite For Privacy
Prop. 24 was notable in that many of the organizations that opposed it like the ACLU, did so because they wanted it to be even stronger.
Jacob Snow, a technology and civil liberties attorney for the ACLU of Northern California, said in a statement Wednesday the new law has "deep flaws" but "sends a clear message from California voters to the California legislature that they expect and demand action to protect their privacy and safeguard their fundamental privacy rights."
Snow said in a statement that it's time for the California Legislature to build on the new law to prohibit companies from charging more for privacy and impose substantial consequences on businesses that break its rules.
All the experts said it was likely that the new California law would put some fire under lawmakers in D.C. to take enacting a new privacy law more seriously.
On Tuesday, Michigan voters overwhelmingly approved — by nearly 89% — a state constitutional amendment that requires a search warrant to access any electronic communications, significantly upping the legal standard necessary to "probable cause." Meanwhile, Washington state lawmakers have again tabled discussion on a new Privacy Act for the third consecutive session, Zanfir-Fortuna said.
"There seems to be this appetite for more data privacy for Americans, especially when they are asked directly to vote on it," Zanfir-Fortuna said.
Many of the details of how California's Prop. 24 will work have yet to be determined. The new privacy agency will be stood up next year and the law won't go into effect until 2023. For many companies, the early rush to abide by the 2018 rule known as CCPA, was frustrated by continual changes as it was finalized.
"There will be a wait-and-see [period]. Companies are going to want to know where to land the plane before they take off on their compliance efforts," Koenig said.
Mactaggart had one message for weary businesses: "If you've taken steps to comply with CCPA it's not like you have to throw it all out, that work is all necessary to comply with CPRA. Now you just need to do more."
___
How does Prop. 24 impact your business? Are you worried? Excited? Hit me up. My DMs are open on Twitter @latams. You can also email me at tami(at)dot.la, or ask for my contact on Signal, for more secure and private communications.
From Your Site Articles
Related Articles Around the Web