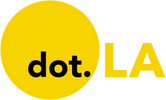 Get in the KNOW
on LA Startups & Tech
X
Transportation
Browse the latest news about transportation technology in Southern California from dot.LA.
Courtesy of Rivian
Rivian missed earnings expectations in its first quarter as production constraints and supply chain delays continued to slow down vehicle deliveries.
The electric automaker reported a first quarter net loss of $1.6 billion and posted first quarter revenue of $95 million, compared to expected revenue of roughly $130.5 million.
The numbers were an improvement over the $2.5 billion net loss the company reported last quarter and barely beat analysts' loss expectations—enough to boost its stock by roughly 8% in after-hours trading Wednesday.
In a shareholder letter Wednesday, Rivian said it expects to continue burning cash as it ramps up production.
"This dynamic will continue in the near term, but we expect it will improve" as production outpaces labor and overhead costs, the company said.
Rivian built 2,553 vehicles and delivered 1,227 in the first quarter, according to its report, bringing the total number of vehicles delivered to 2,148. The company needs to increase production by ten times if it's to hit its revised forecast of 25,000 vehicles this year and 150,000 vehicles per year by 2023.
The direct-to-consumer auto startup said as of May 9 it received over 90,000 orders in the U.S. and Canada for its R1 vehicle. It also has another order to supply Amazon with 100,000 commercial electric delivery vans.
But the company has built fewer than 5,000 cars since it started production, a small figure for a company that plans to one day dominate at least 10% of the global auto market.
"Of course our focus as an organization for 2022 is to get more R1s and EVs on the road," Rivian CEO R.J. Scaringe said during the company's earnings call. "The majority of our time is focused on ensuring our teams are driving towards ramping [up] production and deliveries to customers."
In a bid to compensate for slower-than-expected sales, Rivian earlier this year tried to raise the price of its vehicles by 20%, but buyers quickly objected and one shareholder sued. The company later backtracked.
To meet production goals, Rivian said it's ramping up hiring at its plant in Normal, Ill. and planning to break ground on a new $5 billion, 2,000-acre factory outside of Atlanta, Ga., which came with a hefty $1.5 billion tax break from the local government. That factory is expected to create 7,500 local jobs. Rivian said it will produce 400,000 cars annually once it reaches full capacity.
Between its planned Georgia factory and its plant in Illinois, Rivian expects to produce 600,000 cars each year when it's fully up and running.
Those plans have failed to impress Rivian's big-name shareholders, many of whom have sold off significant portions of their stock, including Ford, which sold 8 million Rivian shares this week – though it still maintains a stake. Ford originally had plans to develop an electric Lincoln SUV with Rivian, but the deal fell through last November.
Amazon backed Rivian in 2019 and said in its April earnings report it had taken a $7.6 billion loss on its investment.
In the last three months, Rivian's stock tanked more than 60%, and since its IPO in November 2021 the stock is down over 75%.
From Your Site Articles
Related Articles Around the Web
Fisker Inc.
Electric automaker Fisker has revealed that it's developing its third vehicle—an electric sports car codenamed Project Ronin.
The Manhattan Beach-based company said Thursday that it will reveal the sports car's final design in August 2023, with plans to commence production in the second half of 2024. Fisker has yet to deliver either of its other two models; its first, the Fisker Ocean electric SUV, is expected to start production this November, while its second, the five-seat Fisker PEAR, began taking reservations in February.
In the case of the new sports car, Fisker is aiming "to achieve the world's longest range for a production EV, combined with extremely high levels of performance," company founder and CEO Henrik Fisker said in a statement. "Project Ronin will be a showcase for our internal engineering, powertrain, and software capabilities."
The sports car's codename is a reference to the Robert De Niro-starring 1998 action flick "Ronin," which is packed with memorable car chase scenes. Fisker's sports car will look to rival competitors like Tesla's Roadster, which boasts a 620-mile range on a full charge, and Lucid's Air, which promises a 520-mile range. The company did not disclose the pricing for the Project Ronin car..
In its first-quarter earnings report this week, the automaker said that reservations for the Fisker Ocean have exceeded 45,000, a 50% jump from the more than 30,000 reservations disclosed in its previous earnings report in February. Fisker appeared to take a cue from Irvine-based competitor Rivian—which backtracked on price increases earlier this year after a customer backlash—in noting that it "does not expect to raise prices because of inflationary or commodity-cost pressures through 2023." Fisker added, however, that it "cannot guarantee pricing will remain static" as Ocean reservations continue to grow or for cars produced from 2024 onward.
From Your Site Articles
Related Articles Around the Web
Image courtesy of URB-E
Whether it's Amazon's enormous investment in electric vans or Starship Technologies' autonomous food transport rovers, there's no shortage of tech companies looking to electrify last-mile deliveries and cut carbon emissions.

URB-E, a Los Angeles-based startup, may have the simplest solution of all: electric bicycles. With its fleet of souped-up, battery-powered custom e-bikes equipped with collapsible box trailers, the company is ferrying meals, groceries, ecommerce orders and other packages to doorsteps in L.A. and New York City.
Now, the mobility and logistics company is returning to its roots in California to partner with the Los Angeles Cleantech Incubator (LACI) and the city of Santa Monica on a pilot program that establishes zero-emission delivery zones. Santa Monica has established itself as the cradle of micromobility in recent years, and the city's initiative—described as the first of its kind in the U.S.—aims to live up to that reputation by carving out priority curb space for electric delivery vehicles in certain high-traffic corridors. In addition to luring new operators, the program should also lower air pollution, greenhouse gas emissions and noise pollution in some of the busiest parts of Santa Monica.
The pilot will feature 10 URB-E e-bikes that will service zero-emission delivery zones along Santa Monica Boulevard and Colorado Boulevard, with plans to expand the pilot to 20 URB-E vehicles in the near future. The startup will share the curb space with electric vehicles from the likes of Coco, Fluid Truck, Maxwell Vehicles and Nissan, as well as vendors like Ikea and Shopify. The pilot will run until the end of the year.
"I think we've already seen an enormous amount of excitement in this space," LACI president and CEO Matt Petersen told dot.LA. "We know that URB-E is going to just crush it as they hit the streets."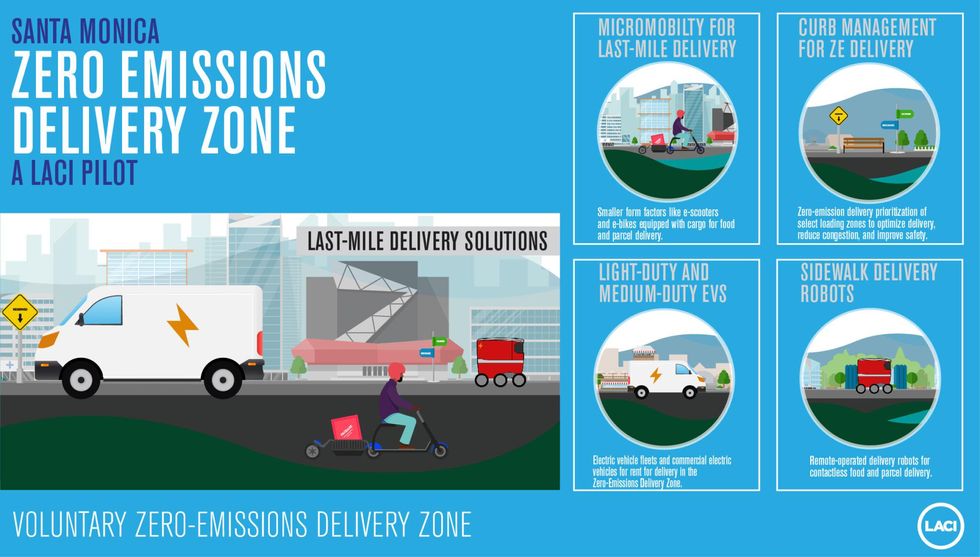 Courtesy of LACI
URB-E is no stranger to LACI: Founded in 2015 by former Ford and Fisker engineer Sven Etzelsberger and business development veteran Peter Lee, the startup joined the incubator in 2018—a stint that helped propel its business forward. Back in those days, URB-E was focused on developing e-scooters; initially, the company wanted to use its scooter technology and to deliver packages around the Burbank area, but quickly discovered that, to be cost-efficient, it needed to carry more weight than the scooters could handle.
"[The scooters] could pull around 300 or 400 pounds, which is not actually that much," recalled URB-E CEO Charles Jolley, an Apple and Facebook veteran who now leads the startup. "In order to get that good balance of efficiency, you needed to carry around 800 pounds." So URB-E went back to the drawing board and revamped its designs—moving on to e-bikes that can haul up to 800 pounds and a completely new container system.
In addition to its hometown, the company has also cut its teeth in New York City, where delivery riders pedal across neighborhoods in Manhattan and Brooklyn. Jolley said the length of a delivery run depends on the shape of the neighborhood, but it usually takes five-to-nine miles of riding to unload a full container of goods. The startup was boosted by a $5 million Series A funding round led by UBS Group early last year.
Another week, another new neighborhood for URB-E! Where is it?pic.twitter.com/VmLa2O1bNe

— URB-E (@URB-E) 1650992421
While bikes and containers are core to URB-E's platform, the company is also collecting logistics data every step along the way. With a custom software app that riders use to navigate and deliver packages, URB-E is actively mapping the infrastructure needs of neighborhood-scale electric delivery. As the startup has grown, it's gained insights into where to position charging stations and staging areas and how to efficiently execute deliveries.
That will help it support whatever electric contraptions may show up down the road as the delivery vehicles of the future, according to Jolley. "The vehicles can evolve over time, and we actually now have all of this infrastructure to support [them]," he said.
From Your Site Articles
Related Articles Around the Web