Transportation
Browse the latest news about transportation technology in Southern California from dot.LA.
After two years away from the spotlight, the Los Angeles Auto Show is plotting a comeback — and a reinvention with the changing climate.
In the aftermath of pandemic restrictions that started 18 months ago, the upcoming Auto Show — one of Los Angeles' largest events and a major draw for international visitors —will focus not only more on electric vehicles, but on an education on rapidly changing automotive technology.
"This is the decade for the electric car," said Lisa Kaz, owner and CEO of the LA Auto Show. "We're seeing all these new brands enter the market. It's the perfect storm because California leads the market in electrification."
Automakers have in the past used the L.A. show to reveal new car concepts to the public, or to gauge reaction before they're even produced. But the 2021 L.A. Auto Show, scheduled for November 19-28, has more than just the usual automotive hype on its shoulders.
After New York Auto Show organizers canceled their event last month (a result of rising Covid cases), the L.A. Auto Show is now in line to become the first major U.S. auto show since the start of the pandemic. (The Chicago Auto Show held a scaled-down event over five days in July, but only about half the space typically allotted was used and fewer automakers participated.)
The show organizers and auto companies are rethinking the traditional stands and polished array of new vehicles. This year, there will be a 45,000 square-foot indoor track to drive EVs, which will join an expanded slate of outdoor offerings, including driving courses — led by Ford, Jeep and VW, among others — and street-level test drives of certain vehicles.
There's other departures from past shows. Many automakers are moving away from the big splashy media events of past years where they talked up their latest models. And they also are using more outside space to introduce consumers to the latest bells and whistles including smartphone and media integration systems, advanced driving assistance systems and other emerging technologies.
The L.A. Auto Show may well look overseas for inspiration amid pandemic-era restrictions and corporate belt-tightening. Despite that, the International Motor Show of Germany held earlier this month in Munich seemingly went off without a hitch, attracting international media and prominent manufacturers like Volkswagen, BMW, Mercedes-Benz and Renault. The widely spaced and masked-up event may serve as a template for such large-scale gatherings as vaccination mandates increase amid the discovery of new variants of the virus.
Still, automakers are keeping their plans for the L.A. show closely guarded for now. Some are still picking up the pieces from planned press conferences in New York, unwilling to commit to anything more than smaller, regional events.
Among the companies expected at the L.A. Auto Show is Manhattan Beach-based Fisker Inc., which plans to showcase its $38,000 Ocean electric SUV — a crucial product for the startup automaker as it tries to capture the mainstream EV market. In a conference call in August, company founder and CEO Henrik Fisker said there were contingency plans if the show were to be canceled again — including a smaller event at another time in November. But a November debut was critical to the car and company's success.
But, given the uncertainty around event planning, not every company is waiting for the biggest stage to unveil their newest vehicles.
Though Irvine-based Karma Automotive initially signed up to participate in the 2020, then 2021, L.A. Auto Show, it chose to unveil its latest product separate from a major auto show and through a virtual presentation for the media.
"We'd fully planned on attending in 2020 and then the pandemic hit," said Jeff Holland, public relations director for Karma. "That changed our planning. You have to stay on it week by week with these shows."
Holland said he saw signs traditional automotive shows are starting to fall back into place, but as the cost and logistics of shipping cars and setting up elaborate stages is weighing on some companies — especially during a global pandemic.
"It's not just the cost to exhibit, but the lighting and materials," Holland said. "And if we have a press conference, there's hosting and scriptwriting and other logistics."
What's Changed
As for consumers, though, Kaz said the L.A. Auto Show still serves as an important introduction to people shopping for a new car with the most up-to-date equipment. She said the show skews towards younger attendees and represents a way car shoppers can learn about advances in vehicles like electrification and advanced driver assistance systems.
"It seems like for most people when they feel like they experience a vehicle it changes perceptions," Kaz said. "We see technology changing so fast and it's been two years since the show has demonstrated it."
Kaz sees the L.A. Auto Show as an event that can lift up the city, even in times of transition. With only about three cancelations in its century-long history, the auto show celebrates this year 50 years at the Los Angeles Convention Center, when the center first opened in 1971.

But if the show doesn't go on, Kaz said she's learned to adapt to the times. More virtual events during the pandemic means a consistent rethink about how large auto shows can thrive when companies are more carefully spending money and the public is doing more shopping from home.
"We're in such unprecedented times now I think we're having to learn to adapt more," she said. "We're fortunate we're in November and not in August."
Labor advocates got a major win last month when a California Superior Court judge ruled Proposition 22—the controversial ballot initiative that allowed ride share companies to keep classifying drivers as independent contractors rather than employees—was in fact unconstitutional.
Prop 22 was passed in November of 2020 in response to California Assembly Bill 5, which gave gig workers wage and benefit protections. Ride-share companies like Uber, Lyft, and DoorDash built their business model on gig workers. And they spent hundreds of millions of dollars to defend it, lobbying in support of Prop 22 and making it the most expensive ballot measure in California's history.
The Service Employees International Union sued the state in January to overturn the proposition, and on Aug. 20, an Alameda County Superior Court Judge Frank Roesche found Prop 22 violated the state's constitution, rendering it unenforceable. Uber and other ride-share companies have already announced their intent to appeal the ruling, and the case is expected to make its way up to the California Supreme Court.
dot.LA spoke with Catherine Fisk, Berkeley Law professor who wrote an amicus brief in favor of the drivers, about what the ruling means for the future of Prop 22, ride-share companies, drivers and the gig economy at large.
This interview has been condensed for brevity and clarity.
The Superior Court found that two sections of Prop 22 were unconstitutional, both of which you outlined in the amicus brief you and others wrote in favor of the drivers. Which parts of the proposition violated the state constitution?
One argument was that Prop 22 unconstitutionally limits the power of the legislature to provide for a complete and adequate system of workers' compensation. Workers' comp is a program that now every state has that provides a system of no-fault compensation for workers who are injured or become ill in the course of their employment. So legislatures everywhere created systems of workers compensation. Business groups, at that time, didn't want to pay the cost of compensating workers for their injuries and challenged these workers' comp systems often in court, and in many cases found judges to invalidate the workers' comp programs in whole or in part. So in California, the people amended the constitution to require that the legislature have plenary—that is complete power—to provide for a system of workers' compensation. This all happened over a century ago. So in the case of Prop 22, the court found that by carving out app-based drivers from the protections of workers' comp, it unconstitutionally limited the power of the legislature to provide for a complete and adequate system of workers' comp. Essentially, the transportation companies were trying to redo what businesses had done a century ago to eliminate workers' comp for some or all employees. And the court said no, because the California Constitution had been amended in 1918, specifically to prevent that kind of move by business.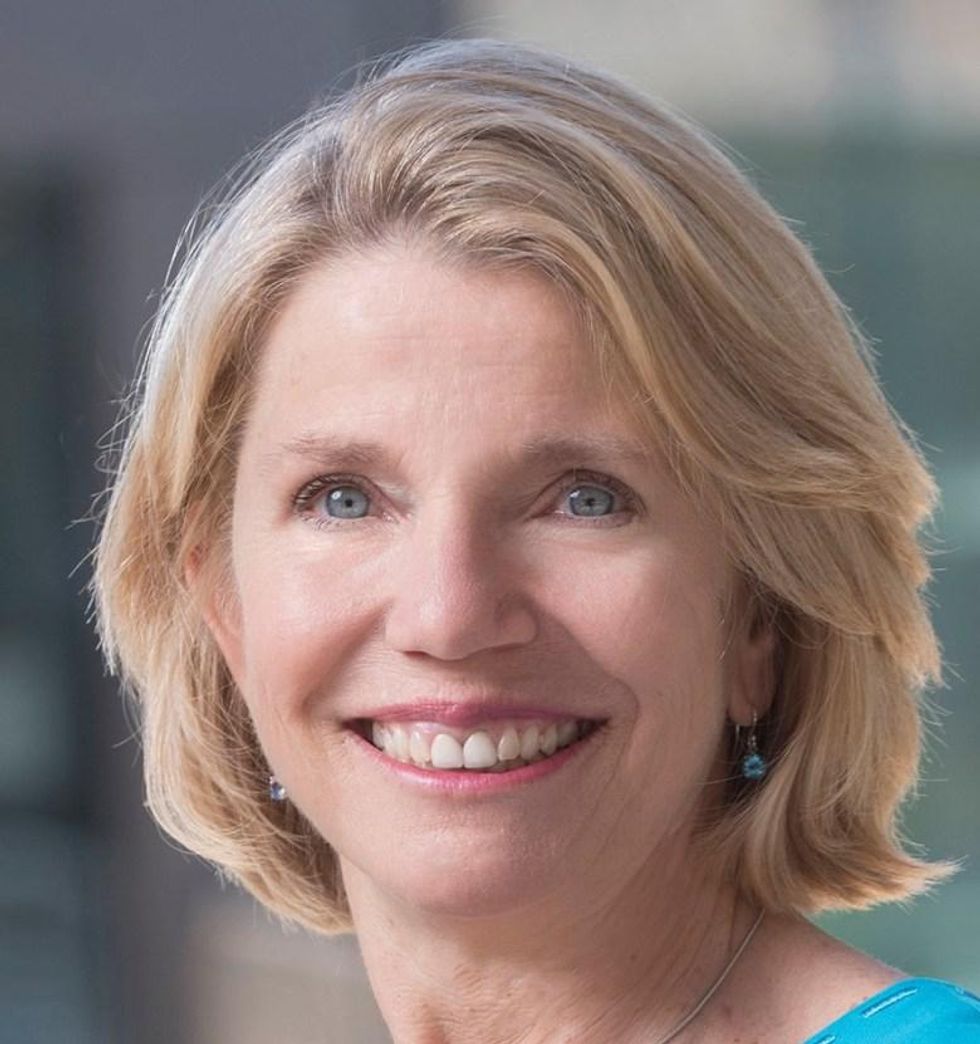 Berkeley Law professor Catherine Fisk
A second argument was that Prop 22 violates another provision of the California Constitution, which requires that any ballot initiative, like any other piece of legislation, must address only a single subject. The purpose of the single subject rule is to prevent voters from being confused or misled about what a ballot initiative would do. In the case of Prop 22, the particular confusion that the court focused on was that Prop 22 prohibits the legislature from enacting a law that would authorize drivers to negotiate collectively through a representative. This provision of Prop 22, which was buried in the fine print, was not described in the advertising in favor of the proposition. It wasn't even described in the voter information pamphlet, or the summary that appeared on the ballot.
Right, I don't remember hearing about that part of Prop 22 at all in 2020.

You had to read every single word of Prop 22. But even if you had read every single word, you wouldn't have understood what this provision would do. Because in order to understand it, you have to understand federal labor law, federal antitrust law, and their relationship to each other. Here's why. The real significance of that provision was that if the workers unionized it would enable the companies to sue the worker union for being in violation of federal antitrust law. There are 50 lawyers in the country who know enough about antitrust law, and enough about labor law to understand that that's what was going on.
So because this was hidden in the fine print and not described anywhere and had nothing to do with what the what Prop 22 said it was about—which was eliminating minimum standards for drivers—this, the court said violated the single subject rule, because it would confuse voters, you could read all the materials and still not understand what you were voting on. So that was another argument that the court found for why Prop 22 was unconstitutional.
Assuming this goes all the way to the state Supreme Court, the Superior Court decision is upheld, what might that mean for the ride-share companies and drivers?
It means Prop 22 will not be in effect, which means that the legislation that Prop 22 was designed to overrule [AB5] will go into effect, which means that drivers of transportation network companies will be entitled to be paid the minimum wage; they will be entitled to be paid overtime if they work more than 40 hours a week; they'll be entitled to protection against discrimination on the basis of race, religion, gender, etc; they'll be entitled to workers compensation benefits if they're injured. It will improve minimum standards for drivers.
And if the decision is ultimately overturned by the state supreme court, what legal options remain, if any, to get those protections for gig workers?
None. Well, to be clear, Prop 22 did say that the legislature could amend it by a seven-eighths vote. In other words, seven-eighths of the entire legislature would have to vote to change any provision of Prop 22. Why seven-eights? Because the proponents of the Prop 22 know that Democrats have a two-thirds majority of the legislature, and so they wanted to make the majority so great that the legislature could not amend it. Federal law can preempt state law or it can supersede state law. So Congress could provide that drivers are entitled to the minimum wage. Congress could provide that they're entitled to unemployment benefits, if they are laid off. Congress could create a compensation system for injured drivers. But it would have to go through Congress. And it's very hard to get anything through Congress.
Right, so high stakes.
Very high stakes.
What are the implications of this ruling then for the gig economy at large?
The gig economy, so called, especially for low-skill work like driving has been based on a low-wage model. Drivers get paid very little. Many are making way less than the minimum wage. They have no protection if they're injured in the scope of employment. And there's no reason that driving for a living has to be a low-wage job. In the 1950s, when truck driving was unionized, driving was a middle-class job.
So really what this fight is about is how to divide the profits of the app-based driving model. Should more of the money that's being made in this work, go to the workers? Or should more go to the investors? I've received a dozen phone calls or emails since the decision came down by people saying they represent investors in this industry who want to talk to me about what it means—I decline all those calls, by the way—because investors are making a bunch of money in this sector, and they want to know whether they're going to keep making a bunch of money, or whether it's going to be less profitable for investors, and more profitable for workers. That's what's at stake here.
Is there a model that could work?
When taxi cabs came into existence, everybody thought, "Oh, that's genius. Imagine being able to stand on the sidewalk and wave my arm at a yellow car, and have it stop for me and take me where I want to go." The real question is, are we going to regulate this innovative business to ensure that drivers are paid decently and have protection in the case of injury. We figured out how to have taxis and regulate them to protect both drivers and the public; cities all had taxi cab commissions that did exactly that, and they regulated fares. We could have the same model for app-based driving. The real question is, are we going to regulate this innovative business to ensure that drivers are paid decently and have protection in the case of injury. It will probably be more expensive. But when everybody said, "Wow, Uber is half the cost of a taxi," nobody thought, "and why is that?"
The thing about an Uber is that companies figured out that you could have a giant fleet of drivers on the road at all times, with zero fixed cost to the company. The drivers pay for the car; the driver pays their own time; the driver pays gas; the driver pays insurance; the drivers pay if they become injured; and the city picks up the cost of the road maintenance. So the company shifted all the risk and all the fixed costs of the business to the labor force, which was genius from the investing standpoint, but terrible for drivers.
A new e-scooter startup is coming to Los Angeles streets, promising its technology allows it to prioritize rider — and pedestrian — safety.
Superpedestrian is rolling out 5,000 LINK e-scooters to Los Angeles' sidewalks today, joining Bird, Spin, Lyft, Lime and Wheels in a race to capture a share of the crowded market.
The startup will operate in downtown L.A., West Adams, Hollywood, Echo Park, Highland Park, North Hollywood, Koreatown and Venice.
Users can download the LINK app to rent a scooter or call the customer service line if they don't have a smartphone. Starting a ride costs $1 plus 39 cents per minute. LINK offers reduced fares through LINK-Up, its initiative for users enrolled in qualifying government assistance programs.
The company is also partnering with local nonprofits Homeboy Industries and Chrysalis to employ their clients.
It might seem like the new kid on the block, but Superpedestrian has spent years developing its technology that alerts riders to dangers. It rolls out months after Santa Monica-based e-scooter company Bird, which is preparing to go public, revealed that it's facing over a hundred lawsuits for bodily injury and death.
CEO Assaf Biderman co-founded the Senseable City Lab at MIT's Department of Urban Studies and Planning. In 2013, he founded Superpedestrian as a transportation robotics company devoted to building equitable and safe solutions for urban transportation.
"Think about us as a bunch of scientists and engineers," Biderman says, "We spent eight and a half years designing a software and technology platform."
Superpedestrian's LINK e-scooters might face challenges in a well-established, crowded market like L.A.. Bird dropped its first scooters in Santa Monica in 2017 and e-scooters are no longer the novelty they once were.
But in the current landscape, not rushing the process might be a competitive advantage.
"We're able to develop something that's almost like a vaccine for vehicles," says Biderman.
Superpedestrian's technology relies on an autonomous system built into the scooter, which Biderman says will translate to a safer experience for the user and more consistent availability of scooters to rent.
In addition, Superpedestrian says its Pedestrian Defense technology protects vulnerable pedestrians from rogue sidewalk riders and other bad actors (riding an e-scooter on the sidewalk is illegal in L.A.). The scooter uses AI technology to alert the user when they are breaking the rules.
Juan Matute, deputy director of the UCLA Institute of Transportation Studies, says that focusing on safety makes it easier for cities to adopt micro-mobility.
"Having self regulating technology like Superpedestrian has is really attractive to cities because they can approve scooters to go in without worrying so much about users behaving badly," he says.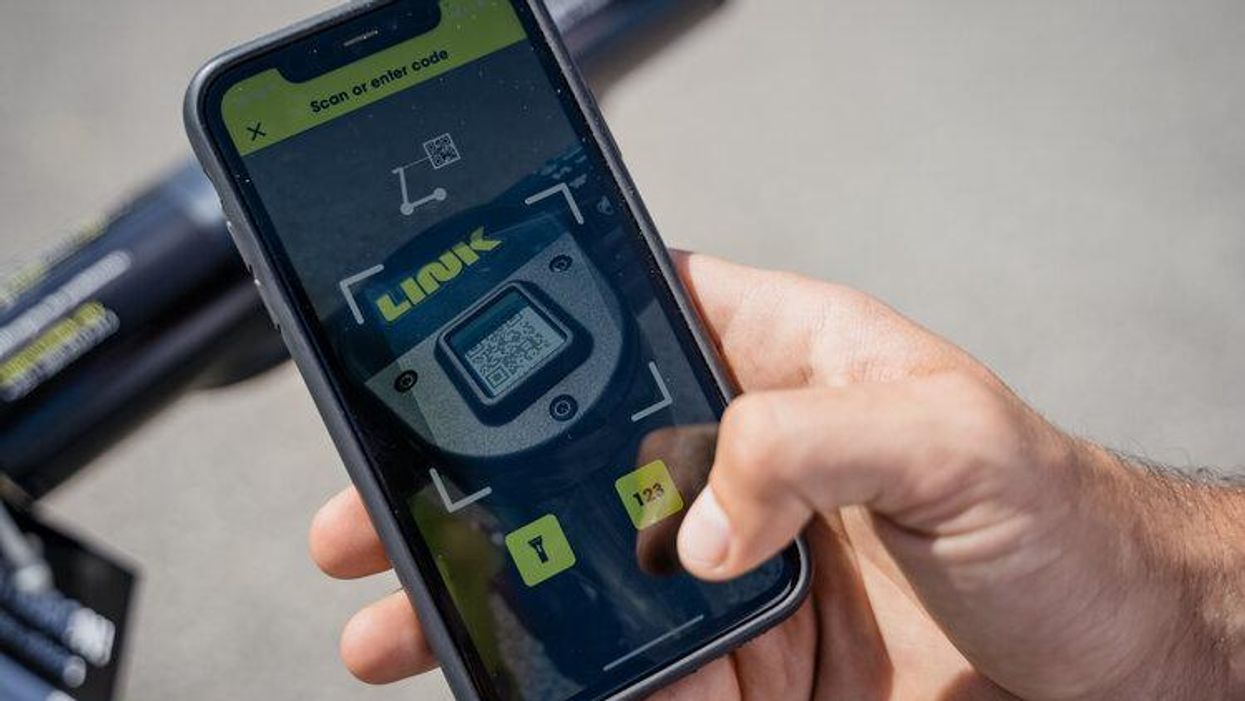 Superpedestrian's LINK app
Los Angeles is more lax in its permitting requirements than other cities, but does require that scooter companies share a good deal of their data in order to participate in its pilot program.

Matute points out that as scooters have become a viable form of urban transportation, deaths and injuries from them have increased.
It happened in part, because companies fought hard to get on the market as quickly as possible — and there were costs:
"People have died because of vehicle system failures, brakes not being up to snuff," he says.
Superpedestrian waited until 2020 to launch its LINK scooters in cities around the world. Biderman says that launching first and asking questions later was not an option:
"No, you can't do that. Now you're experimenting on people. We experimented in the lab, and we built our solutions on science and validated them over years of development, till we were sure that we have a vehicle that's the highest safety rating in the industry and that's roadworthy for people to get on."
From Your Site Articles
Related Articles Around the Web