LA Tech Updates: Peacock Launches Olympics Stream; Twitter Cracks Down on QAnon; Startup Job Board 'The Interchange' Launches
Sam Blake
Sam primarily covers entertainment and media for dot.LA. Previously he was Marjorie Deane Fellow at The Economist, where he wrote for the business and finance sections of the print edition. He has also worked at the XPRIZE Foundation, U.S. Government Accountability Office, KCRW, and MLB Advanced Media (now Disney Streaming Services). He holds an MBA from UCLA Anderson, an MPP from UCLA Luskin and a BA in History from University of Michigan. Email him at samblake@dot.LA and find him on Twitter @hisamblake
,
01:53 PM | July 22, 2020
Here are the latest updates on news affecting Los Angeles' startup and tech communities. Sign up for our newsletter and follow dot.LA on Twitter for more.
Today:
Peacock Launches 24-Hour 'Road to Tokyo' Olympics Stream
Could Twitter's QAnon Crackdown Be Followed by Others?
'The Interchange' Launches to Connect L.A. Startups to Potential Recruits
LA-Based CreatorIQ Marketing Platform Picks up $24M
---
Peacock Launches 24-Hour 'Road to Tokyo' Olympics Stream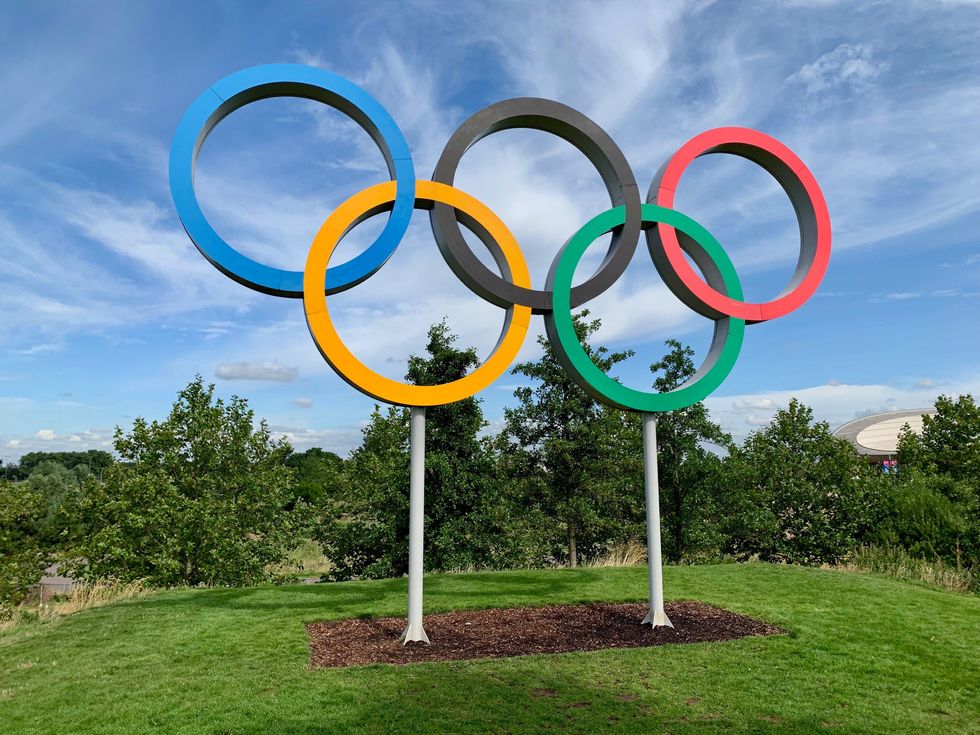 multicolored signage Photo by
Kyle Dias
on
Unsplash
As NBCUniversal prepared for its entry into the streaming wars, it looked to the 2020 Summer Olympics as a valuable tool to build interest and win over viewers. Because the company owns the rights to broadcast the games, it planned to use them to give what would ultimately be called Peacock some wind beneath its wings.
The coronavirus pandemic took the air out of those plans, but with the Tokyo Olympics having moved to the summer of 2021, the streaming service has adjusted. Peacock has launched a new 24/7 stream devoted to the games, which the service announced in a statement on Wednesday.

With the new "Road to Tokyo" channel, Peacock viewers will have access to continuous content "dedicated to Olympic and Paralympic classic moments, documentaries and studio programming," the statement said. This "pop-up channel" is one of Peacock's so-called linear feeds, where users tune into the channel but don't choose what they watch. Other channels include feeds centered around Saturday Night Live, The Office and Keeping Up with the Kardashians.
Peacock also announced it will feature a collection of NBC Olympics documentaries on its app, and produce three exclusive new specials "to prepare fans for what could be the most meaningful Olympics ever."
The games are now scheduled to begin on June 23, 2021. Although their delay has hindered NBCU's ability to market Peacock, the company is still turning to them as a tool to attract subscribers and goose excitement for its prized assets.
Could Twitter's QAnon Crackdown Be Followed by Others?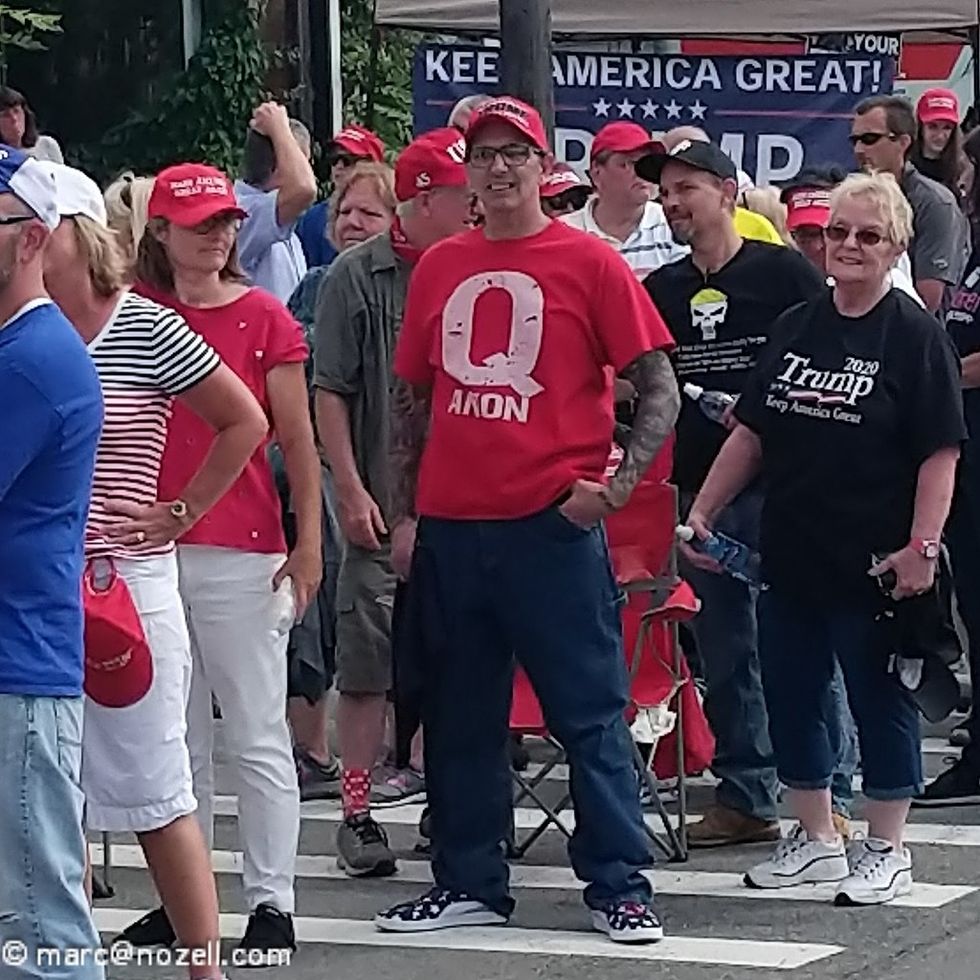 QAnon protesters
Twitter announced Tuesday evening that it began cracking down on accounts related to QAnon, the conspiracy theory that has gained traction across social media platforms. And there's a good chance other companies will follow suit, USC professor Nenad Medvidovic told dot.LA.
The company pledged to suspend accounts tweeting about "these topics that we know are engaged in violations of our multi-account policy, coordinating abuse around individual victims, or are attempting to evade a previous suspicion."
"What Twitter did is not entirely unilateral," Medvidovic, a computer science professor, told dot.LA. "There's actually a concerted effort in connection with other media platforms. The pressure definitely does build."
Twitter, Facebook, and Snapchat are independent companies that make their own decisions related to First Amendment issues, Medvidovic said. Still, it seems many of them are working off the same playbook when it comes to addressing and managing misinformation.
QAnon is a far-right conspiracy theory that revolves around unfounded claims of a "deep state" attack against President Trump. An individual going by the name "Q" first posted his theories back in 2017. The group has since falsely accused actors and politicians of running a child sex trafficking ring. Recently, attacks fell on celebrity Chrissy Teigen after she spoke out against Twitter critics who claimed the company was wrongfully censoring users.
Medviovic says that while QAnon is considered mostly a fringe movement, its messaging and actions are reaching the mainstream. Once it begins to incite violence, First Amendment protections are no longer guaranteed, Medviovic said.
Plus, Twitter is a private platform that can set its own rules and restrictions.
"I think the issue here is that it was bleeding into the real world and potentially encroaching on people's safety," Medviovic said. "I can definitely see something like QAnon being checked more consistently across the board."
Twitter says it no longer highlights QAnon posts in search and trending topics and will block URLs associated with the conspiracy theory from being shared on its site.
"As we work at scale to protect the public conversation in the face of evolving threats, we'll continue to lead with transparency and offer more context on our efforts," Twitter wrote.
'The Interchange' Launches to Connect L.A. Startups to Potential Recruits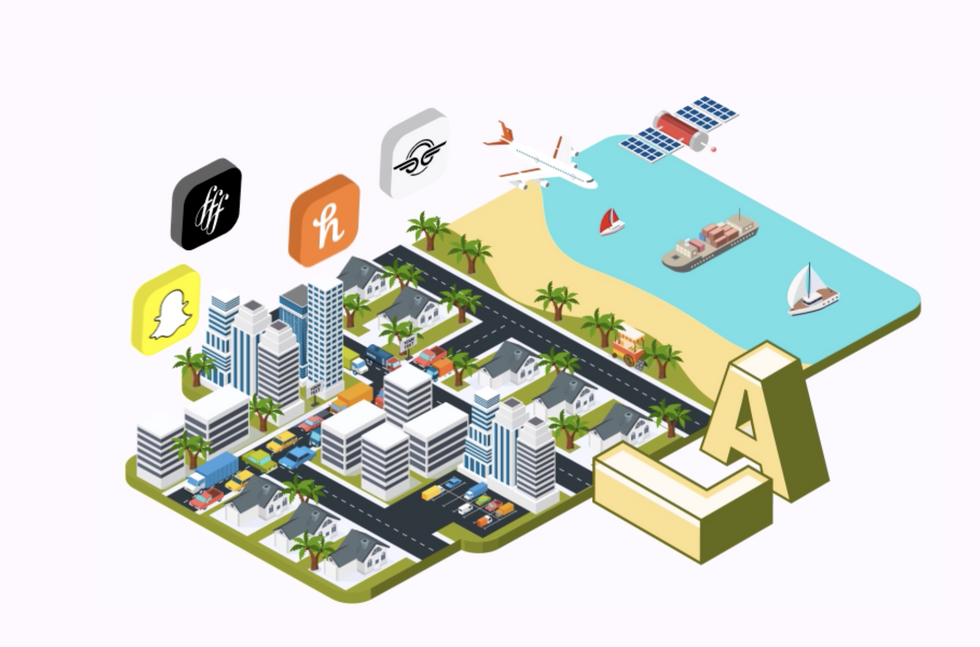 VC firm Crosscut announced Wednesday the launch of a new, free platform for L.A.-based jobseekers, built in partnership with PledgeLA and the Annenberg Foundation.
The listings of L.A. startup jobs is called the "Interchange." It aggregates startup jobs across the city in an effort to make early-stage tech opportunities more open and accessible.

PledgeLA is an initiative sponsored by the Annenberg Foundation and the mayor of Los Angeles to promote civic engagement and diversity within the tech community. Its 222 signatories span L.A.'s venture capital and tech community, all of whom have pledged to work toward improving equity and transparent reporting on their diversity efforts.
The Interchange uses the Monday.vc platform, which is now called Getro, to aggregate regional startup jobs rather than relying on companies to post opportunities on job boards or LinkedIn, said Calvin Selth, AnnenbergTech's program lead. The platform automatically scrapes each company's career page daily to make sure its listings are up to date.
One result from PledgeLA's 2nd annual survey found that underrepresented minorities were less likely to get their jobs through referrals. Interchange is an attempt to offer "a place to direct local underrepresented jobseekers to startup opportunities here in LA," Selth said. "We felt like this was a way to increase transparency about available roles while also helping startups that need build more diverse talent pipelines."

The platform focuses on startups that have fewer than 1,000 employees, is primarily a tech company, headquartered or has a technical team in L.A., makes more than $1 million in annual revenue or raises more than $1 million in venture capital, was founded after 2010 and is privately held, Selth said.
Crosscut head of platform, Nick Kim, said that early-stage tech startups are often cash constrained so post jobs on their own boards or use their networks to fill the top of hiring funnels.
"For marginalized or underrepresented people looking for high growth opportunities in tech, this means they might never see the best jobs before they're filled," Kim said. "Our goal is for all communities in LA, especially those who are not well represented in tech, to have access to the opportunities tech startups are hiring for. We hope that Interchange becomes a starting point for the promising talent that might have previously had less access to opportunity."

LA-Based CreatorIQ Marketing Platform Picks up $24M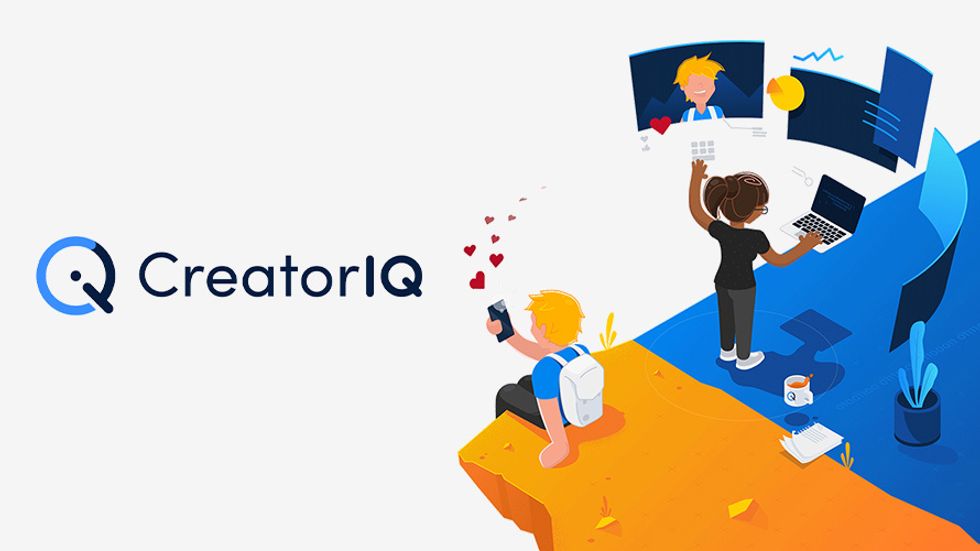 CreatorIQ is expanding their cloud after announcing today that they raised $24 million in a series C round.
The investment was led by Kayne Partners Fund with contributions from Kayne Anderson Capital Advisors, L.P., TVC Capital and Unilever Ventures.
The Los Angeles-based marketing software company was founded in 2014 and recently named a leader in the "Forrester New Wave: Influencer Marketing Solutions Report." It's now among Forrester's list of rapidly growing software programs.
CVS, Disney, H&M, Mattel, Salesforce, Sephora and Unilever are some of the many well-known companies that already use CreatorIQ's platform to collect and analyze their marketing data for discovery, workflow and privacy.
The $24 million raised will allow the company to enter new partnerships with Collectively, Digital Brand Architects, Everywhere Agency, ShopStyle Collective and Sway Group. The funds will also allow CreatorIQ to expand its current data offerings and further develop elements of their system's user experience, data science and paid media components.
"As Marketing leaders accelerate their transformation strategies to close their in-house gaps across their marketing capabilities, they are uniting best-in-class technologies with leading data providers," said Igor Vaks, CreatorIQ's founder and CEO in a press release.
The company will also soon introduce a new learning machine it said will use analytics to power visual insights and, in turn, increase brand safety, content prediction, and recommendations. Called One60, the program will allow CreatorIQ's companies to host their own technology and data in one place.
Sam Blake
Sam primarily covers entertainment and media for dot.LA. Previously he was Marjorie Deane Fellow at The Economist, where he wrote for the business and finance sections of the print edition. He has also worked at the XPRIZE Foundation, U.S. Government Accountability Office, KCRW, and MLB Advanced Media (now Disney Streaming Services). He holds an MBA from UCLA Anderson, an MPP from UCLA Luskin and a BA in History from University of Michigan. Email him at samblake@dot.LA and find him on Twitter @hisamblake
Francesca Billington
Francesca Billington is a freelance reporter. Prior to that, she was a general assignment reporter for dot.LA and has also reported for KCRW, the Santa Monica Daily Press and local publications in New Jersey. She graduated from Princeton in 2019 with a degree in anthropology.
Tami Abdollah
Tami Abdollah was dot.LA's senior technology reporter. She was previously a national security and cybersecurity reporter for The Associated Press in Washington, D.C. She's been a reporter for the AP in Los Angeles, the Los Angeles Times and for L.A.'s NPR affiliate KPCC. Abdollah spent nearly a year in Iraq as a U.S. government contractor. A native Angeleno, she's traveled the world on $5 a day, taught trad climbing safety classes and is an avid mountaineer. Follow her on Twitter.
Leslie Ignacio
Leslie Ignacio is dot.LA's editorial intern. She is a recent California State University, Northridge graduate and previously worked for El Nuevo Sol, Telemundo and NBC and was named a Chips Quinn Scholar in 2019. As a bilingual journalist, she focuses on covering diversity in news. She's a Los Angeles native who enjoys trips to Disneyland in her free time.
https://twitter.com/hisamblake
samblake@dot.la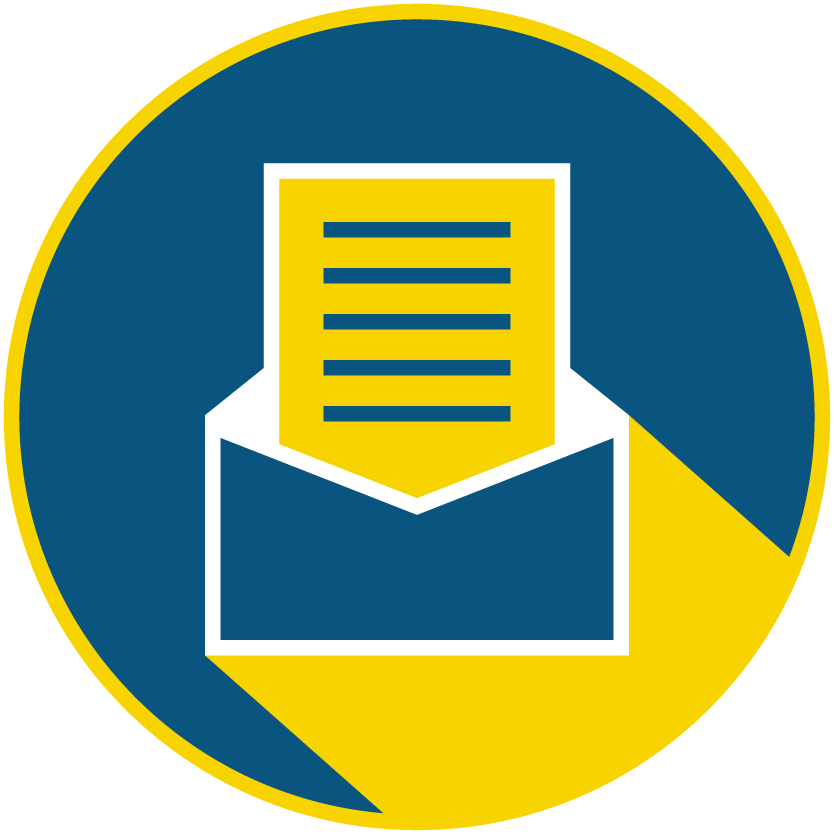 Subscribe to our newsletter to catch every headline.
05:00 AM | November 30, 2021
Behind Her Empirre
Dr. Mary Pardee has made gut health her life's work, leading her to found Modrn Med, a telemedicine and virtual wellness company based in Sherman Oaks.
And it was her own personal experience with intestinal issues that led her to become the kind of doctor that wouldn't tell her patients that "there's nothing else we can do," she told the Behind Her Empire podcast this week.

"I wanted to be the doctor that was nurturing, that gave alternatives and that really had an honest discussion about how mental health affects your gut health," she said. "So this has kind of been my journey, but is just in my own personal healing story to become the doctor that I didn't have."

As a doctor who specializes in integrative gastroenterology, hormones and gut-brain health, Dr. Pardee sees how stress impacts the gut health — and by extension, the overall health — of CEOs, moms, homeschool teachers and women in other high-stress environments.
"So you can see if you're in a period of chronic stress, which most people are, that you may not have a good libido, you definitely may not want to go to the bathroom because your digestive system is shut off," she says.
In this episode, Dr. Pardee also delves into the impact that gut health has on hormones, mental health and physical health and the importance of prioritizing self-care.
Hear more of the Behind Her Empire podcast. Subscribe on Stitcher, Apple Podcasts, Spotify, iHeart Radio or wherever you get your podcasts.
dot.LA Audience Engagement Editor Luis Gomez contributed to this post.
From Your Site Articles
Related Articles Around the Web
Yasmin Nouri
Yasmin is the host of the "Behind Her Empire" podcast, focused on highlighting self-made women leaders and entrepreneurs and how they tackle their career, money, family and life.
Each episode covers their unique hero's journey and what it really takes to build an empire with key lessons learned along the way. The goal of the series is to empower you to see what's possible & inspire you to create financial freedom in your own life.
04:00 AM | October 29, 2021
Pejman Nozad, a founding managing partner at Pear VC, joins this episode of LA Venture to discuss Pear VC's current initiatives, including its accelerator and fellowships. He's seen as one of the most successful angel investors in the area, and for good reason: he has made more than 300 investments in his lifetime.
"I'm a child of revolution and war and difficult times," said Nozad of his upbringing in Iran during the revolution.
Nozad went to college before dropping out. That's when his brother told him about his dream to go to America. After his brother was denied a visa multiple times, Nozad went himself to the embassy and got lucky; the woman in charge of the process liked him enough to approve him.
"When you're in [your] early twenties, you don't analyze much of the future. And then your risk-takers. I came to America in 1992 with $700 and I didn't speak any word of English," said Nozad.
Nozad went from working at a carwash, then a yogurt shop, to a (now famous) Persian rug store in Palo Alto. Many of his clients happened to be CEOs and venture capitalists; Nozad wanted to be part of that community.
"I was very lucky because I had access to people who normally nobody can see them, but I was hanging out with them at Sunday barbecues while selling carpets," said Nozad.
In his early days as an investor, Nozad bet on companies that included Dropbox and DoorDash. He said he took inspiration as a venture capitalist in lessons he learned from his time playing professional soccer in Iran.
"In soccer, you can score minute one, or you can score at minute 90. Both of them [are] one goal and you can win the game. So, when you go to fundraise, don't get disappointed if you hear a lot of nos, because the yes could be the last meeting after the whole two months," he said.
Want to hear more L.A. Venture? Listen on Apple Podcasts, Stitcher, Spotify or wherever you get your podcasts.
dot.LA Engagement Intern Joshua Letona contributed to this post.
From Your Site Articles
Related Articles Around the Web
Minnie Ingersoll
Minnie Ingersoll is a partner at TenOneTen and host of the LA Venture podcast. Prior to TenOneTen, Minnie was the COO and co-founder of $100M+ Shift.com, an online marketplace for used cars. Minnie started her career as an early product manager at Google. Minnie studied Computer Science at Stanford and has an MBA from HBS. She recently moved back to L.A. after 20+ years in the Bay Area and is excited to be a part of the growing tech ecosystem of Southern California. In her space time, Minnie surfs baby waves and raises baby people.