Mission to Mars: Dream of Analyzing Martian Soil for Signs of Life May Soon be Reality
Feb 10 2020
It's been a dream of scientists for generations: actually studying samples of Martian soil for signs of life. With Monday's announcement of President Donald Trump's 2021 budget for NASA, that dream appears likely to be funded and on the cusp of becoming reality.
The more than $25 billion budget is a 12% increase from last year's and would be NASA's largest in decades, investing in a variety of ongoing scientific, technological and aerospace goals. It is in contrast to the proposed deep cuts that would hit domestic programs, like food stamps, federal housing assistance, and Medicaid, federal disability and student loan programs.
---
The Trump Administration has prioritized American astronauts returning to the moon by 2024 and the use of it as a "launching pad to ensure that America is the first nation to plant its flag on Mars," the president said during his State of the Union address last week.
"We're going back to the moon to stay this time, and to build a sustainable presence at the moon and Mars eventually," said NASA Administrator Jim Bridenstine said, speaking in front of rocket engines at NASA's Stennis Space Center near Bay St. Louis, Mississippi.
NASA is also working with commercial "partners" at SpaceX and Boeing, Bridenstine said, to launch Americans on U.S. soil back to the space station this year.
Other technological efforts that will be undertaken on the red planet as part of Mars 2020 mission include the use of technology to turn the carbon dioxide on Mars into oxygen as well as the first ever helicopter to fly in another world, which would be a feat especially due to the extremely thin atmosphere on Mars that makes such flight much more challenging.
The Mars rover is in the process of being shipped to Cape Canaveral, where it will be launched this summer. NASA's budget included roughly $12.4 billion to send astronauts to the moon and prepare for the exploration of Mars and beyond.
The Mars sample return, however, is what has many people at the Jet Propulsion Laboratory in La Cañada Flintridge, psyched.
"These are missions and programs that we've talked about for decades," said Michael Watkins, JPL's director. "These are not just another Mars mission. Mars sample return is a campaign that's been top ranked by the decadal survey (done every 10 years to identify priorities) for a number of (its) years. As a mission we've been trying to get going for more than 20 years."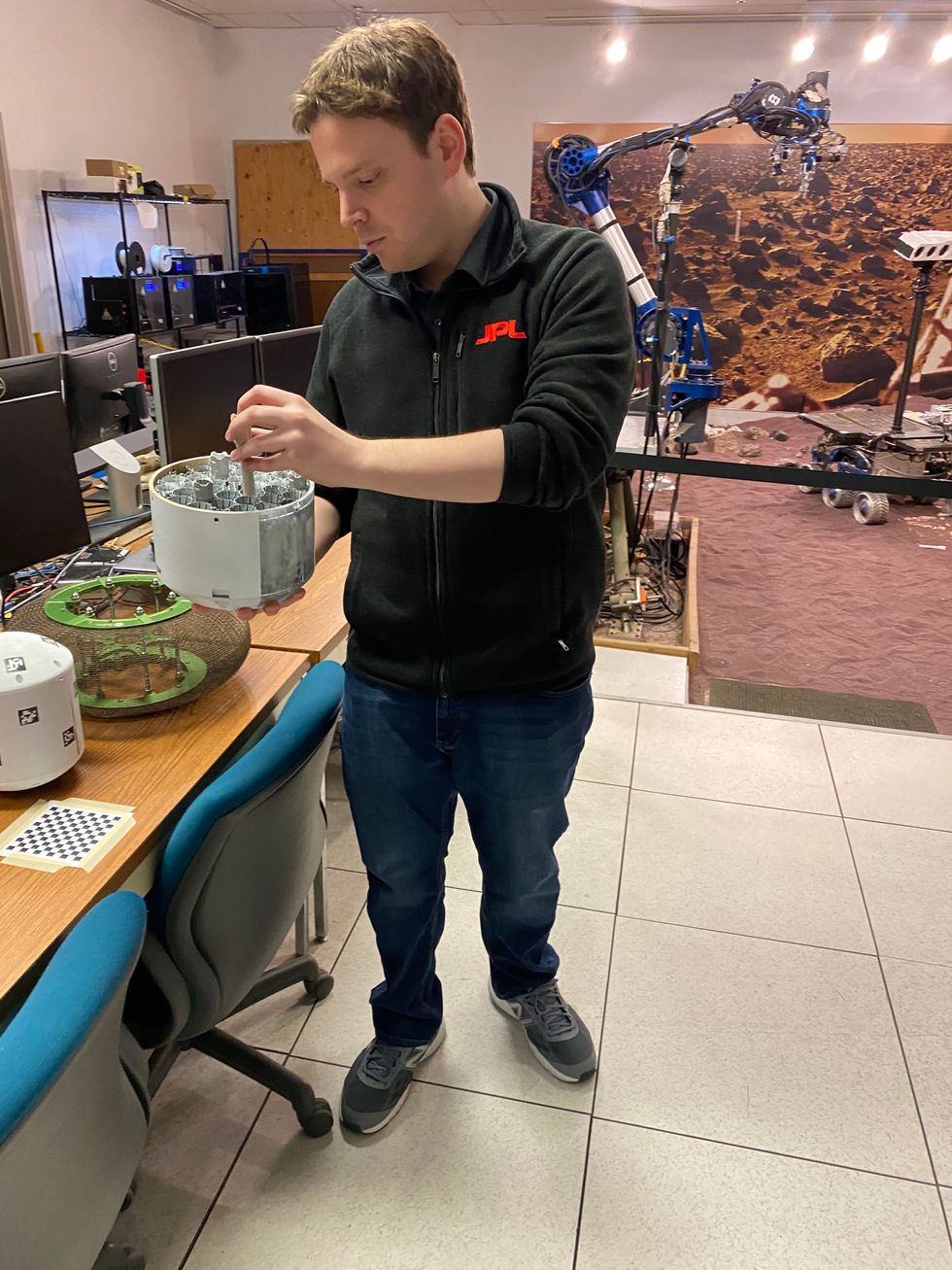 Austin Nicholas, the Mars sample return lead mission engineer, spoke to dot.LA during an interview in the test bed area at the Jet Propulsion Laboratory in La Cañada Flintridge where small sample tubes were strewn about on imaginary Martian soil as a demonstration. He demonstrates how these tubes will end up loaded into a circular sample container that gets placed on a rocket.
By Tami Abdollah
Austin Nicholas, the Mars sample return lead mission engineer, spoke to dot.LA during an interview in the test bed area at JPL on Monday, where small sample tubes were strewn about on imaginary Martian soil as a demonstration.
The Mars 2020 rover will drill into the the ground and capture samples of Martian soil in small tubes that will then be sealed and placed inside the rover for storage. The rover will have the capacity to capture samples for as many as 43 tubes from diverse regions of the red planet, depending on how the rover's exploration goes.
Once the tubes are all filled, they will be dropped in a cluster at a spot on the surface of Mars so that they can be picked up during a mission to retrieve the samples.
The next steps involve the launch of both a lander and orbiter in 2026. Once the lander arrives on Mars in 2028, it will deploy a "fetch rover" to pick up the tubes left on the ground years earlier. They'll be retrieved and loaded onto a rack and the fetch rover will drive to the lander, which will use a long mechanical arm to transfer the rack, and load the tubes into a circular sample container on the rocket.
The return of that container is complex. It requires a highly intricate choreography that includes the first-ever launch of a rocket off the surface of another planet. Once the rocket reaches space, it will eject the sample container. The orbiter will travel more than a thousand miles to the container and use a basket to catch the container filled with soil samples.
If all goes well, the return of the orbiter back to Earth with the samples would occur in 2031 at which point there would be efforts to isolate and quarantine samples before they are ultimately doled out to scientists around the world to study.
Scientists are searching for evidence of past habitable life and for fossilized ancient microbial life in the samples, but such an analysis requires instruments that are truly massive - as large as a major city block, for example - which is why the samples must be brought back to Earth for study.

__
Do you have a story that needs to be told? My DMs are open on Twitter @latams. You can also email me, or ask for my Signal.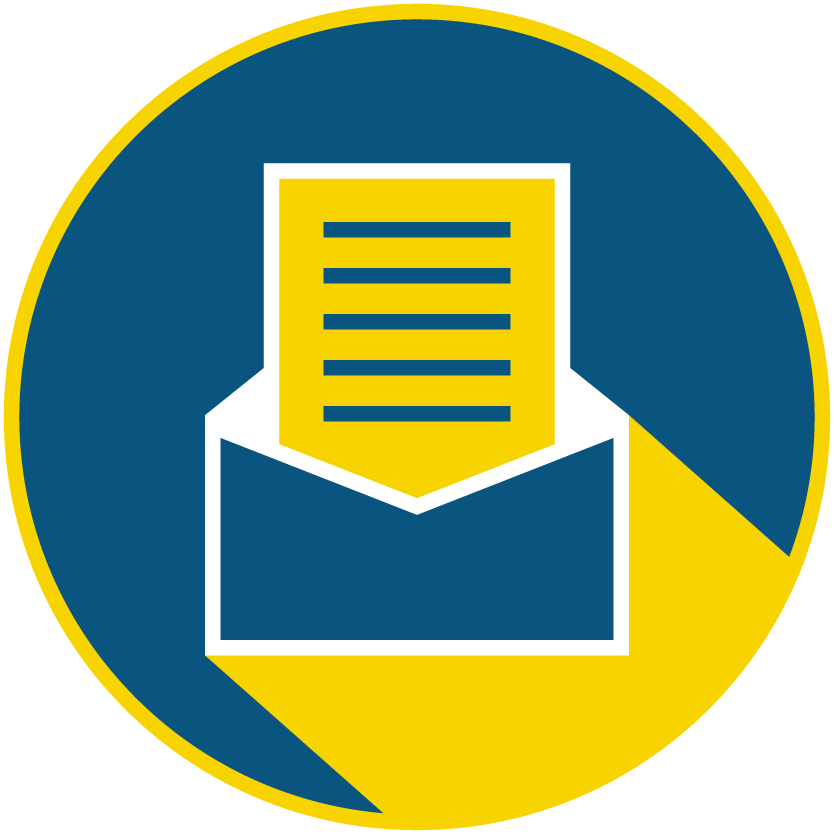 Subscribe to our newsletter to catch every headline.
Activists, nonprofits and multiple internet domain registrars are upset over what they call a sweetheart deal involving the U.S. government; VeriSign Inc., which maintains the dot-com domain; and a not-for-profit that oversees the internet's domain name system. The deal, which still needs to be signed off on, would allow an already highly-profitable public company to raise prices on website wholesalers for dot-com domains, by as much as 70% over the next decade.
Bill Gates spoke with broad optimism about the potential for technology to address some of the globe's biggest challenges, but struck an ominous tone Friday in discussing the threat posed by the coronavirus as the outbreak outpaces the best efforts of doctors and health workers.
The impact could be "very, very dramatic," the billionaire philanthropist said, addressing a standing-room-only audience during his keynote address at the American Association for the Advancement of Science annual meeting in Seattle. He called it a "potentially very bad situation."
Billboard advertiser AdQuick raised $6 million in a Series A round as the company looks to expand its market and develop better analytics.
The round was led by Reddit co-founder Alexis Kerry Ohanian's Initialized Capital with WndrCo, Shrug Capital, The Todd & Rahul Angel Fund and Michael Kassan's MediaLink brings total funding to $9.49 million.