Mission to Mars: JPL Unveils Toaster-Sized Tech that May Create Oxygen on Red Planet
Feb 08 2020
When the newest Mars rover departs Earth this summer, it will carry a relatively small piece of new technology that could potentially transform the way humans explore space. On Monday, NASA's Jet Propulsion Laboratory in La Cañada Flintridge will present details on its exploration goals, including a new technology that could help humans breathe on the red planet.
Roughly the size of a fancy toaster oven, MOXIE, which stands for the Mars Oxygen In-Situ Resource Utilization Equipment, essentially produces oxygen from the thin Martian atmosphere, which is primarily made up of carbon dioxide, at a rate of about 10 grams of oxygen per hour. That's roughly enough oxygen to keep a small cat or dog alive.
---
MOXIE is one of seven pieces of equipment that has been loaded onto the car-sized Mars 2020 rover at JPL. And while it's not the main focus of this mission — identifying soil samples for analysis and future return to Earth — it remains a critical step to be able to ultimately send a human being to Mars and bring them back.
Clearly, oxygen is critical for human life. The element is also critical for rocket propellant so that a spacecraft would not have to deal with the technical ramifications of carrying additional weight or landing with excess oxygen. If the scale model works, the next step would be to create a larger oxygen-producing plant to greet the first humans to land on the moon.
"Right now the heaviest thing we've landed on Mars is approximately a 1-ton rover, and we need hundreds of tons of oxygen," said Asad Aboobaker, 40, who served as the thermal engineer for MOXIE and recently demonstrated the equipment for dot.LA. The federally funded research and development center leads the Mars 2020 mission and also won the contract to build MOXIE.
Should MOXIE succeed, it is likely to have impacts on the commercial aerospace world as well as science. Elon Musk, CEO of SpaceX, which is based in Hawthorne, Calif., has set an "aspirational" goal of sending humans to Mars in 2024 as settlers, but under the aerospace company's current plan, those humans would likely never return to the Earth.

"MOXIE is a small step toward that (return), but a very important step," Aboobaker said, noting that the "small-scale oxygen plant" would have to scale up significantly to 2 kilograms of oxygen per hour.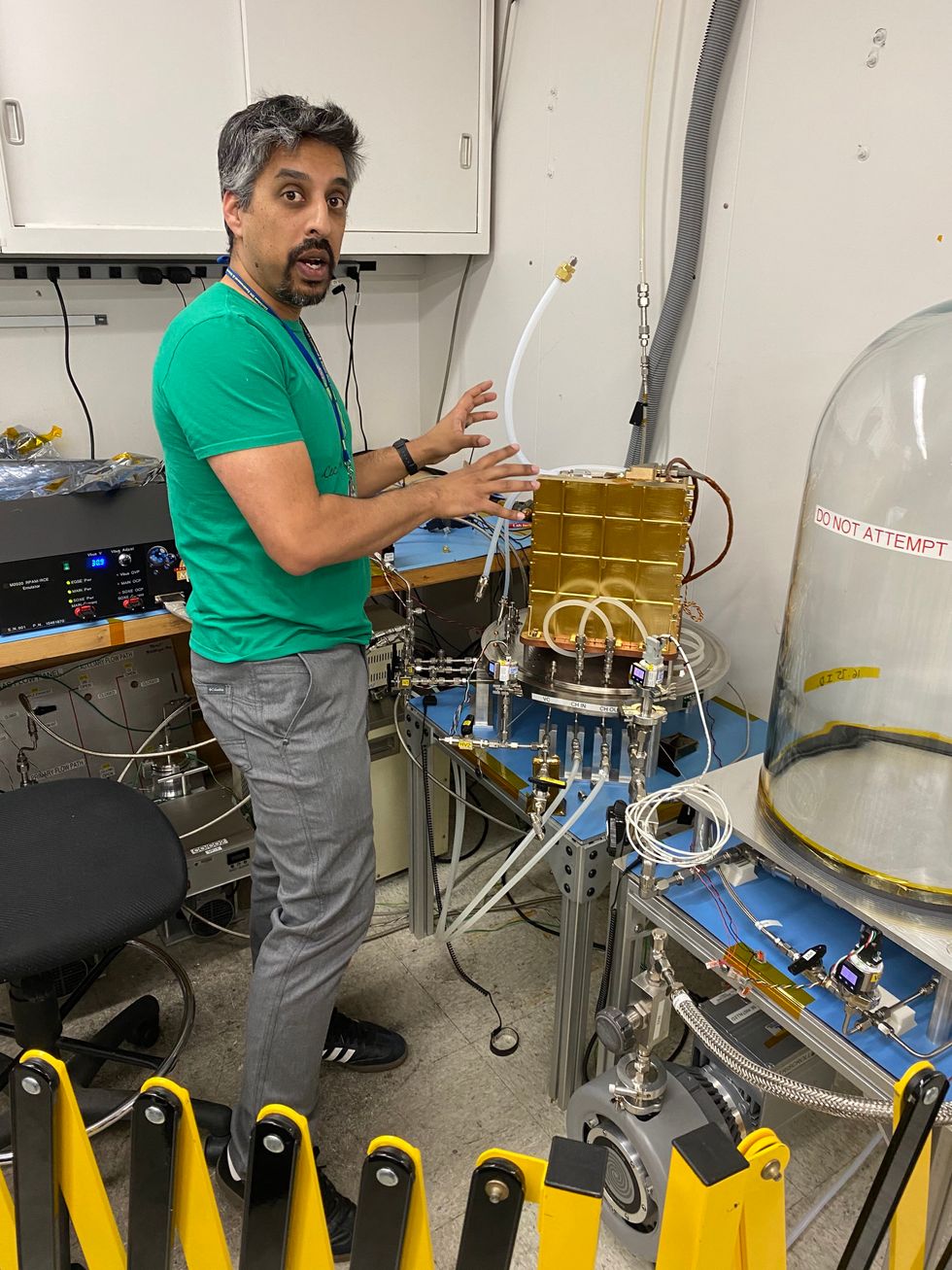 Asad Aboobaker, 40, who served as the thermal engineer for MOXIE and helped build the system at JPL, shows the version of MOXIE that will remain on Earth while a flight-ready version is scheduled to travel to the Mars 2020 rover this summer.
Photo by Tami Abdollah
Such a large system would need to be sent to Mars years before humans would ultimately arrive, so that oxygen could autonomously be generated and be ready for the arrival of humans.

The planets align every 26 months in a way that allows for a spacecraft's launch to Mars. So the first several Mars missions with human crews would likely use two consecutive launch windows, with the first putting necessary infrastructure in place, said Michael Hecht, who is the principal investigator for MOXIE. Hecht leads the MOXIE project out of the Massachusetts Institute of Technology.
"MOXIE is built for a specific purpose. It's a prototype for a future, larger and more powerful system that will save us the trouble of transporting all that oxygen to Mars," Hecht said. "Instead, that first mission will carry a full-scale MOXIE-style oxygen generation plant and an empty tank, and MOXIE will use the time while waiting for the astronauts to fill the tank with oxygen."

As a technology, the 17-kilogram-sized MOXIE creates oxygen from carbon dioxide by pumping the gas from the Martian atmosphere through its electrolysis system to break up molecules ultimately into breathable oxygen. The engineering was particularly tricky because the electrolysis system works at 800 degrees Celsius or a blistering 1,472 degrees Fahrenheit. Aluminum, which is a material that's often used in engineering, however, melts at 660 degrees. So they ended up using chromium, which melts at more than double that temperature.

Because MOXIE requires a significant amount of power to operate and is not the central objective for the 2020 mission, it will be utilized intermittently and "opportunistically," with an eye toward identifying how it might operate during different times of day, weather or other conditions, Abookbaker said.
While MOXIE cost more than $40 million, according to a 2017 NASA Inspector General report, it was a relative drop in the bucket compared to the roughly $2 billion Mars 2020 project.
__
Do you have a story that needs to be told? My DMs are open on Twitter @latams. You can also email me, or ask for my Signal.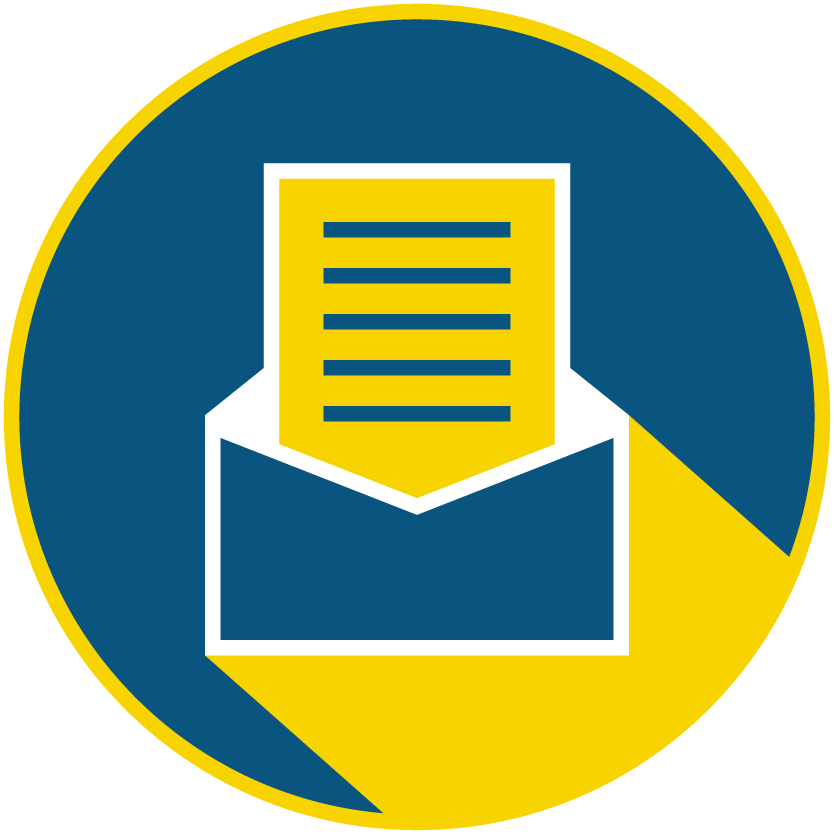 Subscribe to our newsletter to catch every headline.
Activists, nonprofits and multiple internet domain registrars are upset over what they call a sweetheart deal involving the U.S. government; VeriSign Inc., which maintains the dot-com domain; and a not-for-profit that oversees the internet's domain name system. The deal, which still needs to be signed off on, would allow an already highly-profitable public company to raise prices on website wholesalers for dot-com domains, by as much as 70% over the next decade.
Bill Gates spoke with broad optimism about the potential for technology to address some of the globe's biggest challenges, but struck an ominous tone Friday in discussing the threat posed by the coronavirus as the outbreak outpaces the best efforts of doctors and health workers.
The impact could be "very, very dramatic," the billionaire philanthropist said, addressing a standing-room-only audience during his keynote address at the American Association for the Advancement of Science annual meeting in Seattle. He called it a "potentially very bad situation."
Billboard advertiser AdQuick raised $6 million in a Series A round as the company looks to expand its market and develop better analytics.
The round was led by Reddit co-founder Alexis Kerry Ohanian's Initialized Capital with WndrCo, Shrug Capital, The Todd & Rahul Angel Fund and Michael Kassan's MediaLink brings total funding to $9.49 million.