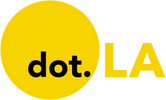 Get in the KNOW  
  on LA Startups & Tech  
X
Tami Abdollah
Tami Abdollah was dot.LA's senior technology reporter. She was previously a national security and cybersecurity reporter for The Associated Press in Washington, D.C. She's been a reporter for the AP in Los Angeles, the Los Angeles Times and for L.A.'s NPR affiliate KPCC. Abdollah spent nearly a year in Iraq as a U.S. government contractor. A native Angeleno, she's traveled the world on $5 a day, taught trad climbing safety classes and is an avid mountaineer. Follow her on Twitter.
The city of Adelanto sits 85 miles northeast of downtown Los Angeles and may be best known for its prison — now a privately-owned immigration detention center. It's also where cannabis startup Genius Fund was pouring tens of millions of its investor's dollars last year.
Genius Fund's state-of-the-art cannabis production facility sits at the intersection of Muskrat Avenue and Rancho Road on a dusty stretch of the Mojave Desert, guarded with 8-foot-high fencing and razor wire.
---
Inside, shiny black tiled floors, chrome utilities and floor-to-ceiling glass walls give the facility a sleek, antiseptic feel. A table in the shape of a large aircraft wing spans its conference room.
The site has three buildings. One was used for CBD extraction, another was for THC extraction, and a third was for storage, according to local government planning and corporate documents.
At the compound, Genius Fund intended to produce barrels of THC and CBD oil and extract from their marijuana and hemp grows.

Many cannabis manufacturing businesses have moved to Adelanto in recent years. The city has become known for being friendly to the cannabis industry, in part because of its need for revenue. A third of its residents live below the poverty line.
But Genius Fund did little to help the city. A spokesman for the California Department of Public Health said "there has not been an active state cannabis manufacturing license at this address since April 2019." The company continued to manufacture cannabis throughout 2019, according to corporate records. A former employee who directly dealt with the issue at the compound told dot.LA the company was lacking permits.

A video promotion for Heli's Adelanto production facility, which was rebranded as Purest Biotech, shows the facility's interior.
The Agreement with Heli
Genius Fund, an L.A.-based startup, was run by Ari Stiegler and Gabriel Borden, two twenty-something friends who had lofty ambitions of dominating the cannabis market, first in the U.S. and then internationally. Funding it all was a more than $160 million bet from a Russian coal oligarch, Dmitry Bosov, according to corporate and court records.
To get it done, Genius joined up with Joseph "Joey" Ohayon and his business partner Evan Kagan to form multiple "Heli"-branded entities, in which Genius held a majority stake, according to court records and interviews.
Former employees described Ohayon, 31, as a smooth talker who often wore a designer shirt, baseball cap and tight jeans and traveled nearly everywhere in a cream-colored Rolls Royce with his head of security. They said he talked a lot about his criminal record of assaults. Arrest and court records in Florida show a conviction for felony battery.
To rapidly scale up their fledgling company, Genius Fund invested big into Heli's ventures, agreeing to spend over $21 million. Much of that would go to purchase THC and CBD biomass for Genius Fund's line of products, according to records later filed in an arbitration between Ohayon and Kagan on one side and Genius Fund on the other. Their 2019 business agreement — which was submitted in those arbitration proceedings — gave Genius Fund first priority for manufacturing THC and hemp products, as well as first dibs on the marijuana flower, pre-rolls and other products.
A video for Francis Racioppi's "Aim Small Big Miss" YouTube series.Video embedded from YouTube.
Enter Racioppi
As Genius Fund's ambitions grew, so did its management team.
Francis Racioppi wowed the executives at Genius Fund with his background as a U.S. Special Forces officer and an executive at Snap Inc. Former employees describe him as a tall, intense guy with an athletic build. He was hired in April 2019 as the chief security officer. At the time, the company was moving in several directions at once to get its lab, grows, products and manufacturing processes off the ground.
He quickly rose up to the executive rank, convincing Borden and Stiegler that the marijuana business, which heavily depends on cash because it is illegal under federal law, had multiple security vulnerabilities that required new protocols.
Former employees said Racioppi placed cameras everywhere at the company's headquarters. They described him as relentlessly focused on his goals and often short with people and said he rubbed many employees the wrong way. He gained a reputation among the rank-and-file as someone to avoid, former employees said. They added that he surrounded himself with allies along the way.
"He was very textbook about pulling himself all the way up to the top," said one former employee.
Neither Racioppi nor his attorney replied to requests for comment on this story.
Within a month of his arrival, he was flying to Russia with Stiegler and Borden to meet with Bosov, two former employees said.
Racioppi hired a large group of employees — many were friends from his days at Snap or former military. They were paid hefty salaries, according to multiple former employees and corporate records.
At its height, at least 40% of Genius Fund's direct employees were security, accounting for at least half of the company's payroll costs, according to people familiar with the company books.
"I'm like, 'This guy [Racioppi] is literally about to stage a coup'," said an ex-employee, whose sentiments were independently echoed by his former colleagues. "He hired at least 20 of his military friends, all making exorbitant amounts per year. That's when I knew, this guy is going to take over."
Former employees also wondered whether executives, so taken by Racioppi's Special Forces background, failed to do even a Google search to find out why he left Snap.
The Wall Street Journal reported he was fired as Snap's head of global security in late 2018 after an investigation uncovered an inappropriate relationship with a contractor. Her contract was ended around the time she stopped seeing him.
As his prominence in the company grew, employees said they saw Racioppi try to gain Bosov's trust, in part by warning Genius Fund's principal investor of the company's financial situation. In his more than $3.5 million whistleblower retaliation lawsuit filed in April in federal court in L.A., Racioppi details his efforts to try to inform Bosov of mismanagement at the company.
One place where he saw the company's losses piling up: the compound in Adelanto.
Illustration by Candice
Evicting Ohayon
As he cracked down on waste, Racioppi and the company's finance team pushed Heli Ventures' Ohayon to provide more transparency on spending, and the alliance with Heli grew rocky. Arbitration records filed by Genius Fund accused Ohayon and Kagan of embezzlement and unjust enrichment.
Genius Fund executives purchased the Adelanto property for $7 million, according to documents submitted as part of Racioppi's lawsuit. One former employee told dot.LA the purchase was partly made to ensure Genius Fund could access the site should relations with Ohayon deteriorate further.
Kagan agreed with that latter assessment, telling dot.LA he tried to distance himself from the business as the drama unfolded.
"They bought it out of necessity to take control," Kagan said. "They were going to use that to evict [Ohayon]."
Roughly a year into working with the company, Ohayon allegedly threatened to go after Stiegler in a September 2019 conference call, saying, "I'll beat his ass up," "I'll fuck him up" and "I'll kill that kid," according to an application for a temporary restraining order filed by Stiegler and other Genius Fund executives later that month. Ohayon denied the allegation to dot.LA.
In a sworn declaration filed in court to obtain the restraining order, Stiegler said he grew increasingly worried about his safety and that he added round-the-clock personal security and bumped up security at all Genius Fund offices and at the Adelanto facility.
Bosov terminated Ohayon and Kagan's agreement with Genius Fund two days after the conference call.
As the company's legal team went through Heli's books, they were unable to locate more than $4.5 million in cash that had been listed on Heli's balance sheet just a couple of weeks earlier, according to documents filed in support of the restraining order.
Separately, arbitration records also allege the company could not find an additional $2.5 million and further alleged that Ohayon used some of the company's money to pay himself.
"Despite repeated requests for an accounting by Genius Fund," those documents state, "Ohayon has failed to provide one and failed to explain the reduction of $2.5 million in the cash log."
The filings also accuse Ohayon of contracting with several entities to pay $4 million to purchase 150,000 pounds of hemp. The market price at the time would have put the value at $259,500. One of those entities then purchased 3.5% of Heli Holdings, "which is merely an operational company with minimal assets and no revenue to date," for $4 million in cash. "Thus, effectively," the arbitration documents allege, "respondents paid themselves $4 million with Genius Fund's money."
Also in the documents: Genius Fund accused Ohayon of using the company's American Express card to pay for dogs, dentist visits and personal travel. They accused him of providing a company credit card to a friend unrelated to the business who used it for personal expenses.
Ohayon's partner, Kagan, told dot.LA that Ohayon had purchased dogs on the American Express to serve as security for the compound. He had originally wanted wolves, he said, but was talked down.
Ohayon initially declined to comment for this story. Later he sent an email response.
"These statements are false," Ohayon said, referring to the application for a restraining order. "They made these accusations solely to exert leverage and try to push me out and deprive me of my interest."
Ohayon said all hemp purchases were disclosed and approved by Genius, Bosov and his representative. He added that he never used his business credit card for personal expenses.
Ohayon said he sold the dogs and returned the money. The arbitration claims, he added, were settled.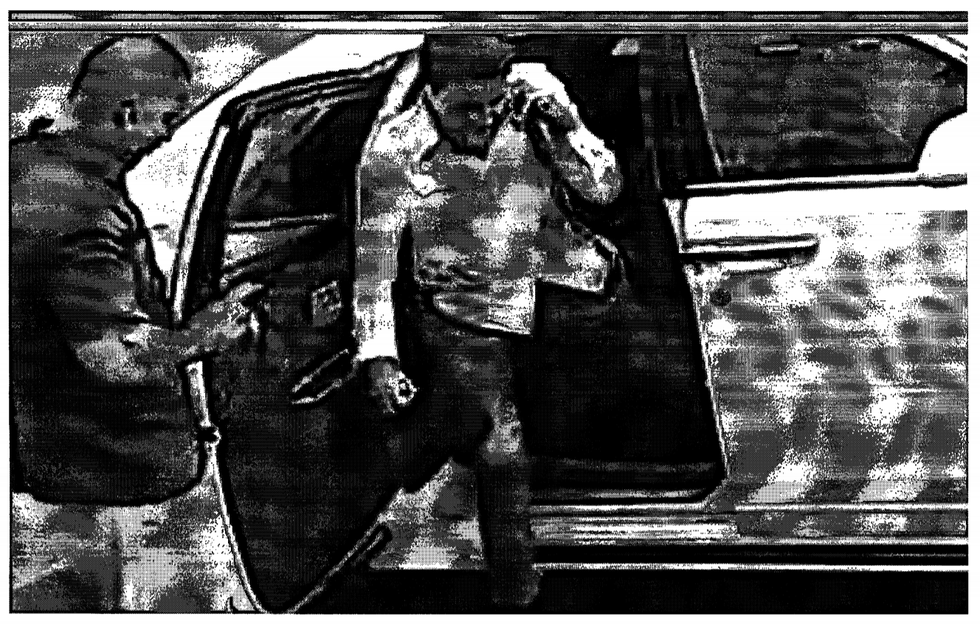 Security footage shows Joseph "Joey" Ohayon and his security detail being let on to the Adelanto facility's grounds by the head of Heli's security.
Lockdown
Genius Fund appointed one of its own as a new interim head of Heli. A message to all Heli company employees reviewed by dot.LA told them that previous management had failed to make payroll and that Genius Fund would pick up the entity's tab. The next day, which was typically payday, the new interim CEO stood outside the company's Adelanto gate so that employees could pick up paper checks.

But things worsened. The following week no one showed up to work at Adelanto. Heli's new interim CEO surmised that Ohayon had threatened the employees or told them not to go in, according to documents submitted to the court in support of Genius Fund's application for the temporary restraining order.
"I never threatened them," Ohayon told dot.LA "They decided against working for Genius due to their conversations with other Genius employees."
Security footage from Sept. 26, submitted as part of the same application showed Ohayon's security staff attempted to take over the property. The video showed Ohayon and his security detail being let onto the Adelanto facility's grounds by the head of Heli's security. A minute-by-minute account in the court documents describes the company's vans barricading entrances and the apparent theft of "high terpene extract material" from the facility's refrigerator while more than a dozen armed security followed Ohayon around site.
Ohayon traveled to Italy to negotiate a settlement with Bosov, which was signed by Stiegler on behalf of Genius Fund, according to a copy submitted to the court in Racioppi's whistleblower retaliation lawsuit.
"We disagreed on some stuff, but at the end of the day Dima said: 'Hey, Joey gets to run this and Ari run that, let's just see what happens,'" Stiegler said.
As part of the settlement, the company renewed its relationship with Ohayon and Kagan, who agreed to decrease their membership shares in the Heli partnerships from 49% to 39% and withdraw their security operations from the Adelanto compound, according to court records in Racioppi's lawsuit. The settlement left the facility's security in Genius Fund's hands. The request for a temporary restraining order against Ohayon was partly granted in October, but was dismissed by the court 10 days later because none of the plaintiffs showed up for the next hearing.
Genius Fund's current owner, Gary Shinder, did not reply to repeated requests for an interview, but said in a letter that after significant examination, "I did not find anything that could support any allegations of embezzlement, theft, or mismanagement by Heli Holdings or its principals." He wrote that he instead found what was likely "the only successful project in the Genius Fund portfolio."
Genius Fund ended up pouring tens of millions into the Heli operation, but it was never profitable, according to Kagan and corporate records.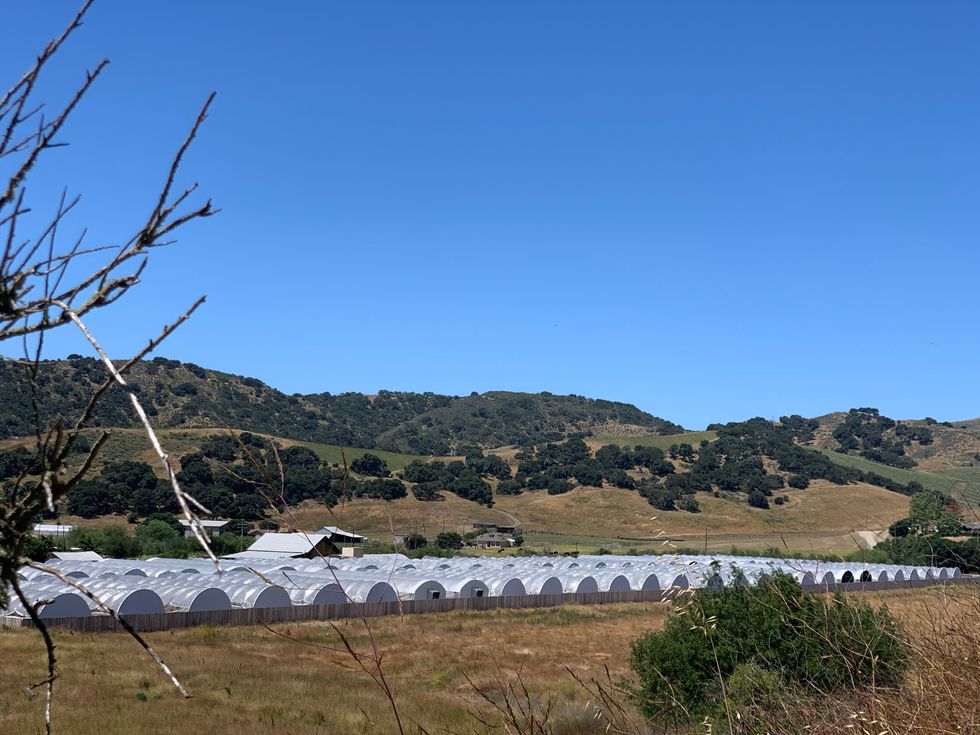 An image of the land Genius Fund purchased in Santa Barbara County.Photo submitted from a source who prefers to remain anonymous.
Cannabis in Wine Country
The company's relationship with Ohayon and Kagan went beyond the Adelanto property. In 2019, Genius Fund executives had also signed an agreement with them that included purchasing a 350-acre plot of land in Santa Barbara County's wine country — known locally as the Domingos family ranch — for $23 million. Most of it was paid in cash upfront, county and corporate records show.
Just a year earlier, the land records show the property had sold for nearly $655,000. It was appraised at the time of Genius Fund's purchase at roughly $5.5 million, according to court documents filed in Racioppi's lawsuit.
It was another hefty expense for the company that required Bosov to wire over cash infusions so that the company could meet payroll while vendors went unpaid, according to Racioppi's lawsuit, as well as several former employees and vendors.
Genius Fund called the Santa Barbara enterprise Genius Farm 2, according to property and corporate records. With proper permitting, it could have complemented Heli's other operations and helped fulfill the company's vision of creating a full ground-up supply chain for Genius Fund.
But according to former employees and court documents submitted as part of Raccioppi's lawsuit, Genius Fund went into the deal without a land use permit to grow cannabis — in a region protective of its wine crop.
Ohayon told dot.LA that was the result of infighting at Genius Fund. "Genius management sabotaged the project hoping to eliminate us prior to getting the final LUP [land use permit]," he wrote in an email.
"They had the seller and all consultants involved in that project sign NDAs to ensure that they didn't communicate with us" at a critical time in the permitting process. "Due to a personal vendetta, Stiegler was willing to 'burn the house down'," Ohayon said.
The company would never get the permit to plant cannabis in Santa Barbara. Months later, it would sell the land for millions less than what it was purchased for, according to property and county records.
Soon, Bosov would grow tired of just dreams.
__
This is the fourth in dot.LA's "Green Rush" series looking at the rise and fall of cannabis-related startup Genius Fund. Read part one, part two, part three and part five, and sign up for dot.LA's newsletter to be notified about new stories.
Do you have a story that needs to be told? My DMs are open on Twitter @latams. You can also email me at tami(at)dot.la, or ask for my contact on Signal, for more secure and private communications.
Lead art by Candice Navi.
Tami Abdollah
Tami Abdollah was dot.LA's senior technology reporter. She was previously a national security and cybersecurity reporter for The Associated Press in Washington, D.C. She's been a reporter for the AP in Los Angeles, the Los Angeles Times and for L.A.'s NPR affiliate KPCC. Abdollah spent nearly a year in Iraq as a U.S. government contractor. A native Angeleno, she's traveled the world on $5 a day, taught trad climbing safety classes and is an avid mountaineer. Follow her on Twitter.
tami@dot.la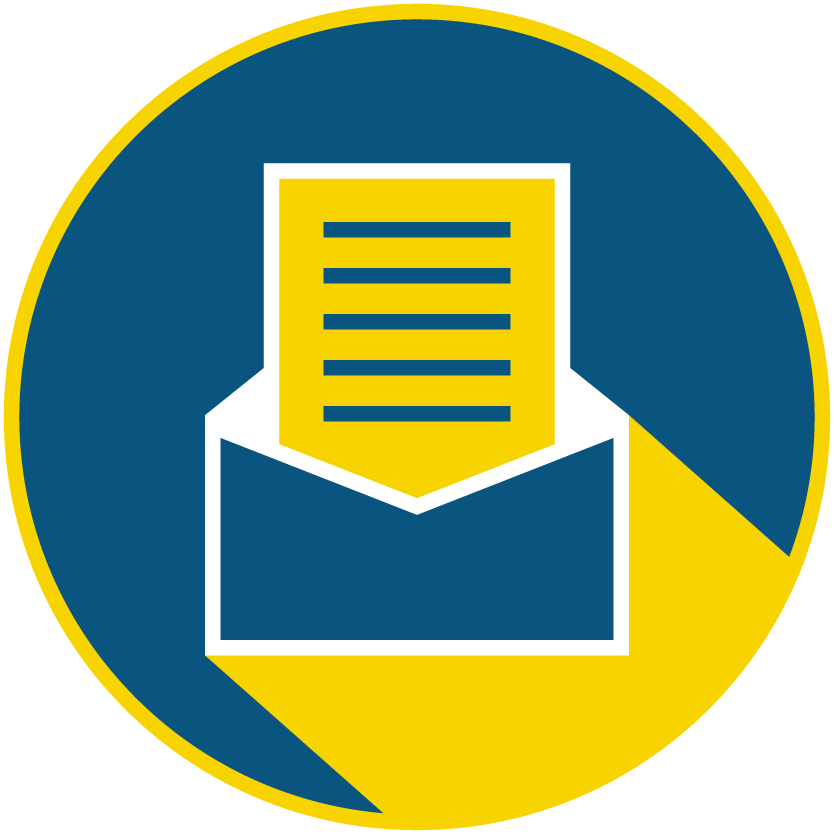 Subscribe to our newsletter to catch every headline.
David Shultz
David Shultz reports on clean technology and electric vehicles, among other industries, for dot.LA. His writing has appeared in The Atlantic, Outside, Nautilus and many other publications.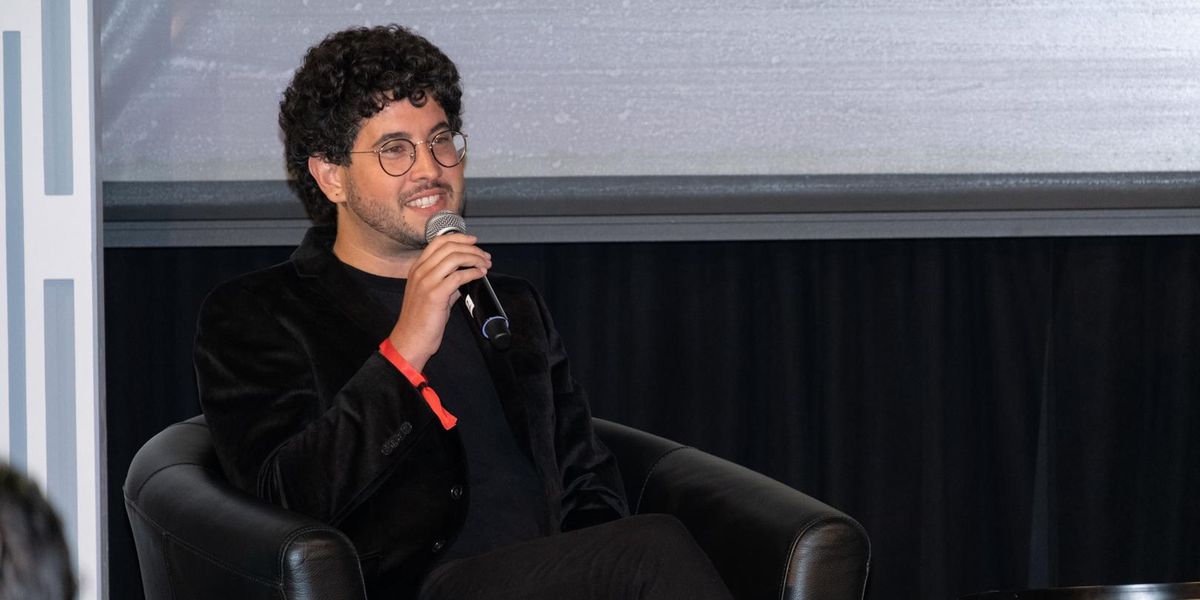 Image by David Ruano
For true Angelenos, Canter's Deli should need no introduction. The 92-year old restaurant seated in the central Los Angeles remains a staple of the community and a piece of the city's identity. In a conversation with dot.LA CEO Sam Adams, founder of Nextbite, Alex Canter, explained how he's bringing his family's iconic restaurant into the modern age.
Nextbite is a virtual restaurant platform that helps restaurants connect with delivery apps like Uber Eats or DoorDash and provides opportunities for existing kitchens to drive new business by operating as ghost kitchens for delivery-only brands. If a steakhouse or a fine dining establishment has a slow day or downtime, they now have the option to fulfill online orders for delivery-only brands, expanding their sales and business–often by upwards of 30%, said Canter.
A venture that was initially a tough sell for the 4th generation Canter.
"I used to hear a lot, 'If it's not broke don't fix it,' but that drove me nuts," he said. But like with so many other things, COVID changed the landscape and made the value of his business proposal readily apparent. "2020 was a devastating year for the restaurant industry. All of a sudden every single restaurant was scrambling to implement an omni-channel delivery service," Canter told Adams on the mainstage at the Petersen Museum in Los Angeles. "In March of 2020 we signed up more restaurants than in the previous year combined."
Spurred by the pandemic, Nextbite's growth accelerated rapidly and Canter brought in investors from Softbank in a deal worth $120 million. The company expanded into collaborations with celebrities, including a "stoner brand" with Whiz Khalifa called "Packed Bowls" that caters to the predilections of cannabis aficionados and college kids. Think tater tots, PB&J, and mac and cheese topped with chicken nuggets.
Celebrities starting restaurants, however, is not a new trend. But as Canter pointed out, with the business moving to the ghost kitchen model, creating a new brand from scratch has never been easier or come with lower risk. And as celebrities had to cancel tours and events, the new revenue stream from such ventures became increasingly attractive.
"Open up DoorDash tonight, scroll through, find something that looks interesting and exciting," Canter said. "It might not have a physical location, but that doesn't really matter in today's virtual world."
From Your Site Articles
Related Articles Around the Web
David Shultz
David Shultz reports on clean technology and electric vehicles, among other industries, for dot.LA. His writing has appeared in The Atlantic, Outside, Nautilus and many other publications.
Ilana Gordon
Ilana Gordon is an entertainment, culture, and tech writer originally from Connecticut. She currently lives in Los Angeles.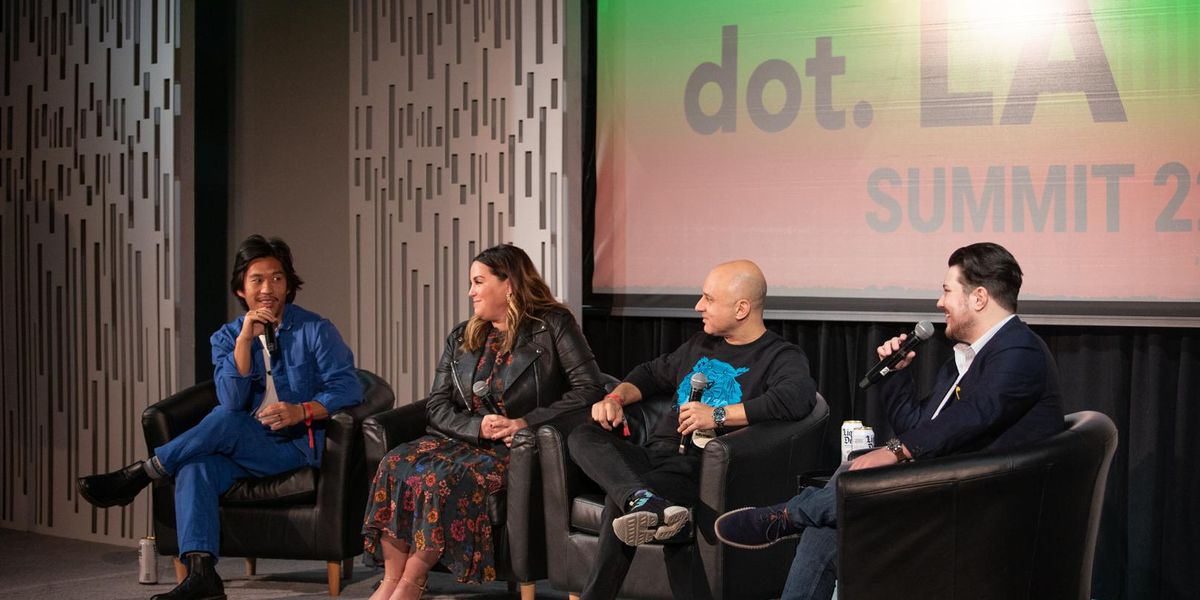 Photo by David Ruano/ dot.LA
What's in a name? Shakespeare didn't hold much stock in the power of monikers, but the speakers at Friday's "Building the Metaverse" panel disagreed. And if you ask them, the metaverse is a prime example.
Their argument goes that before Facebook changed its name to Meta, no one was giving the metaverse serious thought. But the day after, "everyone all of a sudden had a metaverse initiative," said Sly Lee, co-founder and CEO of Emerge, a startup building a platform for touch within the metaverse.
Lee admitted that "Facebook has enabled some bad things." But every big change in history needs a steelman, Lee explained; a strawman with a strong argument who is willing to back it fully.
So, suffice it to say, names do matter. And so do semantics: Lee admitted he's grateful for Zuckerberg's contributions (but qualifies that he "didn't say love.")
Today's panel, which also included Josh Neuman (co-founder/CEO of MELON, a metaverse game development studio) and Tricia Biggio (CEO of Invisible Universe, an internet-first studio targeting animation) is focused on digital identifiers: names for sure, but also avatars. Moderated by dot.LA reporter Samson Amore, the panelists discussed the future of what navigating the web and socializing online might look like.
With brands rushing into the space and consumers becoming savvier than ever, the key to optimizing initiatives designed for the metaverse, Biggio explained, is to try to be as native to consumer behavior as possible. As an example, she cited a recent partnership between her company, Invisible Universe, and the recently retired Serena Williams.
"The story of Invisible was that we saw Serena had gotten her little girl her first baby doll…this doll kind of took on a life of her own," explained Biggio. Invisible Universe saw an opportunity to transform the doll — which Serena's social following had embraced — into a character that could live on platforms like TikTok and Instagram. Their work has since paved the way for a book called "The Adventures of Qai Qai," a television series that is currently in development, and "a few other things."
"We're very lucky to partner with Serena at the very genesis of the company," Biggio continued. "I'd love to say she put down the tennis racket so she could focus on building Qai Qai with me," Biggio joked."
Ultimately, the panelists agreed that the quest to build the metaverse into a digital space that is understandable and appealing to consumers — most of whom are still entirely confused by the concept — is going to require an investment in community building.
But is this a space where people want to go and be with their friends? The people who will spend the most time in the metaverse are presumably Gen Z and Gen Alpha, and these younger generations, Neuman said, don't distinguish "between their experiences in real life and the digital world."
Call it whatever you want, but understand that the metaverse is coming for all of us — and hopefully, soon we'll understand what that means.
Ilana Gordon
Ilana Gordon is an entertainment, culture, and tech writer originally from Connecticut. She currently lives in Los Angeles.
David Shultz
David Shultz reports on clean technology and electric vehicles, among other industries, for dot.LA. His writing has appeared in The Atlantic, Outside, Nautilus and many other publications.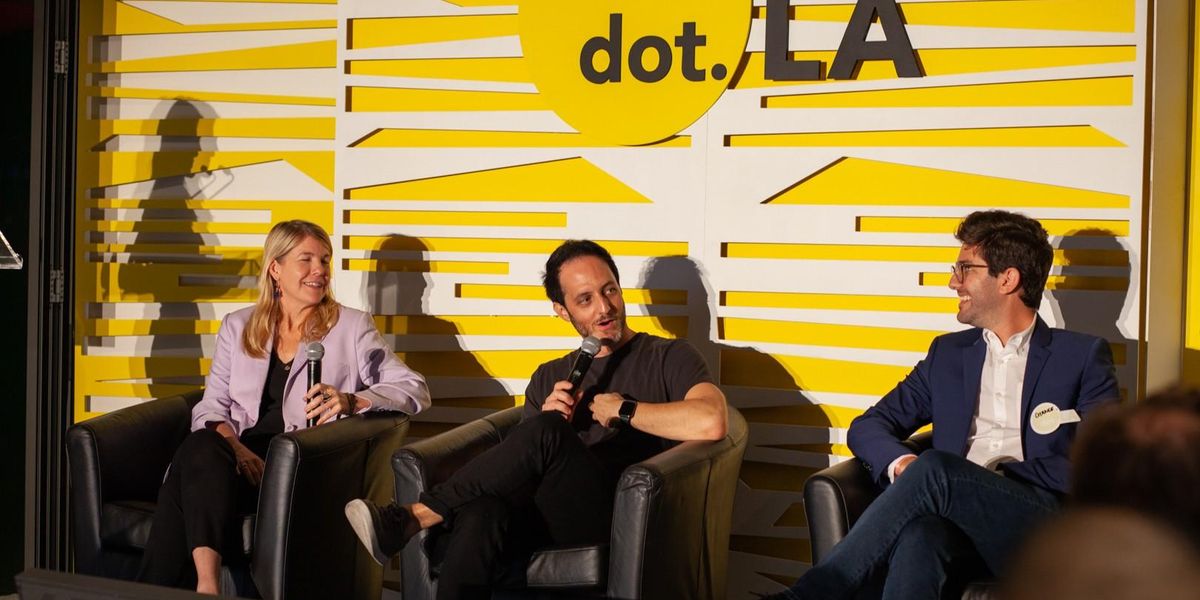 Image by David Ruano
The first night of the 2022 dot.LA summit concluded on Thursday with a pitch contest featuring three carefully selected L.A.-based startups, the founders vied for a prize package from WeWork, Fenwick & West and Evolution.

The pitches—screened in pre-recorded segments between the night's fireside conversations—were judged by three L.A. business experts: M13 Partner Anna Barber, Fenwick & West Associate Chance Goldberg and Evolution's Managing Director and Co-founder Matt Auron
The three finalists included Shirin Laor-Raz Salemnia, founder of Whiz Girls Academy, a female-focused tech lifestyle brand that hosts hackathons and sells merchandise designed to inspire interest in STEM education; Marco Paschina, the founder of Akenta Health, a digital platform aimed at making healthcare more accessible for Latinos; and Antony Tran, the founder of Foundry Six, an augmented reality gaming company trying to bridge the gap between digital fantasy and the real world.
The judges grilled each founder on a host of topics: from headwinds in the healthcare industry to business model specifics to whether or not it's possible to get hardcore fantasy RPG players out of their gaming chair and into the real world.
Salemnia was up first. She explained her vision for a her lifestyle brand serve a function far beyond simply being cool and making money. Whiz Girl's main focus it to make STEM topics exciting to girls ages 8-13. Through a combination of secret agent-themed hackathons and a line of slick merchandise, Whiz Girls plans to leverage Salemnia's prior experience at Mattel to make tech attractive to a new generation of girls. The company plans to operate through a sponsorship model and has already inked deals with big names like Adidas and the L.A. Sparks.
"We want to be a household brand," said Salemnia.
Akenta followed suit, fielding questions about how Akenta planned to navigate an environment as complex as the United States healthcare system and how the company would be different from other telehealth ventures. It's a lofty goal aimed at serving a real need: If the platform is successful, it could expand healthcare access for one of America's fastest growing demographics, providing tangible benefits to 63 million Latino Americans. The basic concept is that the digital service would connect Latinos with bilingual doctors and allow patients to take advantage of telehealth appointments, renew prescriptions and view lab work. And because it's employers that pay to use the platform, the service comes at no cost to the patient.
"The big problem is that Latinos are extremely under served," said Paschina during his pitch. "We want to help those people that cannot afford to pay those out of pocket costs. If you don't trust your doctor, you don't want to get the care."
Finally it was Tran's turn to take center stage. Foundry Six is trying to build an augmented reality gaming experience quite unlike anything that's come before it. Positioned as a fantasy role playing game, many aspects of the game felt familiar: a leveling system, gear and loot and a host of mythical enemies. But all of this is taking place against the backdrop of the real world. A magic shield might be hidden on an actual mountain top; Chuthulu might spawn in a pond down the street. You'll actually have to leave your house to find quests and rewards. If done right, the game should blur the lines between gameplay and reality.
"That's the space we want to play. We think that's going to be a lot more magical," said Tran.

With pitches pitched, Barber, Goldberg, and Auron then left the stage to deliberate. Unseasonably warm Los Angeles air circulated amidst the crowd gathered atop the Petersen Automotive Museum's penthouse patio. Hors d'oeuvres sweated on table tops. A drum rolled, metaphorically.
When the judges returned to the stage, Barber announced that it would be Akenta that would take this year's prize. Paschina returned to the stage to accept his trophy and pose for photos.
Well deserved. Congratulations to all our entrants and good luck.
Related Articles Around the Web
David Shultz
David Shultz reports on clean technology and electric vehicles, among other industries, for dot.LA. His writing has appeared in The Atlantic, Outside, Nautilus and many other publications.