Life in Quarantine Proves a Bonanza for Funny Online Videos – and Jukin Media Wants Them
Tami Abdollah
Tami Abdollah was dot.LA's senior technology reporter. She was previously a national security and cybersecurity reporter for The Associated Press in Washington, D.C. She's been a reporter for the AP in Los Angeles, the Los Angeles Times and for L.A.'s NPR affiliate KPCC. Abdollah spent nearly a year in Iraq as a U.S. government contractor. A native Angeleno, she's traveled the world on $5 a day, taught trad climbing safety classes and is an avid mountaineer. Follow her on Twitter.
05:08 AM | March 25, 2020
As Hollywood productions have ground to a halt and viewers run out of things to watch on Netflix, there's at least one entertainment company that seems to be hitting its groove.
Jonathan Skogmo, founder and CEO of the Los Angeles-based Jukin Media Inc., is all about user-generated content. A large part of its business is licensing videos and providing it in its library — now with some 65,000 videos — to major companies, brands and media companies.
Five years ago, "there wasn't a brand that would touch UGC (but) recently our videos were in the Super Bowl," Skogmo said. His company has done a campaign for the Oscars, and recently did one featuring athletes in advance of the Olympics in Tokyo.
But as COVID-19 has pushed the U.S. economy into recession, many businesses that were once viewed as recession-proof — including bars, as well as the media entertainment and production business — no longer appear to be so as officials order residents to avoid crowds that can spread the virus.
"Our prediction is that because physical production is down, whether you're a publisher, a brand, an agency, or television production (because) you can't create content," Skogmo said. "But because we have this really great library, we're an alternative."
---
The global company has been around for more than six years. It has 210 employees in New York, London, New Delhi, Ukraine, Romania, Greece, Japan and the Philippines. It's behind well-known brands like FailArmy, World's Funniest and The Pet Collective.
Jukin Media now boasts 200 million fans and 2.5 billion monthly views. It has paid out $25 million to video owners — through revenue shares or up-front payments — over the last five years, Skogmo said. It also syndicates real-time feeds to news organizations like The Associated Press, Tribune Media, and Reuters, among others.
To give some leeway to its media partners right now, the company is offering a discount on licensed content — with 20% off fees for roughly the next 45 days. That licensing side of the business functions like a marketplace or online platform for viral video. For example, the entertainment show Tosh.0 gets lots of videos from them.
Roughly 10% of Jukin Media's business is filming its own television shows featuring videos from its library, Skogmo said. When those videos are featured, it pays the content creator a licensing fee.
But because of restrictions on public gatherings and business closures due to COVID-19, the company has been decreasing the number of productions it is doing, and is trying to figure out creative alternatives, such as putting a host in front of a green screen at home.
The host can instead tell viewers, " 'I'm quarantined, but here's the great videos we are seeing,'" Skogmo said. "I think it lends itself to authenticity."
For the sales team on the licensing side and the media and creative side of the business, it's been harder not having face-to-face meetings with brands.
"There are some industries that are suffering, where it's harder for us to apply our services, like travel and hospitality," Skogmo said.
But the company has seen an uptick in videos from people who are getting creative while quarantined in their homes, Skogmo said. His team has so far reviewed more than 400 COVID-19 related videos to see if they meet quality standards, and are representing 60 videos on the licensing side of the business. Skogmo said the company has seen a rise in engagement of those watching their media.
Internally, to try to build team cohesion and reduce social isolation, the company has tried to keep culture going by doing events like a virtual happy hour, contests on who can create the best meal, Rube Goldberg machine, and a dance off, Skogmo said.
Brands embrace authenticity
Skogmo said the company has worked on campaigns for Budweiser, Paramount, but tries to avoid working with influencers — "we're not in the representation game" — unless a particular video is really good.
"Brands want content that's real, authentic content, not manufactured," Skogmo said. "They now are all about UGC, they're all looking for ways to be more human and for that personal connection."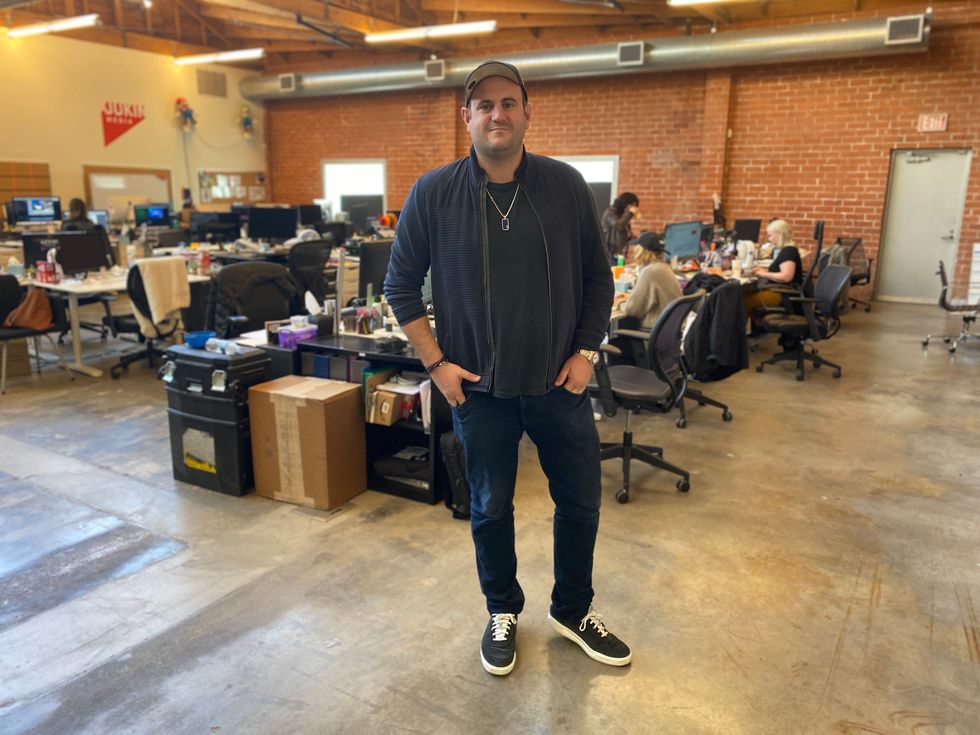 Jukin Media Inc.'s CEO and founder Jonathan Skogmo in their Los Angeles office. Photo by Tami Abdollah
When it comes to campaigns, one of their biggest clients is Google, which hires Jukin Media to help find YouTube videos that are cleared for them to use. That work, reaching out to individuals and ensuring that they approve the usage, can be onerous. The company also hired Jukin Media to find videos shot by an iPhone X or 11 for their branding. ("It's a PR disaster if it's a Samsung video," Skogmo said.)

Jukin Media worked with the International Olympic Committee and premiered a series called "Level Up!" exclusively for them that provides a four-episode digital series featuring Olympians and pro athletes reacting and reviewing the performances of up-and-coming athletes and everyday people as they attempt greatness on their own in various Olympic sports.

Participants include gymnast Laurie Hernandez, mountain bike racer Kate Courtney, wrestler Helen Maroulis and skateboarder Paul Rodriguez. It may be the closest thing to Olympics-related coverage for a while, as the Committee announced in a statement Tuesday that the Olympics in Tokyo this summer is postponed for as long as a year.
In another effort, Starbucks came to Jukin Media and asked help finding content people created in its 20,000 stores, Skogmo said.
Jukin Media is also working with TikTok, not only publishing its own content there, but through a licensing deal. Jukin also provides them with cleared content that can be used for their ads on other platforms. The video isn't necessarily an original TikTok, just content that appears to be a TikTok, Skogmo said.
The beginnings of an entertainment company
Skogmo moved to Los Angeles from Chicago 15 years ago, landing his first job on a "clip show" that featured peoples' funny or entertaining home videos. He'd go out regularly to the P.O. BOX to pick up VHS and DVDs, and watch them to see if they'd make the cut for the show. Most of the footage was bad, but if it was good, he'd have to go back for more.
"I thought, it's got to be easier than this," Skogmo said. It was 2005, and nobody was really leveraging online video content. He thought, why not reverse the model and go after the people producing content. The producers he worked with told him, "get out of here."
Mostly to prove them wrong, Skogmo started reaching out to people about their videos, asking if he could license them for a show. He'd get a contract back and then a video in a few hours. Skogmo was also an early user of YouTube and started taking videos from the digital world and putting them on TV, and at scale.
But once the writer's strike happened, reality shows grew more popular, and every cable network wanted its own clip show. Skogmo jumped around as a freelancer on multiple shows, and as smartphones started to speed up and surge content generation, Skogmo decided to be the marketplace for user generated content.
He quit his job in 2009 and started buying videos from his apartment and then reselling them and relicensing them to shows he worked on.
Skogmo began representing video libraries belonging to content creators, and when television stations reached out for a clip, he'd act like their agents.
By 2013, Skogmo realized there was an opportunity to build a media company around user generated content with all the intellectual property rights he owned. Today the company uses proprietary technology, built in-house to help filter videos of interest and prioritize them for potential licensing.
Skogmo said the company has done well mostly because it didn't chase the money and stayed grounded, raising $6 million strategically from Disney, Samsung, Peter Guber of Sony, and continuously reinvesting capital and cash flow back into operations.
"The $6 million we raised, we never touched, it sits on the balance sheet," Skogmo said, noting that many companies around him went out of business. "You have to play the long game, the short game is not going to win, it's not just growth at all costs. Slow growth is perfectly acceptable."
__
Do you have a story that needs to be told? My DMs are open on Twitter @latams. You can also email me at tami(at)dot.la, or ask for my Signal.
Tami Abdollah
Tami Abdollah was dot.LA's senior technology reporter. She was previously a national security and cybersecurity reporter for The Associated Press in Washington, D.C. She's been a reporter for the AP in Los Angeles, the Los Angeles Times and for L.A.'s NPR affiliate KPCC. Abdollah spent nearly a year in Iraq as a U.S. government contractor. A native Angeleno, she's traveled the world on $5 a day, taught trad climbing safety classes and is an avid mountaineer. Follow her on Twitter.
tami@dot.la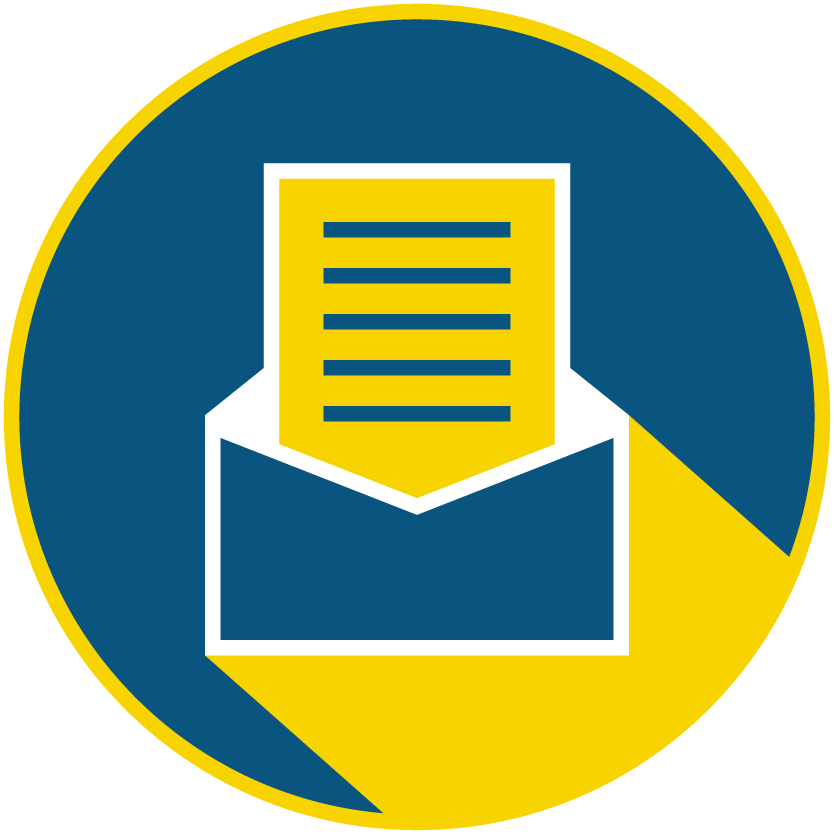 Subscribe to our newsletter to catch every headline.
03:39 PM | September 27, 2021
It started out as a way to relax after work.
On the episode of Behind Her Empire, JIGGY founder and CEO Kaylin Marcotte talks about how she turned her fascination with jigsaw puzzles into a thriving business.
Marcotte worked at the digital media company theSkimm, managing their brand ambassador program and grassroots marketing divisions, among other areas. The workload was overwhelming, she said. She looked for something meditative to relax her after work and stumbled onto jigsaw puzzles. Completing one helped reduce stress.

But the designs weren't great. Instead, she started experimenting with making puzzles of female artists' work, creating JIGGY in 2019.
"Given that they were real pieces of art, we decided to include puzzle glue so you could keep it when you were done and frame it or display it as an art print," said Marcotte.
Marcotte landed an appearance on ABC'S "Shark Tank," where she raised $500,000 from billionaire Mark Cuban. She grew the startup to $1.6 million in sales within its first nine months, making a point to pay her artists -- who get a share of the revenue of their puzzles -- on time.
"We work with our artists. It's baked into the business model that we do percentage of sales," she said.
Click the playhead above to hear the rest of the episode, in which Marcotte offers some lessons she learned building her company and how she navigated the pandemic.
dot.LA Audience Engagement Intern Joshua Letona contributed to this post.
From Your Site Articles
Related Articles Around the Web
Yasmin Nouri
Yasmin is the host of the "Behind Her Empire" podcast, focused on highlighting self-made women leaders and entrepreneurs and how they tackle their career, money, family and life.
Each episode covers their unique hero's journey and what it really takes to build an empire with key lessons learned along the way. The goal of the series is to empower you to see what's possible & inspire you to create financial freedom in your own life.
06:00 AM | January 11, 2022
When Darien Williams and Melanie Wolff opened Brella, their Montessori-inspired childcare center, in Playa Vista in 2019, they were inspired by the likes of WeWork and SoulCycle, which had multiple locations and easy-to-use apps for scheduling meetings and workout sessions. The pair found that parents juggling hectic day jobs with their children's preschool schedules were drawn to a tech-enabled, more flexible way to schedule childcare for their kids.
"The current system can be really punitive to [parents] because it forces them to pay for and schedule childcare that they don't always need, or to schedule childcare that doesn't actually support the workdays that they need to have," Wolff told dot.LA.
Months later, the coronavirus pandemic forced Brella to shut down. But rather than shuttering their company for good, the co-founders saw that the pandemic's new work-from-home paradigm only exacerbated the need for flexible childcare options. Brella reopened in June 2020, and today serves roughly 400 families whose kids, aged 3 months to 6 years, attend the Playa Vista facility for an average of four-to-five hours a day and twice per week.
On Tuesday, Brella announced a $5 million seed funding round that will allow the startup to open more facilities—it plans to expand to Hollywood and Pasadena by the end of this year—and improve its technology. The funding was led by Newport Beach-based Toba Capital and Brentwood-based Halogen Ventures, and takes Brella's total amount raised to date to $8 million.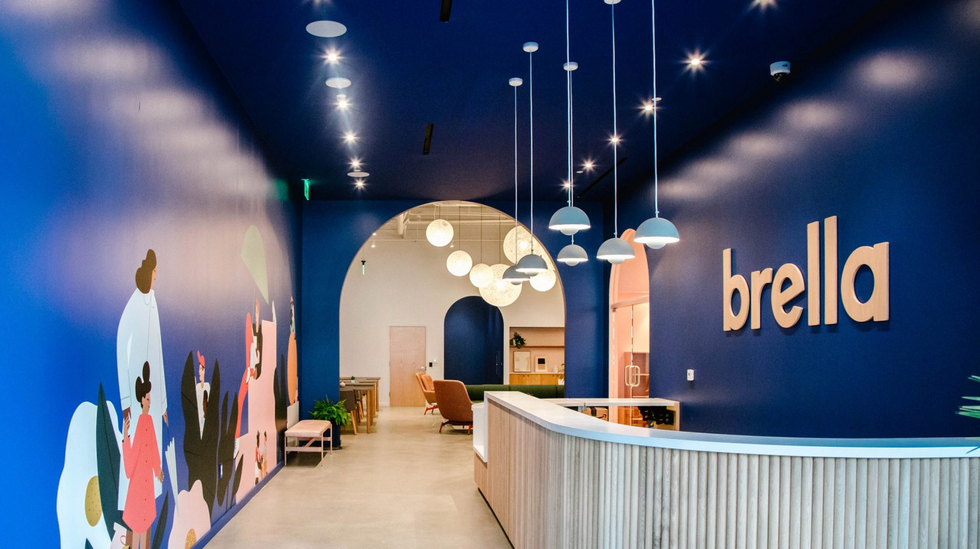 Brella's Playa Vista-based childcare center lobby.
"What we found is that even pre-pandemic, and now especially post-pandemic, families' work lives are really dynamic; they're not always working this 9-to-5, Monday-through-Friday kind of role," Wolff said. "Sometimes their childcare needs can vary day-to-day, week-to-week, and even month-to-month."
Brella is part of a growing industry of childcare startups leveraging technology to help families find childcare solutions. Its ranks include San Francisco-based Wonderschool, which helps families start their own preschools or daycares, and New York-based Otter, which allows parents to crowdsource babysitting resources from other parents.
Through Brella's app, parents can create a profile, upload necessary forms and documentation, and book times to drop their children off at the childcare center for a minimum of three hours. Brella offers different pricing packages depending on how far in advance parents want to schedule childcare and how often they need it.
As a licensed preschool, the curriculum that Brella teaches its pupils is inspired by progressive child development philosophies like Montessori, RIE and Reggio Emelia. The curriculum is adapted to how much time each child spends at the school; Brella's educators create "projects and learning opportunities that can engage a child that might be here for the very first time, or is coming three days a week this week and five days a week next week," Williams said.
From Your Site Articles
Related Articles Around the Web
Keerthi Vedantam
Keerthi Vedantam is a bioscience reporter at dot.LA. She cut her teeth covering everything from cloud computing to 5G in San Francisco and Seattle. Before she covered tech, Keerthi reported on tribal lands and congressional policy in Washington, D.C. Connect with her on Twitter, Clubhouse (@keerthivedantam) or Signal at 408-470-0776.