Rabbis Urge a Jewish Community Torn Between Tradition & Tech to Skip Gathering This Passover
Tami Abdollah
Tami Abdollah was dot.LA's senior technology reporter. She was previously a national security and cybersecurity reporter for The Associated Press in Washington, D.C. She's been a reporter for the AP in Los Angeles, the Los Angeles Times and for L.A.'s NPR affiliate KPCC. Abdollah spent nearly a year in Iraq as a U.S. government contractor. A native Angeleno, she's traveled the world on $5 a day, taught trad climbing safety classes and is an avid mountaineer. Follow her on Twitter.
Things seemed almost normal along the strip of Pico Boulevard near South Robertson, an L.A. intersection that has for decades become the center of Jewish life, especially Orthodox Jewish life. A man dressed for Shabbat walked purposefully through the quiet neighborhood this past Saturday. Others milled about visiting at a distance, or went for what appeared to be a stroll.
But this kind of scene in the age of coronavirus has set off a social-media firestorm in the community: Why are they out, and where are they going? With Passover just days away, some members of L.A.'s Orthodox Jewish community took to social media, upset over alleged secret prayer gatherings and underground efforts to celebrate the Sabbath and upcoming holiday in person. Some advocated that those who arrange these meetings along the Pico-Robertson corridor be turned into the police, according to messages and screenshots reviewed by dot.LA.
---
The Orthodox Jewish community is wrestling with a new era of religion, one in which people have flocked to online platforms like Zoom, live streaming social media, and pray.com for their religious needs. But that's a hard sell if you're Orthodox and strictly abide by Jewish law, which prohibits the use of electricity on Shabbat and holidays. Continued efforts to congregate in person led a rabbi at Cedars-Sinai Medical Center to issue an urgent dispatch last week about "an alarmingly high ratio of Frum (Orthodox) patients among those that are positive for the disease."
In one of multiple Facebook posts on Sunday, community member Aryeh Rifkin, wrote: "If you hear about minyanim or gatherings (in person), post the names and addresses. Expose them. Don't be afraid to do the right thing. Weak leadership must be cut off especially finanically [sic]. If you have information and say nothing then you could be endangering lives."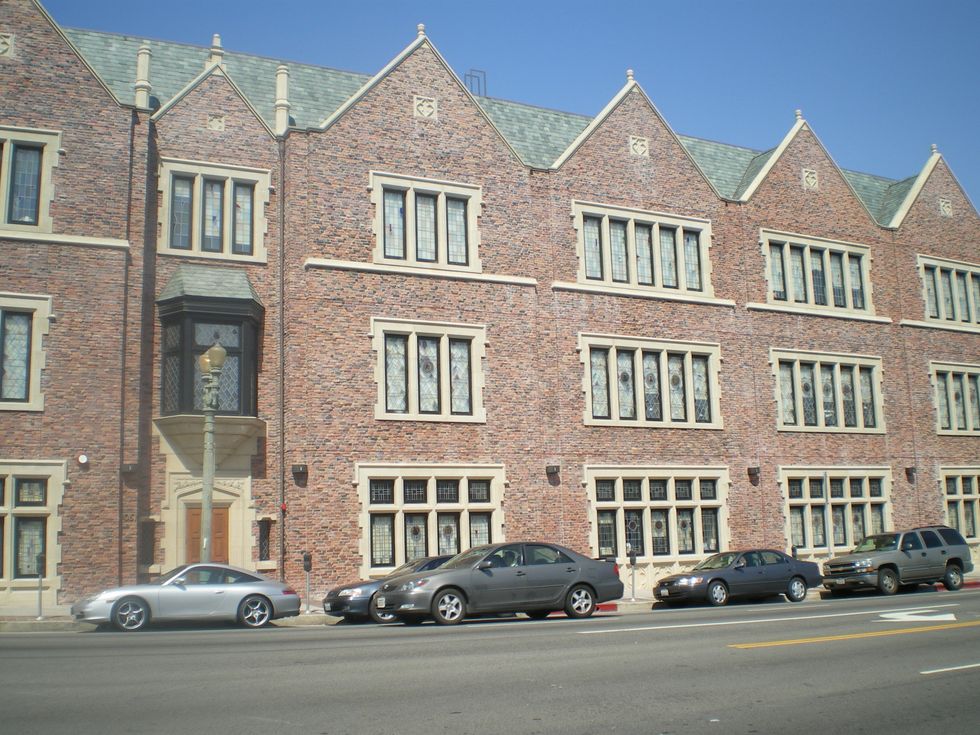 The Chabad Bais Sonia Gutte Campus on Pico Blvd. in Los Angeles Photo from\u00a0Wikimedia.org
Rifkin, who founded SKSI Plans and Permits and attended a neighborhood shul, has himself been fighting the novel coronavirus since March 18, and has been hospitalized twice because of it. One woman replied, saying her son was told by another person that he attended a community meal this past Friday with five other people. The woman did not respond to a request from dot.LA for more details. Others who did provide details were kicked out of groups and WhatsApp chains.

For weeks the debate over whether it is OK to meet has been ongoing on social media and in more private messages, as families and close-knit religious communities have tried to figure out how they will celebrate the upcoming holiday of Passover — which begins on Wednesday evening and lasts for eight days — amid the L.A. order to remain home unless for crucial necessities like food or medicine. Many in the heavily Persian-Jewish and Orthodox communities around Pico-Robertson are also ardent supporters of the Trump administration and have been slower to adopt distancing measures or believe in their necessity.

Such questions over whether ritual Passover meals, or Sedarim, could go forward, led the primary representative body of Orthodox Judaism in California, the Rabbinical Council of California, to put out a letter to rabbis and community outlets last week on this specific issue, according to a copy provided to dot.LA on Monday by Rabbi Avrohom Union, the rabbinic administrator of the RCC.
The letter noted that "all travel for any part of Yom Tov (the holiday) is forbidden, both for travel out of town or with family or friends locally."
Then, in bold, it stated that it's an absolute necessity and obligation under Jewish law, "to abide by government and health department restrictions. This is for our protection and the protection of everyone around us."
Rabbi Jason Weiner, the senior rabbi and director of the Spiritual Care Department at Cedars-Sinai Medical Center in Los Angeles, also sent out a letter to community rabbis last week urging people to stay home and practice social distancing. That letter ultimately ended up being circulated on Facebook among Jewish groups.
The Modern Orthodox B'nai David-Judea Temple on W. Pico Blvd.
The rabbi said in the letter that "we are entering the most intense period of the COVID-19 outbreak and an alarmingly high ratio of Frum (Orthodox) patients are among those that are positive for the disease."

Cedars-Sinai, which was originally founded as a Jewish hospital, is also the closest major hospital to the Pico-Robertson neighborhood.
"Avoid Shabbos walks with others - no backyard minyanim, even with physical spacing!" Weiner wrote. "No play dates for children - schools are closed for a reason; this causes great danger! No guests at the sedarim - this includes family members outside of the household. With regard to the Seders, it cannot be stressed enough that only family members already living together under the same roof and in close daily contact should have the seder together."
Passover is especially difficult this year for many because it is a religious holiday that celebrates the Jewish peoples' freedom from slavery in Egypt with a gathering over a festive and ritualistic meal. Children sing songs and families have traditions that are passed on from generation to generation.
The Orthodox community has been split on whether to allow technology to "count" as the requisite congregational prayer for Shabbat and festivals during this COVID-19 pandemic, with leading rabbis deciding that it is better to pray alone than to use forbidden technologies like Zoom during such holy days.
A ruling by Israel's chief rabbis last week stated that Jews cannot use technology to pray during religious holidays has left families split and more religious members to pray at home alone. That's despite an earlier decision by prominent Sephardic rabbis in Israel to allow such technology for the Passover Seder to allow for remote gatherings amid the novel coronavirus pandemic. Many slammed that letter once it became public.
But that eschewing of technology may also be leading Orthodox families or those with more Orthodox members, to decide to meet in person. New York's ultra-Orthodox neighborhoods saw a swift rise in coronavirus cases due to their continued gatherings for prayer, and many Jewish-American communities have taken it as a cautionary tale.
On Saturday, Rabbi David Wolpe, a senior rabbi at L.A.'s Sinai Temple — Southern California's oldest and largest Conservative congregation, whose congregation includes a large number of Persian Jews — dedicated his Zoom sermon to pleading to those in the congregation who had plans to gather for Passover (or Pesach, in Hebrew), to cancel those plans.
"It is my understanding that there are some people in our community who are going to have a Pesach Seder with lots of people in spite of the fact that they've been instructed not to," Wolpe said. "It is to them primarily I'm speaking now."
Wolpe, who was named the most influential rabbi in America by Newsweek and one of the 50 most influential Jews in the world by the Jerusalem Post, said he understands the pain of celebrating alone or through an electronic medium rather than collectively as a family.
"But I want you to know that anybody who invites people over to the Seder this year is violating Jewish law in the most serious way," Wolpe said, warning that while you may be fine, you or another invitee could be a vector for disease and devastating consequences.
"This is not the year to be a hero, this is the year to be a little afraid, this is the year to allow your intelligence and your concern and your empathy to override your ego," Wolpe said. "It is better to be sad, then to be sad and sick. It is better to be smart than to have made a decision that will haunt you the rest of your days."
Shabbat Sermon by Rabbi David Wolpe: A Passover Like No Other- 04/04/20www.youtube.com
Conservative Jewish leaders have also grappled with how to hold services, but ultimately

decided to allow them to count because of a prevailing human need right now.
B'nai David-Judea, a modern Orthodox shul in the Pico-Robertson area, is using technology to facilitate prayer only during the weekdays and not on Shabbat or festivals. That includes having everyone gather together at a certain time to pray, even if they are alone in their home.
"We're living in a very painful time where people have a strong yearning to be close to each other and to be close to God and need to reach out for community," said Rabbanit Alissa Thomas-Newborn. "At the same time, the way in which we can be closest to each other and closest to God is by not showing up in person. And that's a spiritual tension that is jarring. That is very challenging for us to digest."
Thomas-Newborn said the synagogue has not been in the position of having to reprimand its congregants for trying to gather and has been repeatedly emphasizing the need for people to stay home.
For those who are in mourning — sitting Shiva — or observing the anniversary of a close family member's death, the inability to gather has been particularly difficult because of requirements that prayers are done with a certain number of congregants present. Zoom can help bring people together, but it doesn't "count" as if they were there.

"We've had people who have sat Shiva during this time," Thomas-Newborn said. "When they sit Shiva, we've done it on Zoom where people visit and see each other, provide words of comfort and condolence and share words of reflection."
The congregation has provided its members an alternate prayer for Kaddish, the mourners prayer, that can be said solo, instead.
Meanwhile, in Israel, a minyan of coronavirus patients who belong to Chabad, an Orthodox Jewish Hasidic movement, have offered their services to recite the mourners prayer for those who are currently mourning or have an anniversary during this time via an online form anyone can fill in.
"Simply enter your info on this form, and Kaddish will be said on your behalf three times a day until Minyanim will be reopened around the world," the website states.
In an emotional video posted to Facebook at the end of March, Rabbi Shimon Freundlich, the Chabad-Lubavitch emissary who is in Beijing, China, spoke passionately about the need for people to stop gathering for a minyan, or congregational prayer, even if outdoors.
VIDEO 2020 03 27 18 18 44www.youtube.com
Jewish law 'is full of the importance of a minyan," Freundlich said "Not when it comes to a pandemic. Not when peoples' lives are at risk. People are dying, but somehow people have to run to this minyan."

Freundlich noted that in Judaism, saving a life supersedes all other religious obligations, including observing the Sabbath -- and that includes requirements to gather with at least 10 adult men to pray.
"Therefore, I implore you to make sure that you don't do anything reckless or irresponsible because you want to, you feel like you want to do it," he said. "We need to be responsible. We are fighting an invisible enemy. Because you can't see it doesn't mean it doesn't exist."
__
For more on religion, technology and COVID-19, read this story and watch our virtual panel here. Reach out to me on Twitter @latams, where my DMs are open, email me at tami(at)dot.la, or ask for my Signal.
Tami Abdollah
Tami Abdollah was dot.LA's senior technology reporter. She was previously a national security and cybersecurity reporter for The Associated Press in Washington, D.C. She's been a reporter for the AP in Los Angeles, the Los Angeles Times and for L.A.'s NPR affiliate KPCC. Abdollah spent nearly a year in Iraq as a U.S. government contractor. A native Angeleno, she's traveled the world on $5 a day, taught trad climbing safety classes and is an avid mountaineer. Follow her on Twitter.
tami@dot.la