Online Prayer Platforms Are Booming In the COVID-19 Era — and VCs are Getting Religion
Tami Abdollah
Tami Abdollah was dot.LA's senior technology reporter. She was previously a national security and cybersecurity reporter for The Associated Press in Washington, D.C. She's been a reporter for the AP in Los Angeles, the Los Angeles Times and for L.A.'s NPR affiliate KPCC. Abdollah spent nearly a year in Iraq as a U.S. government contractor. A native Angeleno, she's traveled the world on $5 a day, taught trad climbing safety classes and is an avid mountaineer. Follow her on Twitter.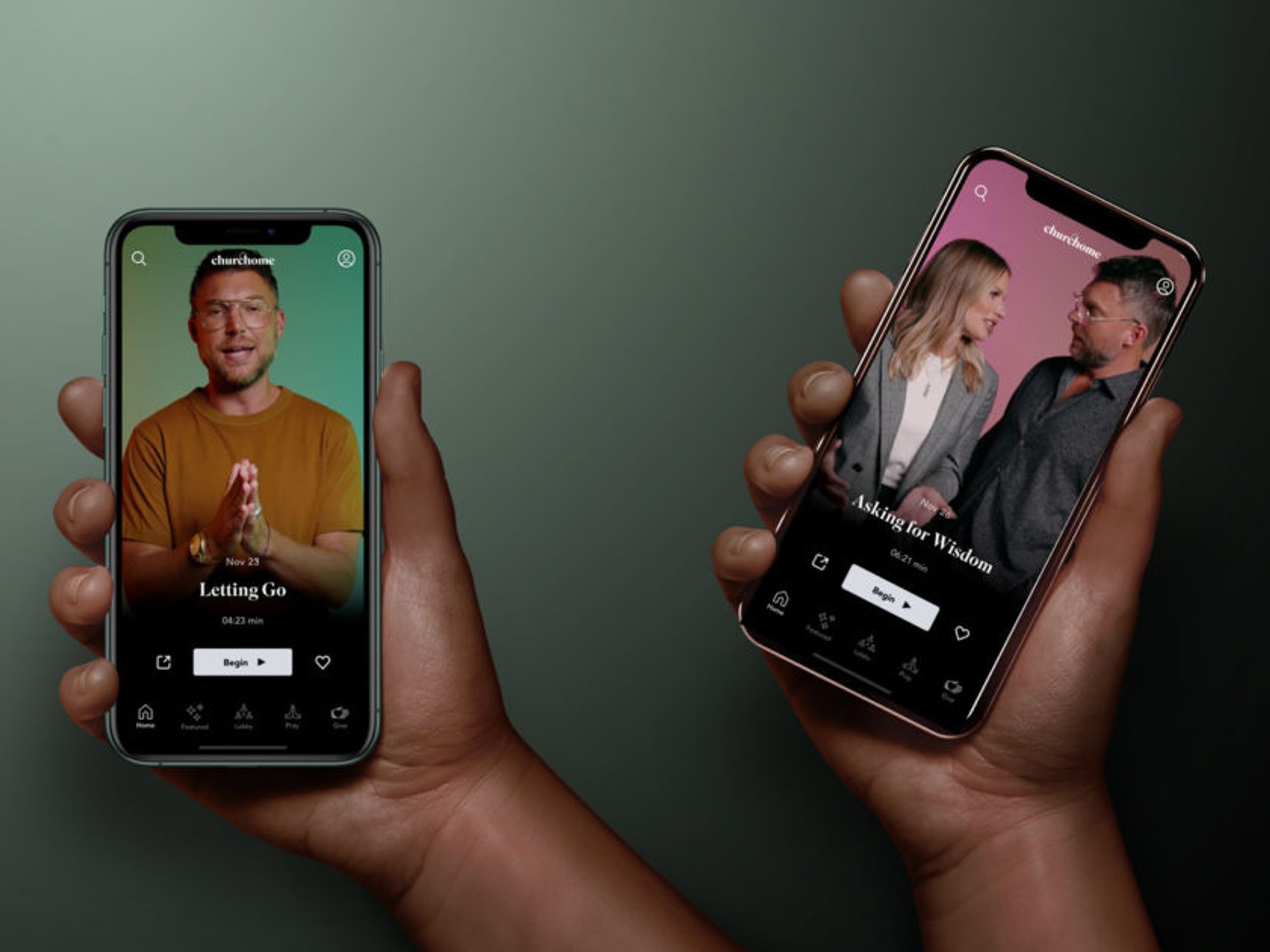 Photo courtesy of Churchome
When Pope Francis delivered a special prayer in advance of Easter this past Friday, he did so to a hauntingly empty St. Peter's Square in the Vatican.
A tiny figure in white, the leader of the Catholic Church's address is a particularly dramatic and high-profile example of how the inability to gather has played out in houses of worship around the world.
As the novel coronavirus has spread, prompting the closures of schools and workplaces, religious spaces have also been forced to empty and typical outlets for many to manage fear, anxiety and stress in a time when that's elevated, have been upended.
The month of April will prove a particularly challenging time for religious adherents, with Passover starting the evening of April 8, Easter on April 12 and Ramadan starting the evening of April 23. All three holidays are almost guaranteed to be celebrated virtually this year in many parts of the world.
---
Meanwhile, online prayer platforms have seen their usage numbers jump often in ways that have mimicked the global geographic spread of COVID-19, dot.LA has found. One Los Angeles group said a regular religious gathering of 1,500 ballooned to 600,000 online. Prayer groups that attracted a few thousand have become phenomenons as people look for hope in what seems like an endless news cycle of death.
Religious leaders have turned to Zoom, YouTube, Facebook, Instagram, customized apps and their own online platforms to try to connect with their faith communities, seeing massive surges in participation from people who cannot gather physically.
The new realities have made pastors Instagram stars and forced rabbis to act more like stage hands than the spiritual guides that they are. A sort of Netflix for Islamic studies has gained traction.
But it hasn't come without difficult decisions as traditions that hark back thousands of years have had to be bent and the solace of communion has been interrupted.
Photo courtesy of Churchome
Breaking physical barriers

In a time where Americans have seen the growth of megachurches, the Churchome app was an effort years in the making to engage with people outside of more traditional means, who might be curious but hesitant about walking into a church.
David Kroll, the CEO of Churchome, knew something needed to change when he realized nearly all of his church's growth was made up of congregants from other churches rather than non churchgoers. Three years ago the church changed its name from City Church to Churchome and decided to focus on the idea that people can also do church at home.
"The church has historically used large buildings to reach people," said Kroll. But over the last two years, Churchome decided to use technology to reach people despite their physical locations, which draws some 7,500 people to its four churches in the Seattle area and one in the Los Angeles area.
Online prayer platforms have seen their usage numbers jump often in ways that have mimicked the global geographic spread of COVID-19.
Provided by pray.com
Their app, built by L.A.-based Seventh Spark, launched in November 2018.

"We're grateful to not be limited to the physical barriers of the church because every single one of them over the past few weeks have been closed," Kroll said.
Their app provides daily content, live events, digital groups and on-demand classes and sermons, among other options. Seventh Spark also developed " Guided Prayers," or free five to six-minute meditations, that are posted daily on the app.
Meanwhile, Seventh Spark is also working on an app for people who might still find value in sermons and other religious resources outside of the Churchome community. Marissa Bell, CEO of Seventh Spark, is aiming to have that new app available this summer.

A test of the new model
COVID-19 has proven to be a test of the new model the church bet on years ago.
Before COVID-19, more than 3,000 people attended Churchome services via the app every week; those figures have since shot up 150%. When the church counts YouTube, Instagram, Twitter and Facebook traffic, a total of 1.33 million joined live for virtual church one recent Sunday, Kroll said.
"We're using every and any channel we can to get our message out," Kroll said. "The hunger for that content is unlike anything I've ever seen (and) I think church will never be the same"
Case in point, Churchome has a service every Wednesday night at the Saban Theatre in Beverly Hills that typically draws 1,500 people. After transitioning to an online service, it had over 600,000 people tune in live. Part of that is due to influential members of the congregation like Justin Bieber and Chris Pratt publicly discussing their faith and tuning into various services.
Churchome app attendance has also gone up internationally given that 20% of its active users are outside of the U.S, Bell said. In the United Kingdom app usage went up 136% after COVID-19 hit. Similarly, it went up 127% in Singapore, 168% in Canada, 5% in India, and 212% in Mexico.
Since March 12, average Sunday church attendance went up 146%, account creation grew nearly 148% and pastor chat usage is up 72%, Bell said.
Kroll said the impacts of COVID-19 have economically impacted the church, and finances have "absolutely taken a hit." There has been a 35% decline in donations amid $100,000 worth of requests from church members for financial assistance.
Justin Bieber on Churchomewww.youtube.com
The Muslim community: "There's a lot of Zoom"
Though Islamic law doesn't allow prayers outside of the congregation to count, after much community consternation, religious leaders determined it was permissible to miss that aspect and instead people pray together, separately in their own homes with services streamed online, said Jihad Turk, founding president of Bayan Claremont Islamic Graduate School.
"Technology is the lifeline of the community to stay connected during these times because we are observing social distancing and not congregating at places of worship," Turk said. So, "there's a lot of Zoom."
Mosques have started live streaming Friday sermons if they weren't already. Meanwhile, groups like the Islamic Center of Southern California have been streaming spiritual and educational programming to fill the void left by closures and social-distancing. Other Muslim influencers and scholars are tailoring their online content engaging on social media and through webinars.
Turk, who served for seven years as the imam and religious director at the Islamic Center of Southern California, the largest and oldest mosque in the L.A. area, is also part of an international organization called The Concordia Forum. The forum is a small exclusive network of cross-sector leaders from the U.S., Europe and Australia who happen to come from Muslim backgrounds that typically meets annually at exclusive invite-only retreats.
So far, the forum has put on several sessions of what it cheekily calls "distance socializing." The sessions are 24 hours of continual streaming that allows people to tune in to leaders in art, science, religion and education, who present in hour-long segments.
Turk recently led an hour of Koran study, after which a choir master had people all sing together, then there was an economist looking at gold and cryptocurrency.
Netflix for Islamic studies
Bayan Claremont has also made BayanONLINE, a kind of "Netflix for Islamic studies" started two years ago, free for the next two months.
The platform features hundreds of hours of graduate level courses on Islam. It's still in beta mode, but within a week of opening it up, traffic went from 250 to 400 users, Turk said.
"You can just binge watch a course on Islamic spirituality or Islamic law or just watch it at your own pace," Turk said. "Online learning is really filling an important gap that has been caused by this inability for people to physically be with one another."
Turk said the school is also planning on rolling out an app in the next month. "We're trying to get that out as quickly as possible because of what's happening."
Dr. Jonathan AC Brown - Prophetic Biography (Seerah) - Bayan Online Preview IIIwww.youtube.com
A sacred time of year
For Muslims, Ramadan is the most sacred month of the year, a time when Muslims fast from dawn to sunset and is meant for intense study, introspection and is also a time of celebration to spend with loved ones. Muslims believe it was during this month that God revealed the verses of the Koran to Mohammed. This year the holiday begins the evening of April 23.
Turk is part of a WhatsApp group of Muslim religious leaders nationally who have all been closely following the spread of the novel coronavirus.
"Ramadan is going to be cancelled in terms of mosque gathering space," Turk said. But he said mosques have worked to roll out different programs, including streaming the reciter of additional daily prayers and reading of the Koran. Still, the breaking of bread and the larger community gatherings will be missed while other aspects are modified.
"There's no other spiritual experience like Ramadan," Turk said. "Whatever is done hodgepodge online, combined with what you can do at home is going to pale in comparison, but people will try and make do the best that they can. And maybe they'll develop some new traditions."
In Judaism: COVID-19 pushes a synagogue to get radical
At Southern California's oldest and largest Conservative congregation, Sinai Temple in Los Angeles, services have changed "radically," said Rabbi David Wolpe, the Max Webb senior rabbi at the congregation.
The synagogue typically attracts an average of 1,000 congregants on a typical Shabbat morning, but is now streaming services daily in the morning and afternoon. On Saturday or Shabbat, Judaism's day of rest, the service was streamed with two rabbis (who are married) from an empty chapel and the sermon was streamed from Wolpe's home.
"Because of the advances of technology, it's unprecedented in human history, not just in Jewish history," said Wolpe, who was named the most influential rabbi in America by Newsweek and one of the 50 most influential Jews in the World by the Jerusalem Post.
Conservative Jewish leaders have grappled with how to hold services, which requires at least 10 people in a room together to be counted as congregational prayer.
"We've decided we are counting them, but it wasn't a snap decision," Wolpe said. "It was discussed and thought about, and we realized the human need was overriding and there really was no other way to do it."
In addition to regular Torah classes, last Thursday Wolpe taught a course in New York online via Zoom that was attended by 350 people and hosted by Temple Emanu-El's now virtual Streicker Center. The topic was lessons on resilience from the Torah, through the lives of Moses, King David, Naomi and Jacob "and how also for all of them, part of resilience was learning solitude, which was crucial now."
Wolpe has also been sending out one-minute daily words of inspiration on YouTube, receiving "tremendous" response. He said he primarily uses YouTube, Zoom, Facebook and Twitter, and has recently contemplated using Instagram live.
"People want to see that you're still there and that you're okay, and even hear a brief message so they don't feel quite as disconnected," Wolpe said. "So in that sense, this would be a much much more isolating and difficult time without technology."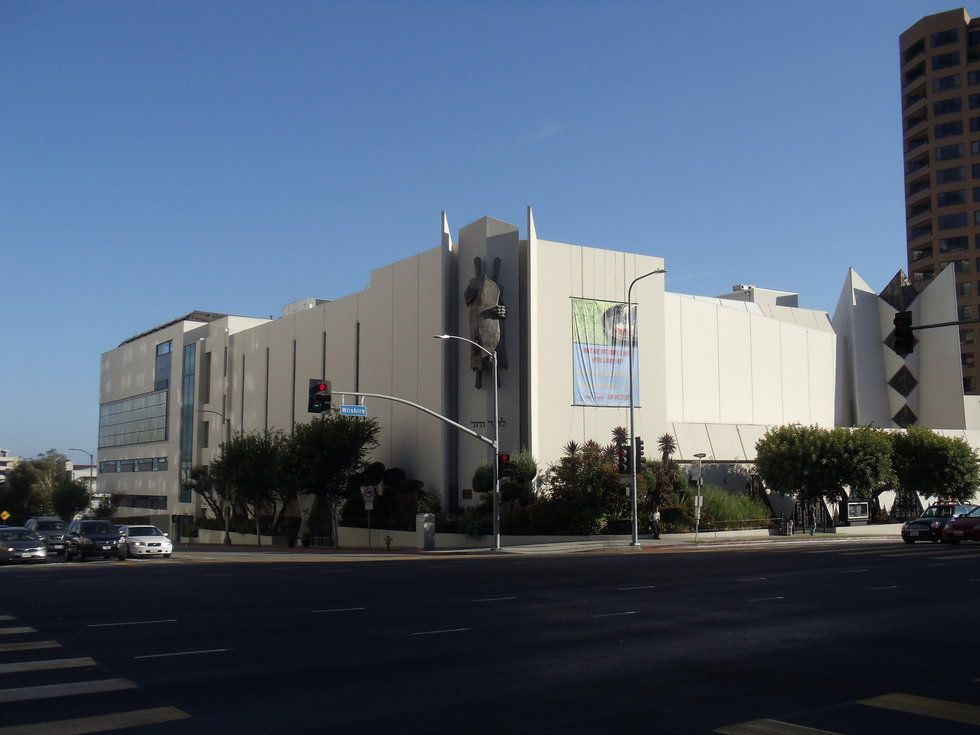 File:Sinai Temple, Westwood, Los Angeles.JPG - Wikimedia Commonsupload.wikimedia.org
A little bit of Hollywood advice
In a funny bit of apropos, after Wolpe's first couple of one-minute videos, his L.A. area congregation ended up sending him a number of comments not just about the content but also about the lighting, his clothing choices, and questions about who is framing him.
"I thought, 'No one is framing me,' I sat down in my living room and turned on the camera," Wolpe said with a chuckle. "It's partly the age we live in and partly the city we live in."
Wolpe ultimately received a long memo, from a member of the synagogue who does lighting for commercials and movies.
"He said do this and this and this, it'll look much better," Wolpe said. "So we did. It was really useful and really great that he did it, because I had no idea."
His Torah classes meanwhile have grown from 30 to 40 to 50 people live, with some writing in to say they're watching from Perth in Australia, or from New York. Others are watching the videos online later, giving them a second life
Celebrating a holiday of freedom in captivity
With Passover beginning next week, the synagogue put together a virtual seder -- or ritual feast usually celebrated with a gathering of family. The major Jewish holiday celebrates the Jewish peoples' freedom from slavery in Egypt.
Wolpe also sent out a letter to the congregation telling them to do their best but also acknowledging the fact that the holiday would be much more difficult this year than in the past.
"The first time Jews celebrated Passover was the night before liberation, so anxiety and uncertainty are part of the DNA of the holiday, and that's the way we're going to feel," Wolpe said. "I'm particularly worried about people who are alone."
For Orthodox Jews, the use of technology has presented harder problems because the community is typically more strict about not allowing for its use on Shabbat and holidays. It is one reason why they've been less willing to give up in-person gatherings during the earlier days of the novel virus's spread. In that sense, Wolpe said, technology is quite literally saving lives.
Though the synagogue had previously debated streaming services, it never fully got there, Wolpe said. Should life return to normalcy at some later date, "I think this has proven how powerful and important it is."
VCs get in on some religion
The trend of people turning toward prayer has followed the novel coronavirus, said Steve Gatena, a founder and CEO of pray.com.
"I believe there has never been a more relevant time for pray.com," Gatena said. "For the first time in history everyone is being isolated and churches around the world are being shut down, and in times of uncertainty people turn to faith for strength for hope and for comfort."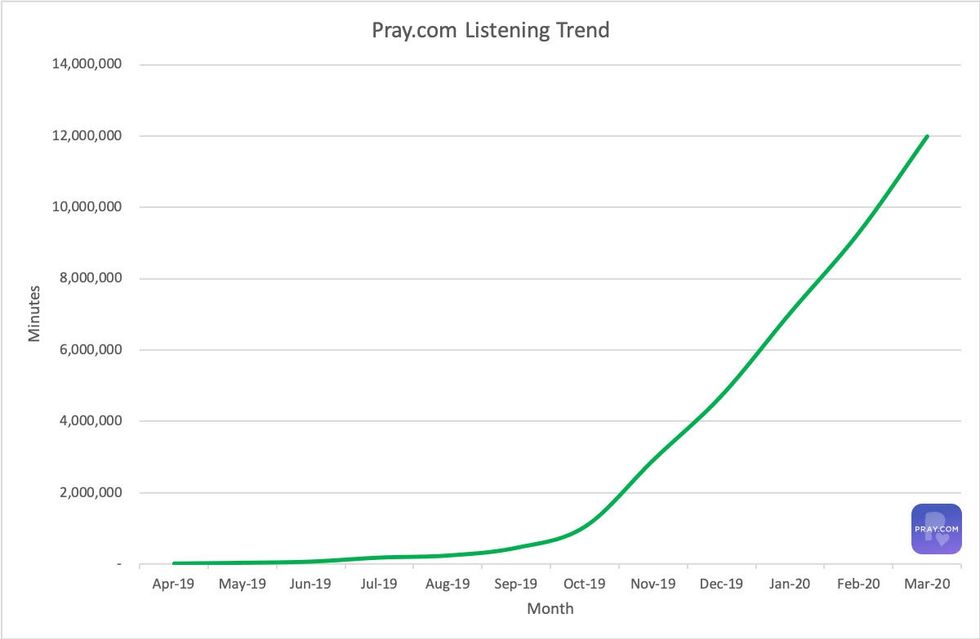 The trend of people turning toward prayer has followed the novel coronavirus,.assets.rebelmouse.io
Today, in part due to COVID-19, pray.com is the No. 1 app for daily prayer and faith-based audio content, Gatena said. The app includes a free portion that allows you to join a church, post prayer requests and make donations; a paid portion includes premium audio content.

In February the app had more than 500,000 monthly active users, in March it clocked 850,000 monthly active users. Every month people share over one million prayers. Last year the app generated over seven figures in nonprofit religious organization donations. But over the last two weeks, pray.com has seen a 173% increase in donations and a 489% increase in daily subscription starts from March 16 through March 19.
The app has more than 50,000 religious communities, of which 99% are churches.
"That's mostly because we live in the United States and the United States is a Christian country," Gatena said. Still, pray.com is in 183 countries and the company is working on translating its offerings for multiple languages, especially into Spanish and Portuguese to try to permeate the Latin American market.
Because of COVID-19, the company decided to make kids Bible stories and Bible meditation free.
"We just thought that was the right thing to do to help ease peoples' anxiety and stress" and engage with their kids along with their faith, Gatena said.
A freak accident that killed Gatena's business partner became the seed for pray.com. To cope, the then 29-year-old began listening to self-help audio books. A podcast from a pastor his friend passed on particularly spoke to his heart and impacted him deeply.
Gatena recruited three guys and partnered with startup studio Science Inc. So far, Gatena's Westlake Village, Calif.-based company has raised more than $16 million in VC-backed rounds of fundraising. It's a strange silver lining that the company's timing -- it launched its audio subscription content last year -- has been just in time to stand in for gathering spaces that have been shut down due to COVID-19.
"When there's not a lot of physical destinations for faith available," Gatena said, "the digital destination for faith becomes more popular."
__
Do you have a story that needs to be told? My DMs are open on Twitter @latams. You can also email me at tami(at)dot.la, or ask for my Signal.
Tami Abdollah
Tami Abdollah was dot.LA's senior technology reporter. She was previously a national security and cybersecurity reporter for The Associated Press in Washington, D.C. She's been a reporter for the AP in Los Angeles, the Los Angeles Times and for L.A.'s NPR affiliate KPCC. Abdollah spent nearly a year in Iraq as a U.S. government contractor. A native Angeleno, she's traveled the world on $5 a day, taught trad climbing safety classes and is an avid mountaineer. Follow her on Twitter.
tami@dot.la